On Friday the 16th September and Saturday the 17th September German dressage judge and trainer Christoph Hess delivered two days of coaching and an evening seminar at Brook Lodge in Stepaside in Dublin.
Hosted by biomechanics expert and Franklin method trainer Liz Frayling of Toorala Equine Performance and Brook Lodge manager and HSI coach Iris Walshe, these two days of training allowed riders and coaches to learn from Christoph and understand his methods.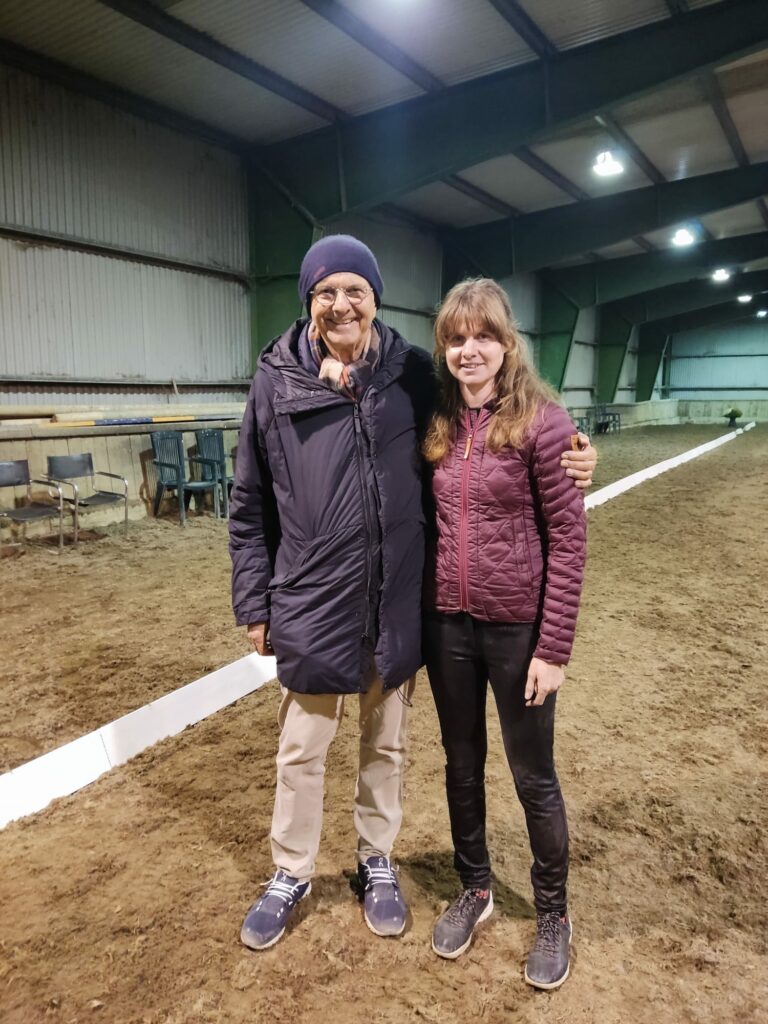 For anyone not familiar with Christoph's work he has been an international four-star judge for decades, is the author of many books on dressage and equitation, is an international dressage coach and has worked with the German Equestrian Federation. For years he has judged the five and six year old dressage horses at the German national championships. He is an advocate for correct and harmonious training and has received the German riders Cross in Gold for outstanding achievements in equestrian sports.
I was lucky enough to hear Christoph lecture once before in Cavan a few years ago so I was very keen to attend the evening session where he used a four, five and six year old horse to demonstrate his training methods for young horses.
The indoor arena in Brook Lodge provided an intimate and up-close setting for this learning opportunity. When listening to Christoph I was once again struck by his positivity but also his desire to share knowledge. I love to listen to different trainers and coaches and to understand their theories and practices and it is wonderful when someone has the passion and patience to answer questions and explain the fabric of their methods.
Our first rider of the evening was Iris Walshe herself on board her four year old In Style gelding, Parker. Christoph explained that "young horses only understand consistency". He urged us all to be consistent in our training. We must consistently ride into the corners, it must be always, otherwise how will the horse learn?
"The Whip is only for touching, never for punishing".
Christoph described and demonstrated how to use the whip at the shoulder to encourage the horse to allow the rider to ride from inside leg to outside hand. The inside hand he explained is "only a decoration". When explaining the use of the whip he explained that the whip can be used at the shoulder or just behind the rider's leg to back up the inside leg. The whip should never be used behind the saddle. We could see as an audience how Iris's horse relaxed when ridden positively forwards and the effectiveness of her inside leg when backed up by the whip to the shoulder to encourage him to ride from her inside leg into her outside hand and the corner.
One of the overriding themes of Christoph's training is that an action by the rider must have a reaction by the horse. It is futile to keep banging away with your leg only to be ignored. A more intense leg aid is required to cause the horse to react and a young horse must be taught to respond immediately. Your leg, he explained, starts at your waist.
Our next rider was Louise Bloomer on board Ginny Webb's eventer Shannondale Levi. I am going to put my hand up here and say I love watching this lady ride whether that's in eventing or in a clinic – she has an incredible calm physical strength and control that I can only ever aspire to!
Working with Louise, Christoph encouraged her to ride more forwards but, as he explained, – this means more activity from behind not faster. Working on several trot and canter transitions it was clear to see the change in the horse's way of going as they worked through the session. At the start of the session the horse was clearly more fluid riding left whereas at the end a marked difference in his thoroughness and his activity and use of his hind end could be seen. One further point from Christoph was that riders should not change the position of their legs when they use them.
Our third rider was Aine Ryan on a horse I always admire at competitions – the lovely six year old Furstenlook gelding Leejoy. Leejoy had such a wonderful, willing expression as he warmed up and he has enviably smooth flying changes! When it came to working on lateral movements such as half pass and shoulder in Christoph took time to explain why horses may find lateral work difficult. Horses can in nature, he explained, exhibit many of the dressage movements naturally – flying changes, piaffe and pirouette for example. However, horses do not naturally move laterally. By working with the whip to the shoulder and the reins in the inside hand, a huge difference in Leejoy's half passes could be seen. When discussing flying changes, Christoph discussed his belief that we must as riders and trainers start to train flying changes earlier and that training the counter canter and the flying change should happen in tandem.
At the end of each session, the audience were afforded an opportunity to ask questions – so; I did. I was interested to see that each rider was asked to ride with the reins in one hand for different movements. When watching Aine ride her half pass right, having the reins in her right hand appeared to aid her, but I did not understand WHY. Christoph explained that it was for two reasons. The first, was that the whip could then be used on the left shoulder without interfering with the reins. The second was that the reins in the right hand helped promote the rider's weight aid in the direction in which they were going.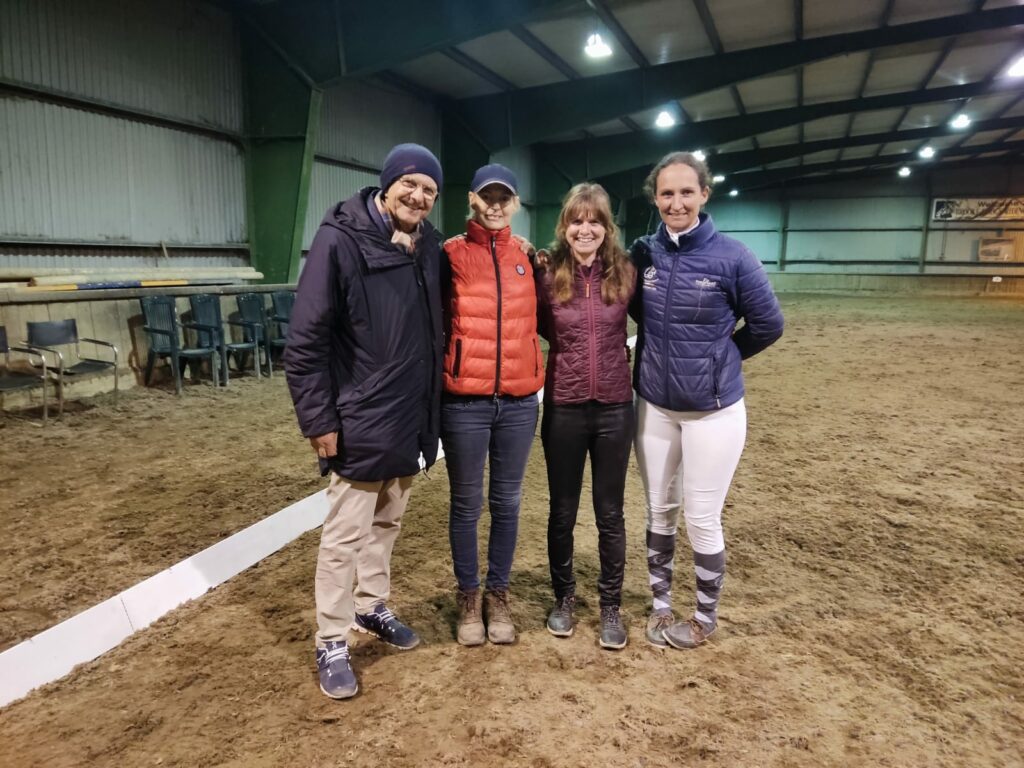 Thank you to Christoph for being so open and approachable and to Liz for organising this valuable session. As someone who learned to ride aged ten in a riding school and who only took up dressage properly in the last decade I still find it incredible to be able to sit in Ireland and listen to and learn from people of this calibre up close.
I have been privileged to learn this year from several international coaches and I feel due credit should go to the organisers who create these opportunities – they assist us in achieving the most important lesson with horses – that we never stop learning.
You can find out more about Christoph and his work at https://christoph-hess-reitlehrer-richter.de/en/
You can find out more about Toorala Equine Performance and their services around rider biomechanics and the Franklin method at https://www.tooralaequine.com/