We continue our interview series with this piece on The Dressage National Championships that took place last weekend. In this interview we have the pleasure of chatting with International Dressage Rider Emily-Kate Robinson. We love Emily-Kate's mentality. Check out the question on pressure 😉.
We are in such a nice position as Ireland's leading grassroots media brand to be able to do interviews like this and hopefully inspire the next generation of grassroots superstars and international riders.
Let's do this, here we go with our interview with the one and only Emily-Kate Robinson 😊.
So Emily-Kate, tell us a little about yourself, your interests and your background?
My name is Emily-Kate Robinson, I am a 22 year old International dressage rider from Waterford, Ireland. Horses have always been a big part of my life, I have been riding since before I could walk! I started my competition career with the Waterford Hunt Pony Club, competing in all disciplines but I quickly realised dressage was my favourite, although I still like to jump, hunt and do some showing. I started competing at Dressage Ireland when I was 11 with my 11hh pony 'Bayview Sapphire', together we won the Preliminary National Winter Championships against all the horses, and finished 4th at the Hickstead Masters. I then moved on to my pony 'Tisrara Hill', together we went up the ranks from Novice to Pony FEI, we won the silver spurs in 2013 and we were 3rd in the BYRDS Home International at pony FEI level in 2015. We also did our first International CDI in Addington in 2015. We were named reserve for the European Championships in Malmö in 2015. In 2016, I was lucky enough to be given the opportunity to go to Germany and train full time with Judy Reynolds, with both Tisrara Hill and Crown Imagine. We competed across Germany with both ponies at national level and gained our qualifications to compete internationally again in 2016. We competed in Roosendaal CDI in Holland, where we qualified both ponies to be selected for the Europeans. We then went to Hagen CDI, Crown Imagine and I were part of Ireland's first pony dressage nations cup team and Tisrara hill competed in the CDIP placing 6th in the freestyle, I was lucky enough to be named for the European Championships in Vilhelmsborg in Denmark with both ponies, I chose to ride Crown Imagine where we finished in 24th place just narrowly missing out on the Freestyle final! We continued on competing around Europe at Le Mans CDI in France, Zakròw CDI in Poland and Roosendaal CDI in Holland with Crown Imagine, where we picked up ribbons/placings at all of those CDIs in hot competition. We finished the year ranked number 50 in the FEI world rankings for ponies. Since ponies I have been breeding and producing my own string of horses. I am full time in equestrianism, alongside competing I am a HSI Level 1 coach and I school show jumping horses on the flat for Ballywalter Stables.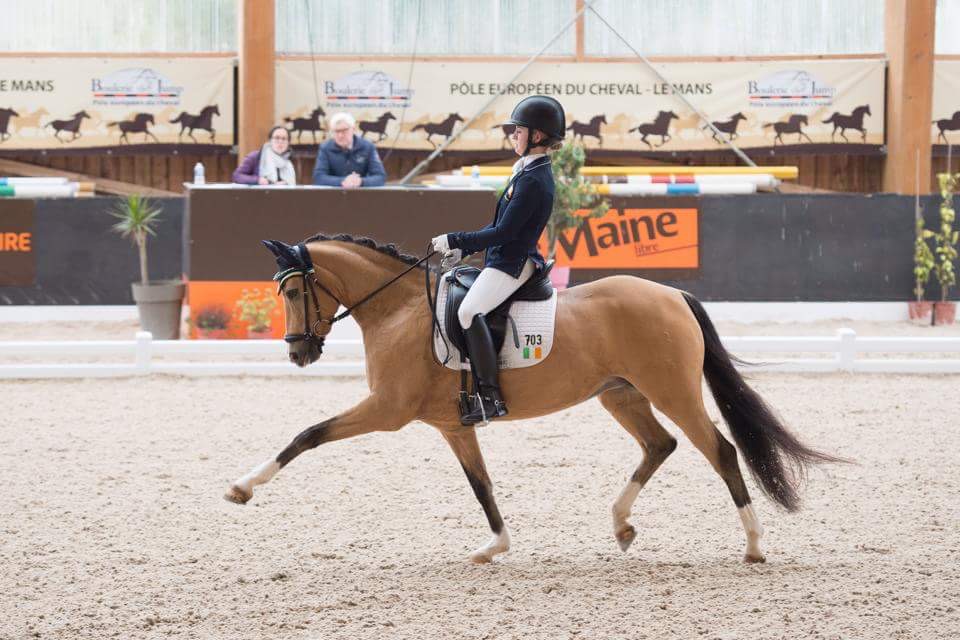 You had a big weekend. Tell us about the event and how you got on last weekend?
This weekend was the Dressage Ireland National Championships in Barnadown. I was lucky enough to have 3 horses competing there. Keke placed 3rd in the Medium category 3 Championship. Ed placed 6th in the Inter 1 championship, and 4th in the Inter 1 Freestyle. Tiny placed 4th in the 6yr old championship. I was delighted to have all 3 horses in the placings.
Tell us about your horses for last weekend? Ed, Keke and Tiny.
Edvaard (Ed) is a 13yr old Dutch warmblood, we are competing at Prix St George & Inter 1 level. I bought him almost 5yrs ago, he was an 8yr old that had never competed, he couldn't trot or canter in a straight line when I first got him. Many people on seeing him first either said 'What have you done?' Or 'Are you mad?' but we've worked really hard together, and we have taught each other an awful lot. He wasn't an easy horse in the beginning but he has turned into a gentle soul, I wouldn't change him for the world!
Kekepania (Keke) is a 7yr old homebred mare by Lingh and out of a mare by Jazz. I know her inside out as she has been with me all of her life. She is quiet the character in the stable but is very talented and lovely to ride.
Largento (Tiny) is a 6yr old homebred gelding, he is Keke's full brother, although they are polar opposites! He is 17.1hh and I am only 5ft but he is a gentle giant and is so lovable and easy going.
How do you prepare for an event like this – it is a big moment!!
For me the training and work is on going in the months and weeks before, if you have left your training to the final week it's too late! I have regular lessons with my trainer Judy Reynolds both on zoom and in person. In the final week it's all about keeping my horses fit, happy and sound, I don't push them too hard.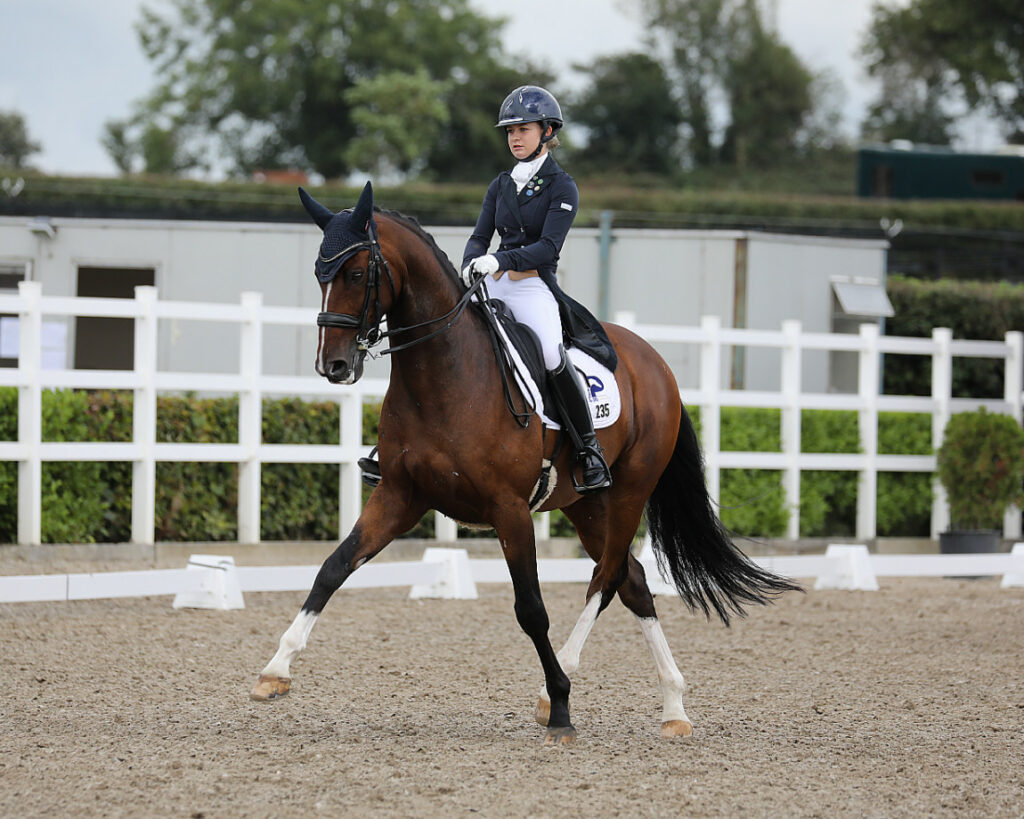 You've had some incredible results this year. Can you tell us more about them?
Thank you! In the past 12 months we have been busy, Keke won the HSI Development Series Final at novice level and was reserve champion in the Elementary, Tiny placed 3rd against Keke in the Novice final as only a 5yr old! In April, Keke and I were crowned Elementary category 3 Champions at the National Winter Championships in Necarne, having won her classes on both days! I then went abroad for 5 weeks straight after Necarne, I was working in Belgium and Germany for the Aloga show jumping auction, so my dressage horses had some time off. We came back out in June with Keke winning the elementary championship and medium championship at Dressage In The City, with Ed placing 3rd in the Prix St George and Inter 1 Championship. Keke also won the medium Freestyle and Ed won the Inter 1 Freestyle, so that was a great show for us!
What are you most proud of this weekend?
I am most proud of Ed for getting this far; we have come a long way from competing unaffiliated Novice to scoring a PB in the Inter 1 at the National Championships, there is still so much more in there to come out so I am looking forward to training over the winter. I am equally proud of my homebreds Keke and Tiny for holding their own in their classes, it's all about the bigger picture and getting the mileage on them now.
Did you feel pressure in the buildup to the event? How do you handle pressure?
I don't do pressure, "pressure is for tyres"!
You have to enjoy what you are doing and the highs and lows of the sport. I have been competing from a young age so it comes naturally, obviously you have to be focused, but I go out there to compete against myself and get the best I can out of my horses.
How did it feel having 3 horses qualified for Nationals?
It was great to have 3 horses competing at the Nationals again this year, it is great to know that they are all heading in the right direction. It was quiet busy as I do the plaiting, grooming, etc for myself too, so I had to juggle warming up, competing, exercising my other horses and everything that comes with it. But my mum is a great help to me at shows, she helps with the yard duties and does the driving too so I can learn my tests.
It takes a village to get prepared and get results. Do you have any people or sponsors or coaches you'd like to thank?
It really does take a village to keep the show on the road both at shows and at home. My parents, my brother Jamie and his partner Laura are often chauffeuring my horses around the country to compete at all hours of the morning. My mum and dad help me with the yard duties at home so that I am able to work, teach and compete. I wouldn't be able to do what I am doing without them. I am very lucky to have great sponsors in GAIN and PlusVital, they keep my horses in great condition, which is a massive help. My trainer Judy Reynolds who has trained me from ponies, onto horses and into the future. I am very lucky to have all of their support.
What advice do you have for people wanting to achieve big results Emily?
You really need to love what you are doing because with horses there are as many lows as there are highs! You need to find yourself a good trainer that suits both you and your horse, work hard, set your goals, have patience, believe in yourself and do everything with a smile.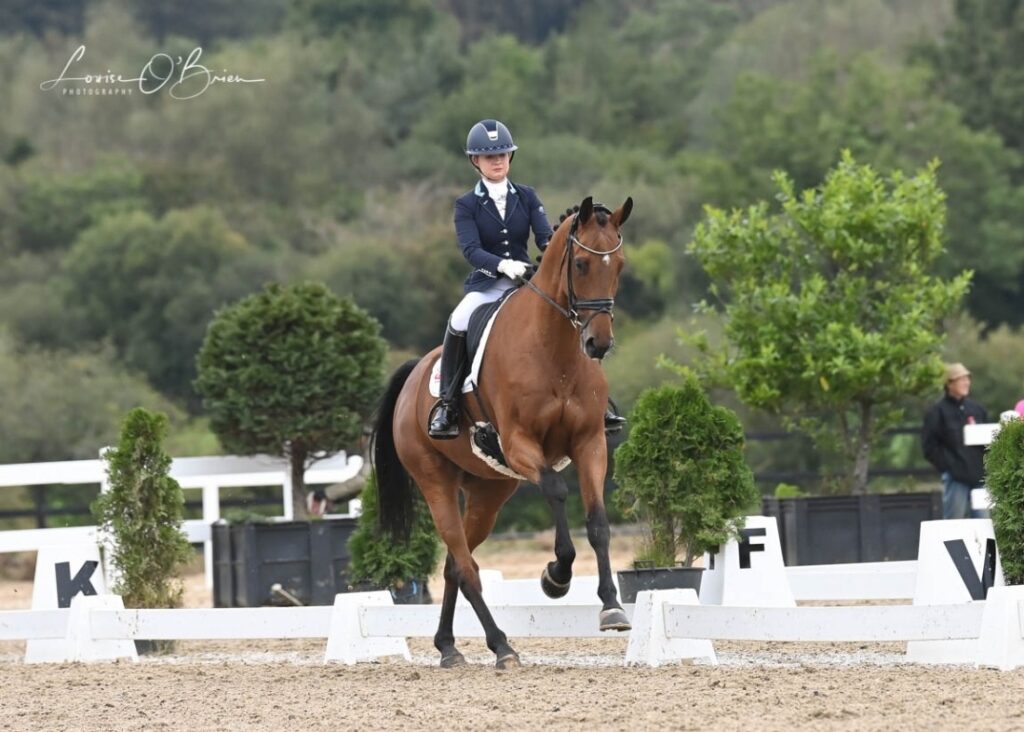 What is up next for you?
I hope to compete 4 or 5 horses in the HSI Development Series over the winter. We will continue training up the levels with Ed, Keke and Tiny. I also have my homebred 4yr old by 'Belissimo M', who is a half brother to Keke and Tiny, who I hope to compete over the winter. I have 2 exciting yearlings, one by 'Glock's Dream Boy' and one out of my former FEI Pony 'Tisrara Hill', and a foal by 'Sir Donnerhall', all coming up behind so the future looks bright. Of course I won't be able to keep them all, so I will have to sell some to fund myself.
My goal is to one day compete on the Irish senior international team with one of my homebreds, but for now I will continue to produce my young string of horses up through the levels and enjoy the journey.
We're looking forward to seeing Emily-Kate have an amazing career ahead of her and looking forward to chatting again as she progresses and achieves her goals.
Until Next Time,
Shane