Intro by Shane McCarthy and the Interview by Sarah Elebert.
This is one we've been looking forward to after Kate's recent livestream on our Equitas Instagram account. It was a lot of fun as our Co-Founder Sarah Elebert and Kate are close friends. I had the pleasure of joining these two powerhouses on that chat and the energy between Kate and Sarah was infectious. I have to say, I really loved how Kate talked about her mum and their relationship. To have that support is incredible to see.
I was hugely impressed on that livestream (give it a watch – click the link above) with the mental strength and positivity Kate has but that is part of the remit when you're an International Grand Prix Dressage Rider like Kate is. It was surreal on that chat to hear about the experiences and journey Kate has had so when Sarah said we should have a chat with, about The Dressage National Championships, it is safe to say we started to get excited. Kate is an absolute powerhouse with incredible energy and by all accounts is an incredible coach too.
Kate, tell us about yourself. My name is Kate Dwyer and I am an International Grand Prix Dressage Rider and Coach based in Dunboyne, Co Meath where I run a livery yard and training centre.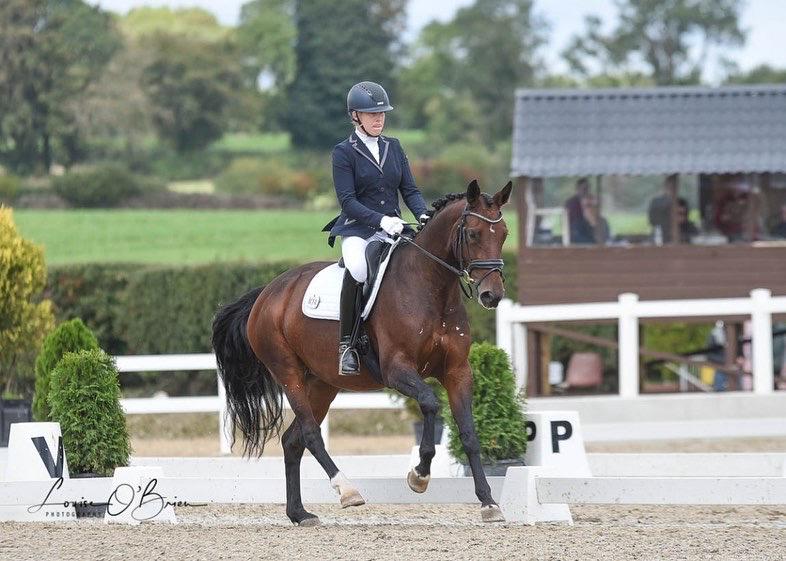 You had two horses at the Dressage Ireland National Championships, tell us a little bit about them and how it went?
At the National Championships I had my 8 yr old mare Harmony, competing in the Medium and Advanced Medium classes and my 5 yr old gelding Rí Ra an Tanaiste (Rue), competing in the Preliminary Championship and the 5yr old Championship.
I was delighted with both horses. Harmony put in solid performances to become National Champion in the Medium and Reserve Champion in the Advanced Medium. Baby Rue really stepped up to the plate in such a big atmosphere and became both the Preliminary and 5yr old Reserve Champion.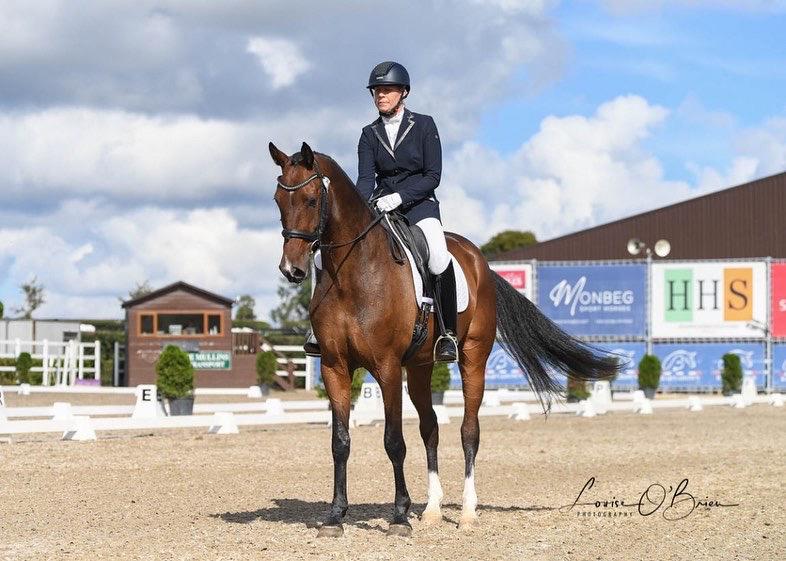 What did the qualifying process look like for this competition?
For both horses I had to achieve a qualifying score of 64%+ three times at each level and 64%+ twice for the 5yr old championship. At the beginning of the summer I made a plan of what shows I would/could attend to hopefully achieve these qualifications.
Did you do any specific preparations mentally, ahead of the excellent results achieved at the National Championships?
I always try to ride through my tests before any competition to ensure firstly, that I know the test well, (especially now after having a baby and becoming quite forgetful!) and secondly, so that I have a feel for the flow of the test. I find competition riding and home training very different. When you stay at home training for a long period of time, you can become comfortable, thinking your horse is performing well and is physically ready for a test, yet I find that it's only when you put all the movements together, you realise where the work needs to improve and what areas you need to establish more to hopefully achieve your competition goal.
What challenges do you face / have to overcome in order to consistently have such positive results?
For me it's all about setting goals/targets and continuing to work towards them. I have to keep myself focused with an aim/goal in my sights. I always make short and long-term goals i.e. where do I want my horse ideally in the next 3, 6, 12months?
Competition helps me to stay focused and strive to be better. It also keeps me progressing up the levels. I do feel it is very important for the rider to study the comments from the judges, even for the tests we would rather forget! The judges are our "eyes on the ground" – they want to guide us to be the best we can be.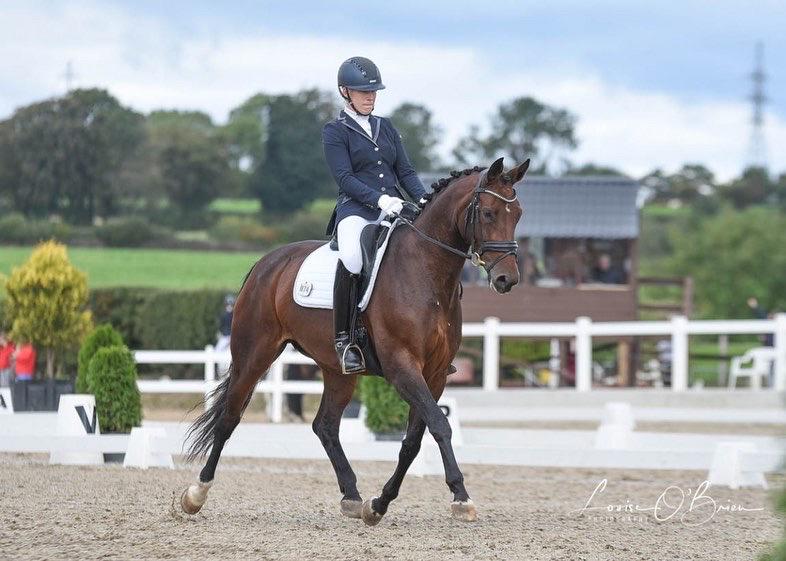 Why Dressage? What is your Motivation?
I have always loved Dressage from a very young age- mainly due to my mother Maureen who I always aspired to be like. I love that it is both physically and mentally challenging. The harmony and partnership that you create with your horse is indescribable – they become an extension of you. The feeling that this gives me is my motivation. You never stop learning with horses. It is so addictive and rewarding and I love the fact that what might work for one horse will not necessarily suit another.
What advice do you have for people wanting to compete at a Championship?
Go for it! The Championships are so amazing from Trailblazers to the Grand Prix. You learn so much and meet so many people who are supportive and want to help.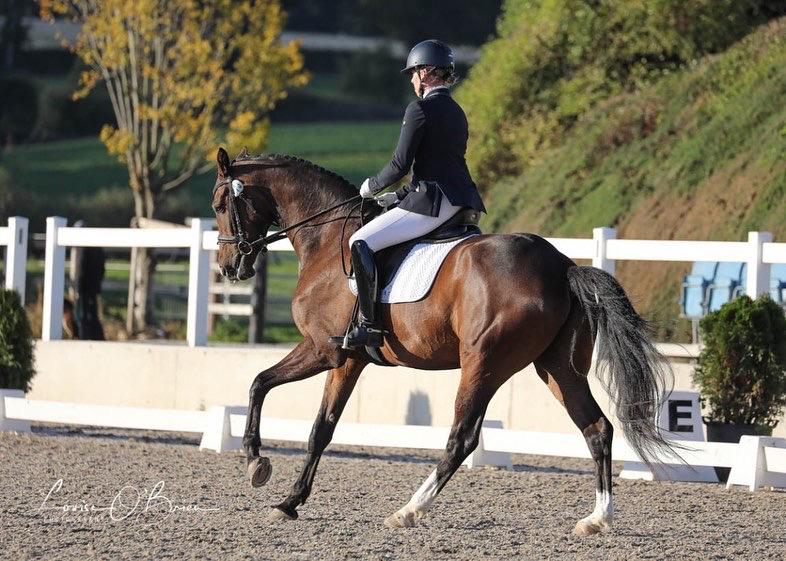 What's next for you and your horses?
I will do a few more regional competitions before Christmas to begin the qualification process for the Irish Dressage Winter Finals next year. My winter training will be focused on developing and progressing my horses up the levels to continue our competition journey next year.
It takes a village to get prepared and get results. Do you have any partners, people, or sponsors you'd like to thank or give a shout out to?
It really does take a village! I am so lucky to have incredibly supportive people around me. My husband Alan, my mother and trainer Maureen, and my fantastic team at home to name a few!
I am also supported by incredible sponsors who are with me every step of the journey through the highs and lows! Big thank you and shout out to Bluegrass Horse Feeds, Freedom Saddlery, Aviar Saddles, Nutriscience, Uvex Equestrian, Zebra Products and Cavallo Boots- your continued support for myself and my horses is so appreciated!