If you're anything like me, you have multiple brushes, combs, hoof picks, bags of plaiting bands etc and need somewhere to store it all. Otherwise, they seem to do random disappearing and reappearing magic acts on their own. 
I first came across the UniqHorse Grooming Box on an equestrian's Instagram page a few years ago. What I liked about this grooming box, not only was it additional storage, but it could also be used to stand on. This is handy when you're slightly height restricted like me and are plaiting/clipping large horses. UniqHorse is a German-based company whose focus is grooming, and they also have some informative blogs on their website too. 
I bought the Grooming Box Force after much research into UniqHorse different grooming boxes for a few reasons. Firstly, looking at this box, I found it more professional looking, from a personal perspective compared to some of their other designs. Each to their own, but 99% of all my gear is black, even the horsebox, I just have yet to buy a black horse!
This grooming box is very robust, trust me I've tested it multiple times intentionally and unintentionally over the 3 years I've had it. The rounded corners allow for extra protection from damage. There are two locks on the box which can ensure nothing is lost when secured. The box is easy to clean, I just wipe it with a cloth and hot water, then the box looks as good as new again. It's lightweight, making it easy to carry around even when it's filled to the brim like my own one.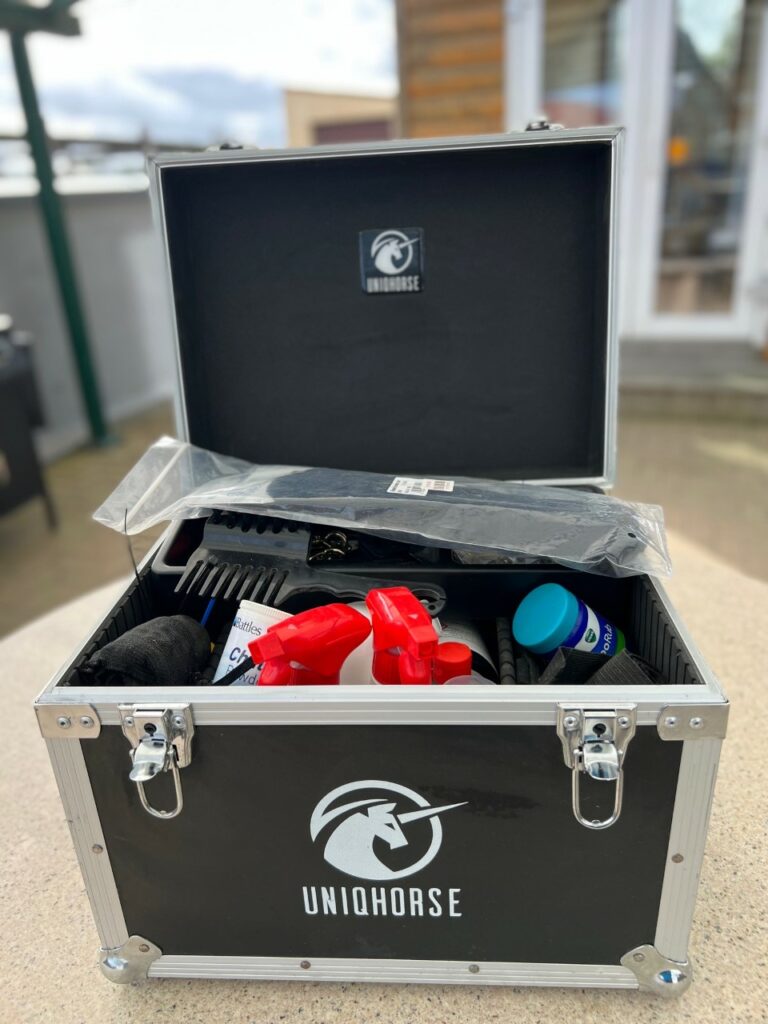 Inside the box there are two removable walls which you can adjust to suit your needs. There is also a storage compartment that sits on top for plaiting bands, mane combs, extra studs, badges, etc. I can store multiple spray bottles, tail bandages as well as hoof oil bottles and skin creams. To put it simply, you can store nearly everything you need to care for your horse/pony in this box. 
This grooming box is useful for storage when going to away-shows and can double as a mounting block too. As it can hold so much, I haven't forgotten to pack anything (yet), as its normally all in the box. 
This grooming box retails at €75.00 which I believe is great value for money as the box is of outstanding quality. If I ever require a second box, I will be going straight for their website to get the same again. 
But please note, there are other cheaper models/designs available on their website as well as first aid boxes – https://en.uniqhorse.com