Getting to do the weekly round is a real pleasure for us here at the grassroots gazette. For me this is one of the main cornerstones of the gazette our community and getting to shine the light on them.
I had the privilege of getting a to do this week's weekly roundup with the Sarah Kelly Drake from @madfortheride. You can see from Sarah's answers to our questions she is so fitting to be apart of the weekly roundup. We can't wait to follow Sarah's journey this year.

Tell us about the event and horse? Over the weekend, I went to Rosanna with our mare Wilhelmina Q and competed in the EI 80 (Q) class. I haven't competed in Eventing Ireland since 2019 and it was our first run together as a team. I had a super day. We scored sub 30 in the dressage which I had to do a double take on when I initially collected my score sheet because the previous week we competed in our first unaffiliated ODE and scored 40.5 so it was a massive deal! We went clear sj and jumped clear in the cross country phase but incurred time penalties. I honestly couldn't have expected a better start to our eventing season.

How did you prepare for the event? Any challenges coming into this? My biggest challenge with Willy is that she can be a typical feisty chestnut mare and I can be a nervous rider. I sometimes lack self confidence in my ability as an equestrian. I always knew I wanted to get back Eventing as an amateur rider and so before entering Rosanna, I entered an unaffiliated ODE to see how Willy and I would get on. From the moment her feet touched the grass, and I hopped up on her she was tense and during the dressage warm up she worked herself up into a lather of sweat. Our actual test was a disaster as she just wanted to explode! From that first run, which I used as a tester, I then knew what I had to do in order to prepare for the week ahead of our EI debut. I had to keep it simple! I had one dressage lesson during the week and the rest consisted of a light hack and some lunging. I wasn't going to let that disastrous dressage test discourage me from eventing.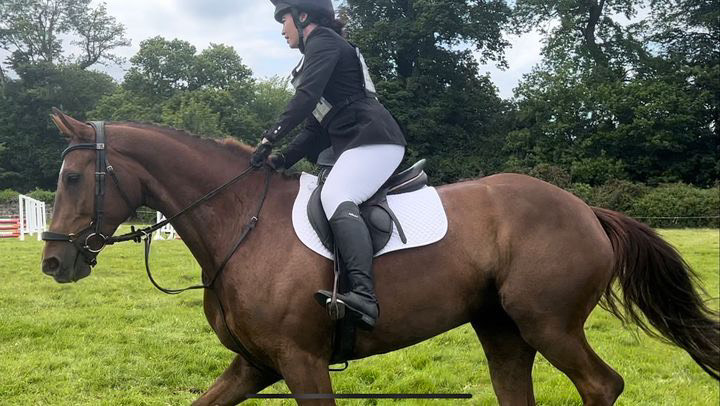 How do you handle the pressures and stress that might come competing in events like this?
Honestly, I don't have time to be stressed. It's very busy at home as is and horse riding is my passion and something that I love doing so I try not to let the pressure or stress of competing get to me. Being prepared minimises pressure. Clean tack, know your test, pack everything up the day before, clean out stud holes. I don't like to leave anything till the last minute. I like to give myself plenty of time before my dressage test so that I'm not rushing. All those small things are a massive help. I also like to sing to myself when I'm on my horse or have a little pep talk with her, I find that helps!

What's the one event you'd like to compete in and win? I'd really just like to get up to 2star and win.

What have you got to say about your horse/pony? She definitely is a horse of a lifetime. We sourced her as a 3yr old; she was tricky at the start but we persevered thanks to my husband Johnny who has done a fantastic job and given her great confidence. She has oodles of ability and is very talented. I'm just lucky enough to be able to ride her.

Most proud of this weekend? Definitely scoring a sub 30 in dressage. I was beaming from ear to ear. But also the fact that our warm up before our dressage test was rather calm, and she didn't explode during our test.

What's up next for you? Any big events coming up? I'm going to move up a level and compete in the 90s class at Lisgarvan unaffiliated ODE taking place on bank holiday Monday and hopefully I'll then either aim for the EI 90 back at Rosanna or Ballindenisk.

What advice do you have for others wanting to compete like this? It's not very inspirational, but it's really to just go out there and do it! Start in the smaller classes like myself, build your confidence, take your time and go from there. Don't let anyone tell you that you're not good enough, believe in yourself and enjoy it!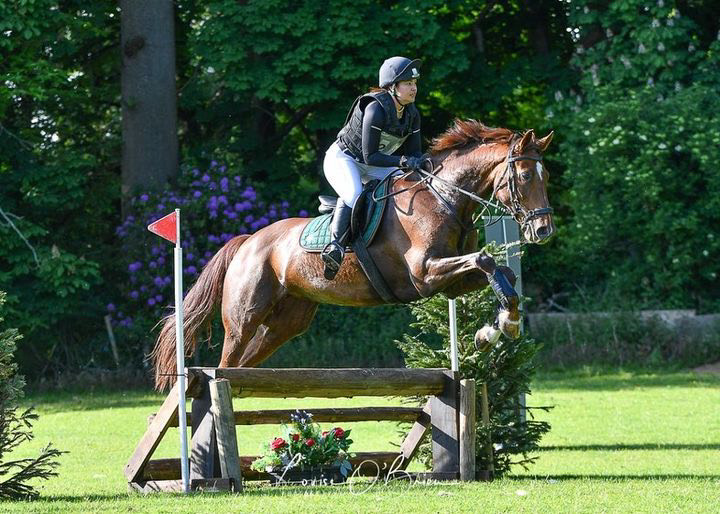 Anyone you want to give a shout out to? It really does take a village.
My family. Johnny and our 3 kids are always championing and encouraging me and without their support I really wouldn't be the rider I am today. My daughter Riley actually came down to the event to keep me company and Johnny and our other two kids surprised me after he had taken them to their activities and was just in time to watch the show jumping and xc. I'm very lucky and grateful to have such a wonderful supportive family. I'd also like to shout out to Chloe Kirwan, Milly Taylor Devereaux, Clair O'Neill and Alison Mortell who are also equestrians and have been a great support system. To be honest, all the amateur equestrians that I have come across have been so lovely and supportive. Lastly, a big thanks to Gerald Bloomer, whose constant motivation and encouragement is always making me strive to be the best rider I can be.

This for me is what we here need to do more of highlighting more positive people like Sarah within this amazing community because the grassroots is the backbone of the industry.