Hi Jackie – your artwork is absolutely incredible- regardless of what it's of – the details are so realistic and you seem to almost bring them to life… has artwork been something you've been doing all your life?
Hi Oonagh,
Thank you so much, I am so delighted you like my work!
It is always an amazing compliment to hear that I bring these animals to life on paper! While I always aim to deliver a true likeness of the animal I also aim to portray their essence and character. It's the tenderness of our pets, that bond we feel. This is the emotion I aim to evoke in my portraits.
I have been drawing animals for as long as I can remember. (You should have seen my school books!) Art was by far my best subject in school but at the time being an "artist" had a bad reputation. I was told it was impossible to make money from it. I'd be a "starving artist". So, I went down a completely different career path in Quality and Production in the Industrial side of things. However, I always had my art in the background. It was my outlet. It wasn't until I got married, moved to Co. Clare and had to hand in my notice in work that I found myself at a crossroads. So, I finally took the opportunity to follow my dreams and make my art my career!
When did you realise that you had a gift? Was it something you knew yourself – or was it something instilled into you by other people
I'm not so sure about having a gift! I definitely had a flare for art as a child but it's something that I have passionately wanted to do better in all the time. I am always trying to improve myself with every piece I do. However, this has led me to being my own worst critic. Hence not pursuing my art as a career before now. It was the encouragement and support I received from family and friends which persuaded me to believe in myself.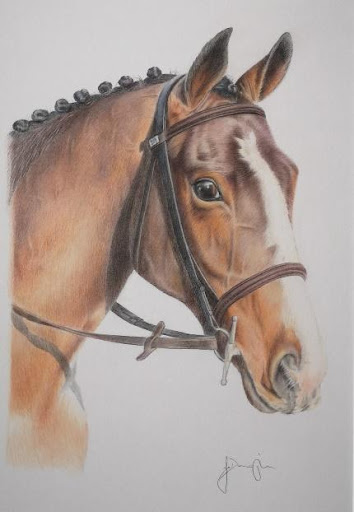 You've only really come out with your artwork in the last few years. Why did you feel the time was right to pursue your artwork as a career only now?
All though I didn't pursue art professionally after school, I always held onto the dream it would happen some day. It always remained my passion, all my spare time was spent practicing and improving my skills. I then met my husband Anthony (at Dublin Horse Show!), made the move to Co. Clare and handed in my notice in work as the commute was too far. It felt like the stars aligned and with the encouragement from Anthony I decided to take that leap of faith and finally go for it! I'm so glad that I did!
How long does it take approximately for each portrait?
Every portrait is different. Depending on the number of animals and complexity it can take anywhere from 20 – 50 hours. I am a perfectionist and only stop when the client has confirmed they are 100% happy with the end result.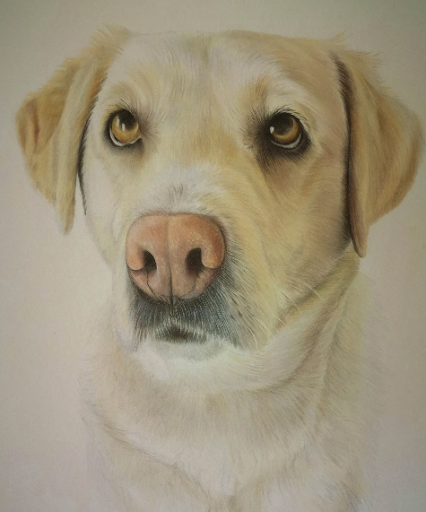 Are there any tricks, or routines you have before starting your work? I once saw a documentary where an artist could only paint in his pyjamas for comfort – have you anything like this?
I had to laugh when I saw this question! I happen to draw in my pyjamas a lot but only because I get up at 5am to get some hours in before the kids wake up! So really my ritual is a strong coffee and some good indie music (Laura Marling being my fav at the mo.!) to help me drift into that creative mindset.
You are a very accomplished horse rider as well – do you feel the fact you intricately know horses gives you an advantage in your work?
I grew up riding horses and competed mostly in eventing and showing so I definitely feel that has helped me to understand the movement, anatomy and personality of these powerful animals. I understand the deep connection we make with these wonderful animals and how important it is to recreate that feeling and connection in my art.
How have the public received your work? How does it make you feel when a customer first sees their animals on a canvas – I would imagine for many, they get emotional?
Seeing and hearing peoples' reactions is by far is the best part of being a pet portrait artist! To see people being moved to tears when they see the portrait of their beloved pet is the most rewarding feeling in the world. It's hard to put into words how satisfying it is. It makes me feel so proud and grateful that people trust me to bring their beloved pets to life on paper.
Have you any future plans to expand your business in any way?
Yes absolutely! I would love to create a homeware range. My wildlife collection has beautiful warm, earthy and natural tones with tonnes of personality from these little animals! Wildlife art is great way to bring nature and character into your home.
Finally – you are headed to the RDS – I know it has been a dream of yours – how are you feeling about it? Is the preparation for such a big show – and I would imagine it's your biggest exhibition to date – overwhelming? How are you preparing for it?
Yes, exhibiting my art in the RDS has been a lifelong dream of mine! I have been attending Dublin Horse Show since I was a little girl and I have been lucky enough to have competed in Dublin with my horses so to bringing my art this year is absolutely a dream come true! It's the pinnacle of the year for so many of us. To be exhibiting alongside the likes of Tony O'Connor and Liam Clancy is definitely very daunting but equally exciting! There has been so much support from friends, family and so many of my online followers it has really given me the self belief to go for it!
There is so much to think about on the run up. But I know it's important not to get too overwhelmed, to know I deserve to be there. I have worked so hard to get to this point. I have confidence in my work and believe people who love their animals will see that love in my art.
Do you know what hall you will be exhibiting in – if so please let us know so we can all pop over and support you!
Oh please do! I'm in Hall 3! There you will see my original wildlife collection, examples of Pet Portraits as well as prints and cards available to purchase. Also there will be a draw for a free print of your choice to anyone who visits my stand! I can't wait to meet all the likeminded people who adore their animals as much as I do!