It all started when I was 7 years old. I was lucky enough to get my pony, a little 12.2hh grey pony which I named "bouncer" and he did exactly that. I bounced off him a lot. This pony taught me how to stay on board. 5 years later we sold him and got a 13.2hh Connemara mare. The first and last mare I ever had needless to say. I think you're either love em or hate em. We had her for 2 years, snowy taught me that horses have an opinion and not to push it.
I grew out of snowy and moved onto a strong 15.2hh, 5yr old cob cross irish draught with no passport so it could have had any breeding. 😆. Back then some horses had passports some didn't.
The first day I tried him I fell in love. I tried him in an arena, walk, trot, canter and jump. The owner asked if I was comfortable enough to jump a few xcountry fences in the field. Being a 14yr old girl and a need for speed of course I agreed. He was everything I could have wanted in a horses. Speed, strength, power and jump anything. I just had to learn where the break was. But at that age, it wasn't going to put me off.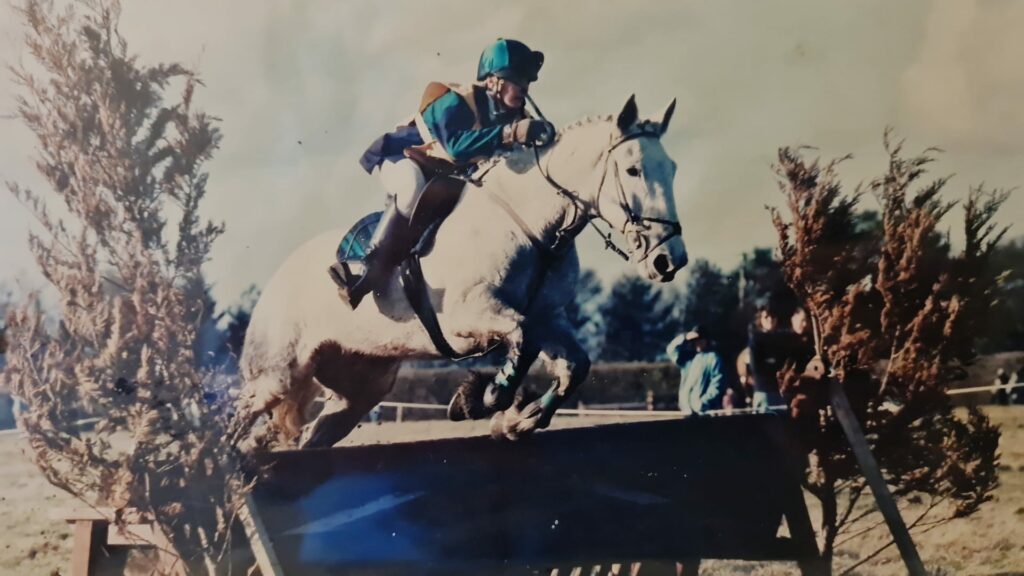 I named him Jumping Jack Flash. I'm sure it was in a film or something way back then.
He brought me hunting with the Ward Union, hunter trials, interschools showjumping and plenty of other outings. Back then I wasn't really into dressage or schooling flatwork. Hacking around was the most fun in Howth. He would ride alone or in a group. Alongside traffic , beach, mountains or down around the cliffs. Anywhere I said go He said OK.
But then remember, I was 14years old and had all the time in the world for my horse. Our summers were spent grooming , washing , hacking, exploring and grazing them for hours each day. I'm a big believer in giving your horse the time it needs to become what you want to mould it to do. And most importantly , to become a partnership. Finding out what your horse enjoys to do with you. Making it work together.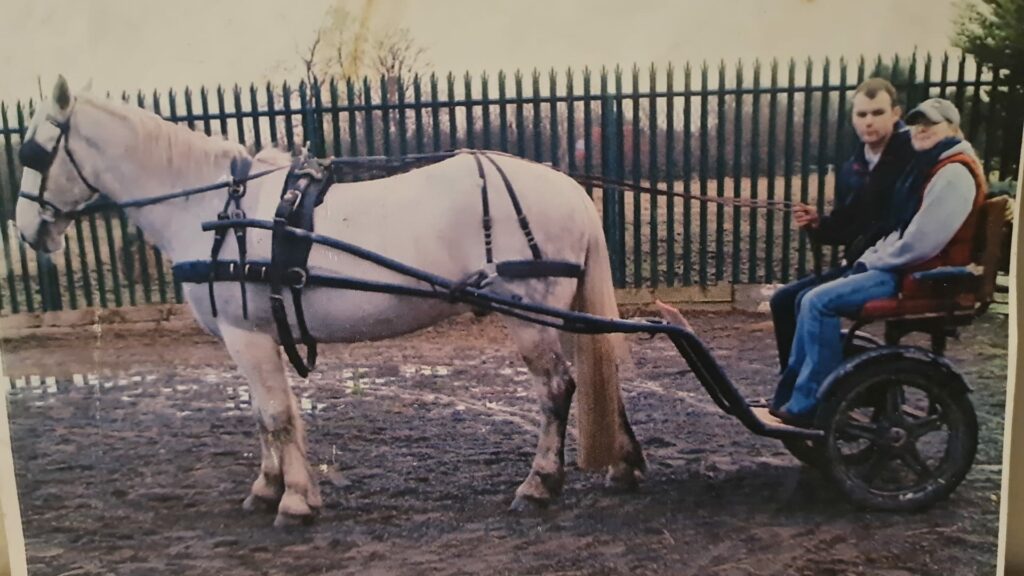 Every time I went to get him from the field he would wicker at me as a little hello, I loved that sound.
He gave me so much. He gave me confidence to jump, go places we've never been and cross obstacles I never thought we would get over. He offered me everything. Our energies matched and we flew together.
As I got older he came with me. I went to college in Kilkenny and he came there with me to learn. I went to England for more education and I brought him with me there also on the boat . He was so chilled. When we got home Liam my partner proposed to me and we began our wedding preparations. I knew straight away that I wanted flash to bring me to and from the church. Liam sorted a trap from some friends he shoes horses for and we Began to train him. Liam had done this with his pony when he was younger so knew exactly how to break a horse to drive. He took to it like a duck to water. After I introduced him to it I sent him to a good friend Christy O'Connor who has been driving horses all his life. He went there for a couple of months before the wedding to pull the carriage Christy had prepared for us. It was like a dream come true, and I couldn't have done it without the team I had around me and that special horse who accepted everything so well. The trust was there between and he knew I would never put him in a bad situation.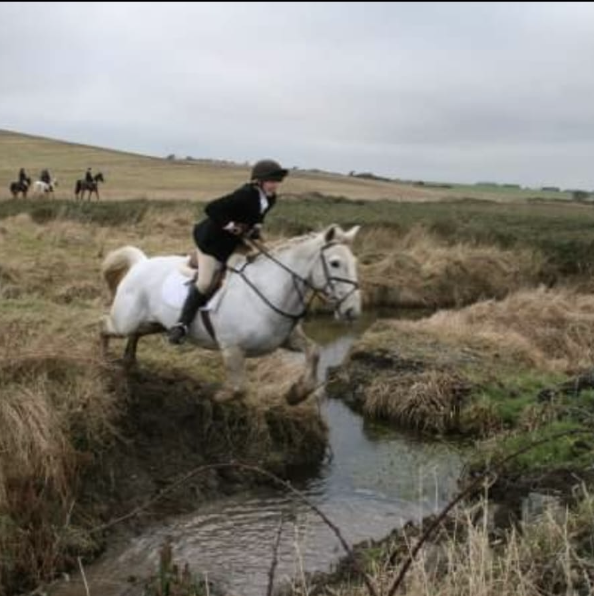 When he was 18 yrs old we were exercising across a field and he stretched his suspensory ligament. I decided then to retire him to just a leisure hacking horse. I took the pressure off him and got a 5yr old draught to bring on. Flash was a great field companion and a lovely horse if any of my friends wanted to go for a hack down the road and back with me.
He then reiterated fully when he was 23 to a big field in Co Offaly with a donkey as a friend. He lived to the ripe old age of 31 where I had to make the decision. And every horse owner can only hope that they never have to make that decision, that their old horse will die peacefully in their sleep one night. It is such a hard decision to make but us as a horse's main carer it's our duty to be carried out. I was with him by his side every second petting and talking to him until he went to sleep forever.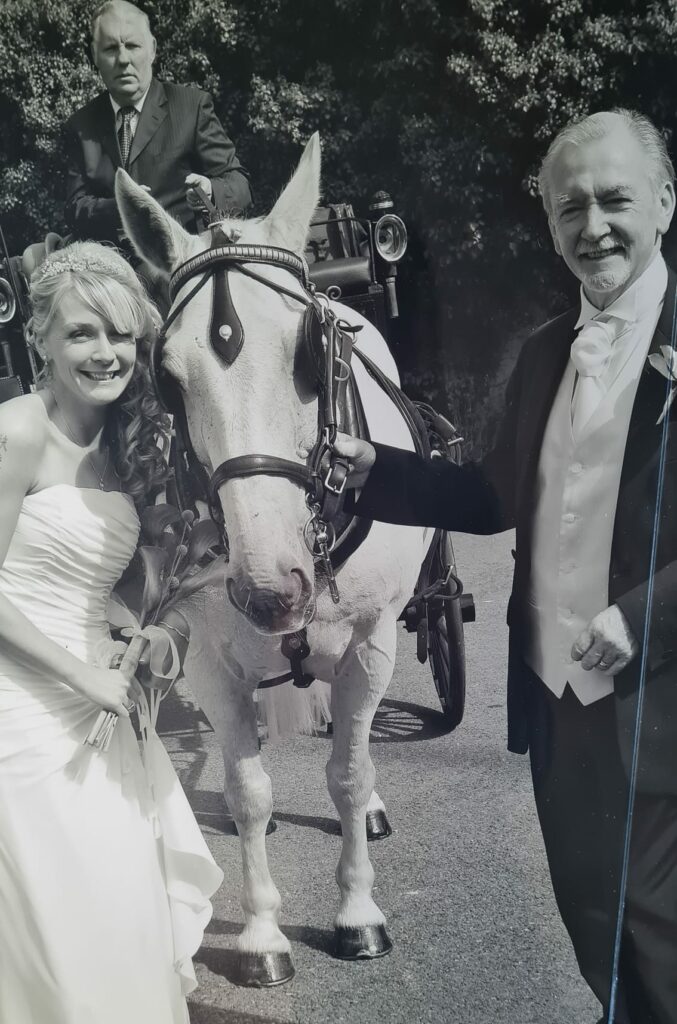 He was for sure, my HorseHero ❤.
Gone but never forgotten .
Lorraine + Flash.