What a performance and what a result. Really enjoyed chatting with Josephine yesterday about the incredible weekend she had at the Dressage National Championships. I love meeting people from across the grassroots community we haven't met yet. Had such a powerful and inspiring chat with Josephine.
We will always appreciate meeting and chatting with people like Josephine. People with a strong sense of purpose, a drive and a passion for what they do and a deep love for it. Now to get on to the interview.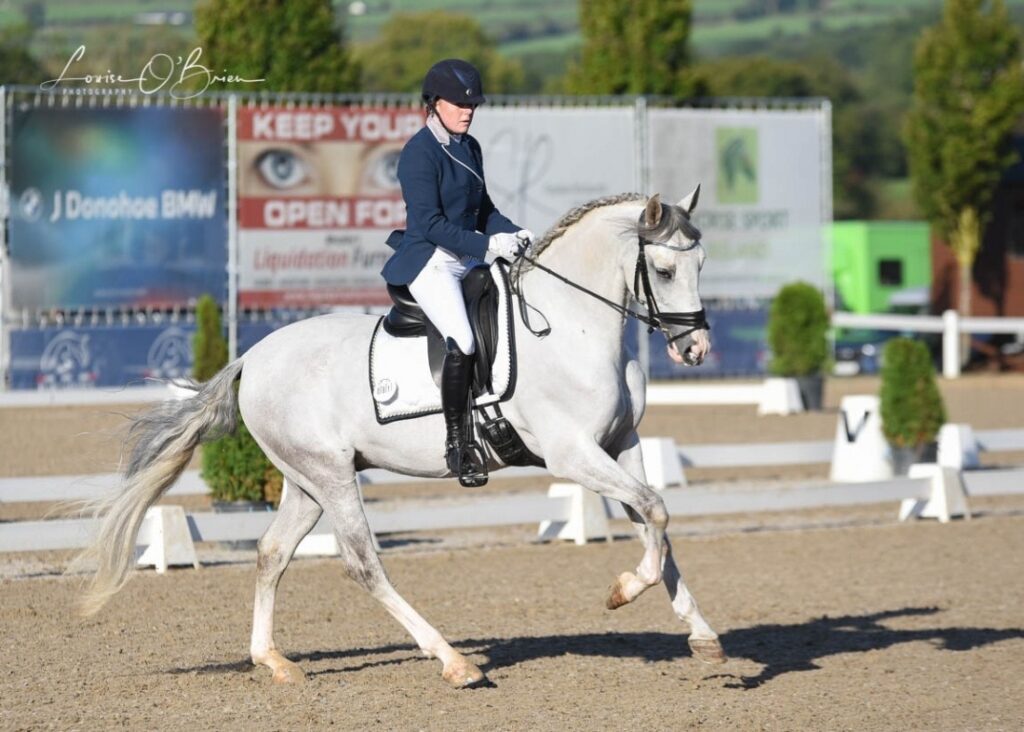 Who are you? Tell us a little about yourself, your interests and your background?
My name is Josephine Delahoyde and along with my family, we run Marlton Equestrian in County Wicklow. Horses have always been in my blood, and I was riding before I could walk!
From an early age, dressage caught my eye, and I competed at my first National Championships when I was 10 years old. By 14, I had competed at my first home international, in the UK, with my fantastic pony 'Tommy Pickles'.
Juggling Hockey and Dressage throughout my teenage years was a challenge as I also played interprovincial hockey, however, I eventually decided to focus primarily on my horses and in 2014 I made my first senior international debut on 'Blue Valentine' at Hickstead CDI in the UK.
Coaching kids has also been a passion of mine and in 2015 I founded Marlton Kids Club which is more than just a riding school as I try to give children the same experiences which I had growing up with horses and culminating in bringing some of these young riders to the Dressage National Championships each year.
For me, a real highlight of my career was being selected for the Irish Senior High Performance Dressage squad in 2019 with my horse 'Lets Go 110'.
Tell us about the Irish National Championships and how you got on this weekend? Tell us about your horse(s) this weekend?
The Dressage Ireland National Championships are the highlight of the Irish dressage competition calendar. I qualified two horses for the championships this year:
'Cashmere' who is owned by my parents, Tom and Barbara. He is a 10-year-old Holstein gelding and 'Jubiloso VG'  who I own jointly with my grandmother and is a 6 year old PRE gelding which we purchased in June this year.
I was delighted with both horses this weekend as it was their first away show. Jubiloso contested the Novice Category 3 championships and while the occasion got the better of him and some tension crept in in places, the moments he stayed with me make me very excited for our future together.
Cashmere contested the Advanced Championship classes and while we are still getting to know each other in the ring, he acquitted himself really well over the weekend, winning the Advanced National Championship. This has still yet to fully sink in, but it feels like the perfect start to our competitive career together.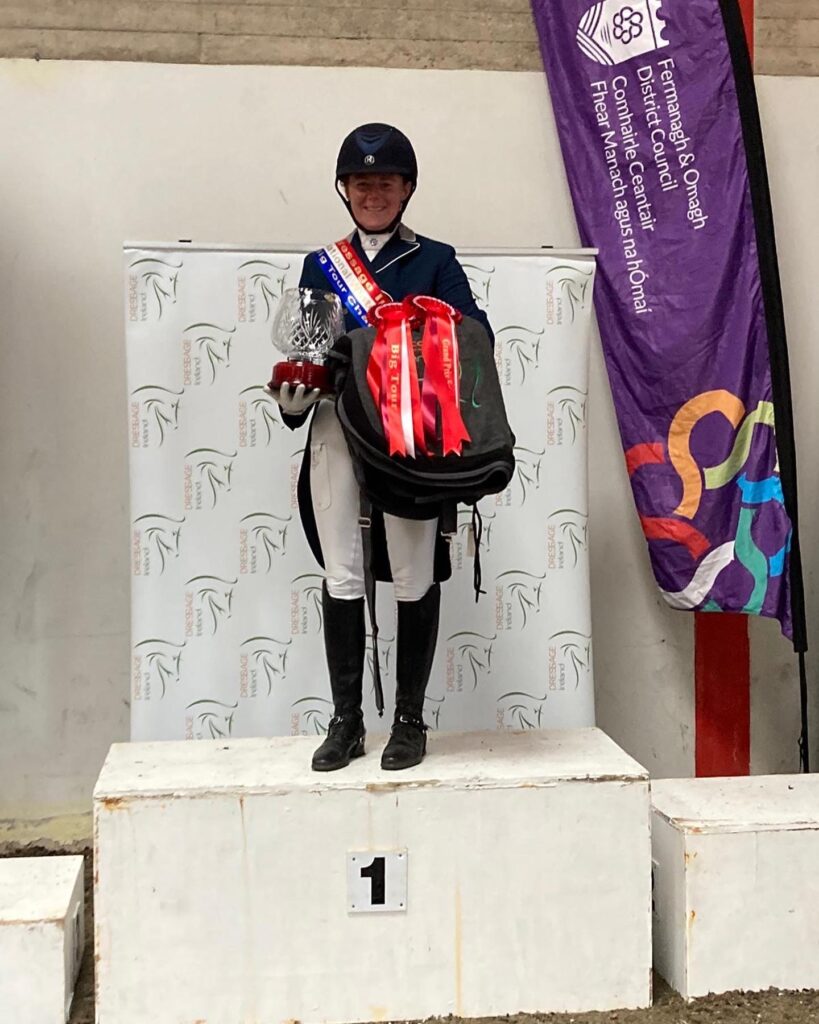 How do you prepare for an event like the Irish National Championships?
In all truth, I've never had a plan that doesn't need to be altered when working with horses. For me, my work is done in the weeks prior to the Championships and the final week is about keeping the horses happy, fit and supple.
You've had some incredible results this year. Can you tell us more about them Josephine?
2022 has been a good year for me. In April my horse 'Lets Go 110' and I were crowned Big Tour National Champions at the Dressage Ireland Winter Finals in Necarne. This was a dream come true for me and the perfect note for 'Lets Go 110' or 'Ludwig' (his stable name) to start his retirement. 
I then turned my focus to Cashmere and at the end of July we won the Advanced Championship at the South-East Region Nutri-Science Classic in Spruce Lodge.
Our win at last weekend National Championships has topped off a very successful year for us.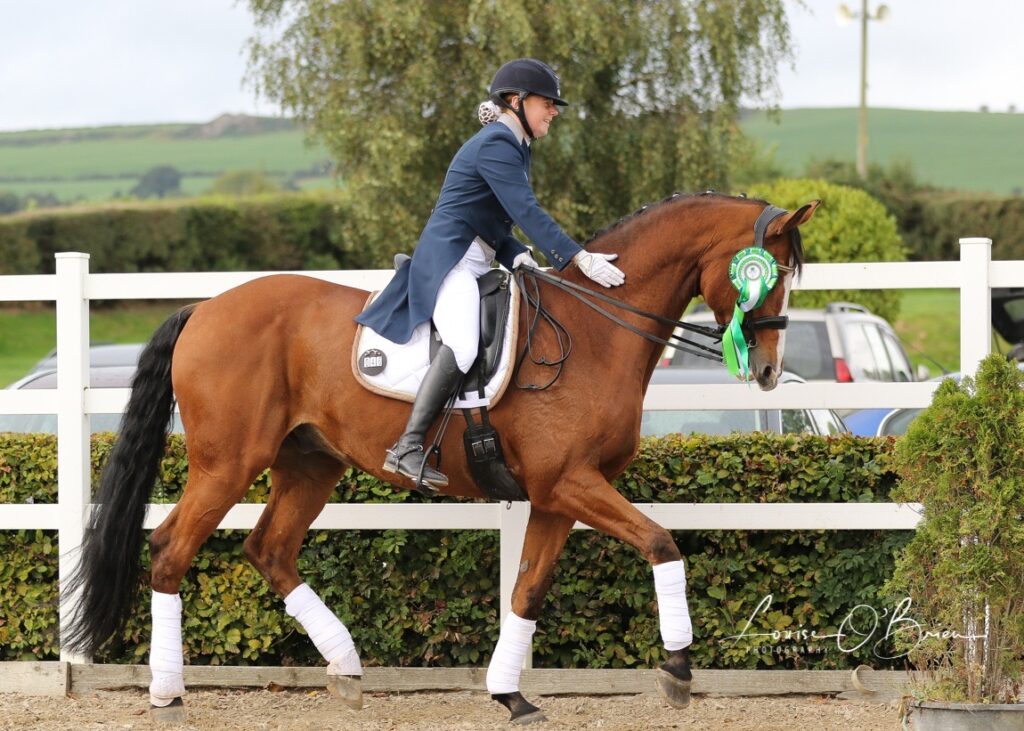 What are you most proud of this weekend?
I am very proud of how my horses behaved for their first time staying away from home at a show, they adapted really well and it's a huge boost going forward with international competitions in mind.
I am equally proud of all my students who competed at the Nationals this weekend. It was truly a pleasure and a privilege to coach them and see them shine.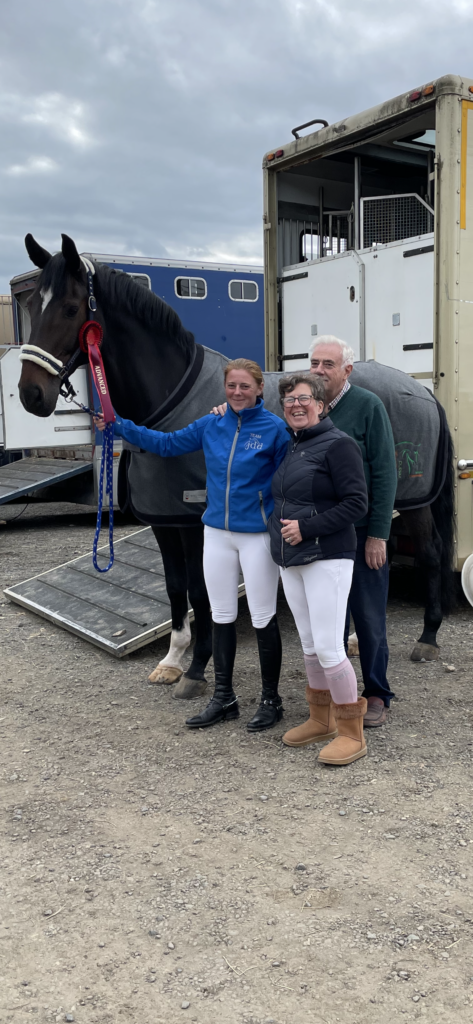 It takes a village to get prepared and get results. Do you have any partners, people, or sponsors you'd like to thank or give a shout out to?
For sure, I wouldn't be where I am today or have achieved what I've achieved without my parents. As with all families that work together, we do not always see eye to eye but no matter the highs or the lows, may parents always have my back and support me. I'm grateful beyond words for all they have done and continue to do for me.
My team (both travelling and at home) who keep the show on the road. My vets, dentist, farrier and chiropractor and a special mention to Kieran Carey who works with Hofmag a therapy that my horses really benefit from.
My trainer Markus Waterhues, who has guided me from a little girl playing on a pony up through the levels all the way to Grand Prix and who found both Ludwig and Cashmere for me along the way.
I am incredibly lucky to have such wonderful sponsors (DSE Equestrian Outfitters, QHP, Fasciani and Sarm Hippique), ensuring that my horses and I are always turned out to the best!
What advice do you have for people wanting to achieve these kinds of results Josephine?
Believe.
Keep the faith.
If working with horses has taught me one thing it is that life is not always fair and that there are plenty of lows to deal with.
Setting achievable goals, unique to each rider is the way up the ladder.
Success is the reward for hard work.
Believe in the process and love the journey. 
Every horse and pony can do dressage, you don't necessarily need a superstar.
What is up next for you?
My short-term goals include taking Cashmere internationally at small tour level in 2023 and continuing to progress Jubiloso through the levels.
I am also very excited to have a homebred yearling by 'Glamourdale' and I really looking forward to our future together.
Before you go Josephine 😊
We couldn't let the opportunity pass. How did it feel coaching so many students to success at the Irish National Championships?
I'm incredibly proud of my students who all exceed expectations this weekend. 
Many of them were riding ponies who have all worked in the riding school, and these kids have worked so hard to teach the ponies the art of dressage over the last year while learning it themselves.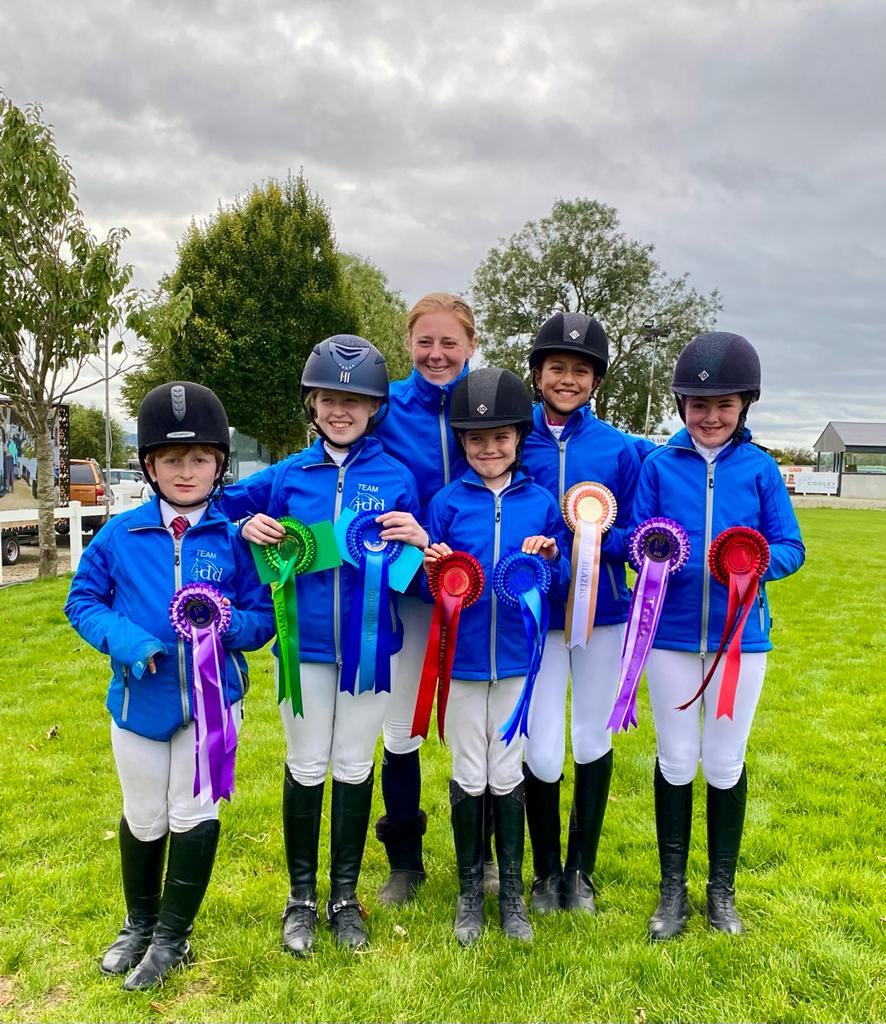 Can you tell us a little about some of your students results? What a list!!
Where do I start! Only riding because of the Covid pandemic, young Niamh blew us away winning the mini trailblazers while also coming 2nd with her other pony at her first championships.
Also making her championship debut, young Emma won the U-12 trailblazers aboard a pony that she only began riding in May.
Young Patrick made the step up to U-12 this year and achieved a new personal best at a Championships aboard is faithful 'Poppy'.
It was also lovely to have a pony from My Lovely Horse Rescue on the team, expertly ridden by Emma and they produced a lovely, harmonious test.
A special mention for Kate who at only 12 years of age, took the plunge and stepped out of trailblazers and into seniors in May of this year. She consistently delivered at the weekend, finishing second in the Preliminary and fourth in the Novice Championships.
What do you believe are key traits needed to be a successful coach?
As a rider who struggled for confidence for many years, empathy is key. 
For me, it is about empowering the rider with the belief that they know they can do it.
Everyone progresses at different rates and for me it is of utmost importance that I aid this, never compare and ensure that the rider and I have the same goals and are on the same pathway.
Any advice for young coaches preparing their students for a big event like the Irish National Championships?
Preparation is everything. Much like with the way I work my own horses, I would have all the training and learning done (including test riding practice) so that the final week is relaxed, enjoyable and every ride is positive so that confidence is high arriving at the Championships.