We're just after the biggest event of the year and we have some great interviews lined up for this week as we continue to share people's experiences and amazing achievements from the Dublin Horse Show 2022. What a show and the wonderful Irish Team capped it winning the Aga Khan on Friday.
Today though, we are celebrating the incredible Laura Snow and her fantastic week at Dublin last week.
Who are you and what do you do?
My name is Laura Snow and I own a livery yard in Swords, Co. Dublin where I produce young horses and also coach my clients.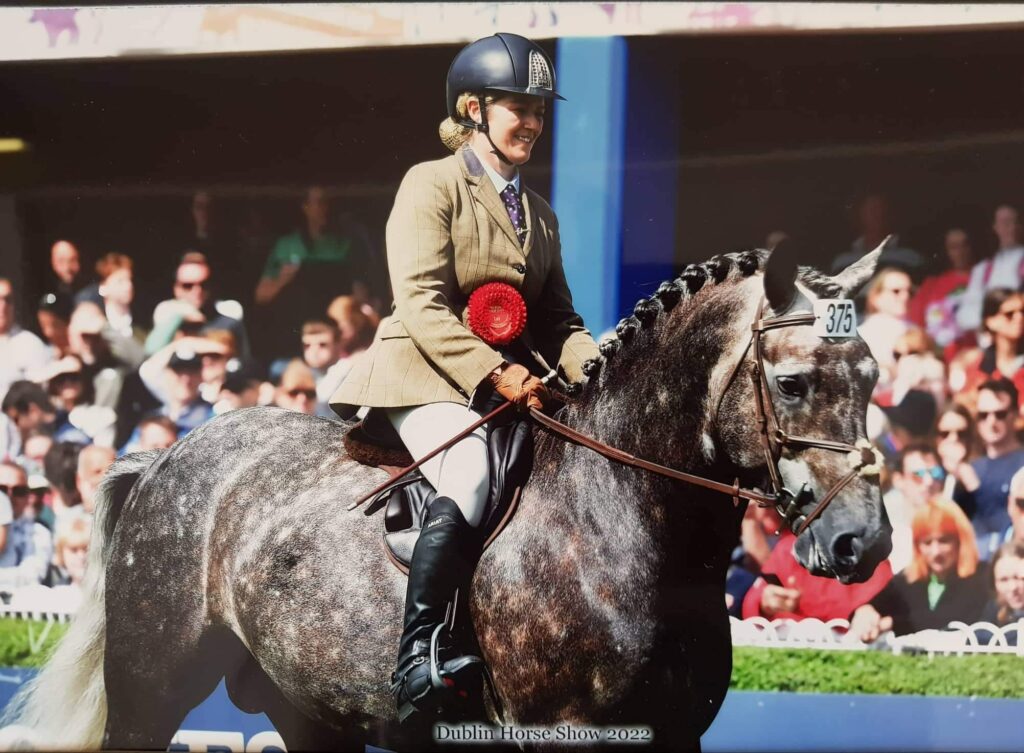 You put in an incredible performance here at the Dublin Horse Show and have the result to back it up! What does it feel like to win at such a prestigious event?
It's an amazing feeling, a bit surreal, and a dream come true. Winning at Dublin is every rider's dream and has been mine since I was a kid.
It was extra special to have my friend and co-owner of Bradley, there to be part of it. The feeling was unreal; I didn't want the lap of honor to end!
I had such a great group of supporters in there as well; it was fantastic.
And of course, Bradley (DRYNAM HERO), what a superstar he is! What can you tell us a little more about him?
Bradley was bred at home at Drynam Stables.He is by Gortfree Hero who has always been a favorite stallion of mine. Myself and Bob bought his dam Roxy as a 3 yr old in the Cavan sales. She turned out to be a super performance mare, she was placed in both the younger and older draught classes in Dublin. She is by Rockrimmon Silver Diamond and her dam is by Annaghdown Star.
I have a 3yr old out of her as well, which I'm looking forward to breaking in the Autumn.
She is also back in foal to Gortfree Hero so hopefully, we will have a full sibling to Bradley next year.
He(Bradley) is such a lovely horse to have around the yard. He is 6yrs old now. His temperament is very good and he is just getting better and better under saddle.
He's definitely a favourite on the yard.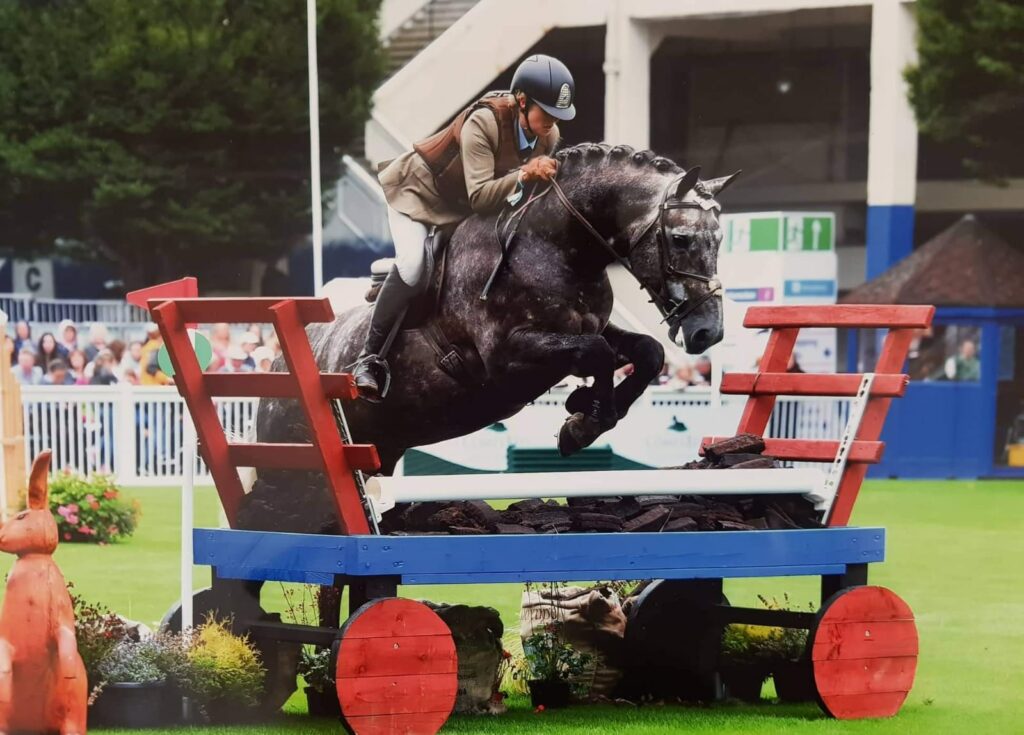 Winning is always special but does winning on a homebred make it that bit more so?
Absolutely!
I always enjoyed doing the draught classes and I had this notion that I wanted to breed my own draught stallion and win in Dublin. It was put on hold for a couple of years due to Covid so we missed out on the younger class.
To know that I have bred this horse and produced him myself and for him to go and win at such a prestigious event is a very special feeling.
What kind of training / preparation did you & Bradley do prior to this show / season?
The performance classes involve a bit of everything in their training.
I've learned over the past few years that not only do they need to be good jumpers, but the flat work is so important! We definitely worked a lot on that this year. He did some dressage in the winter and I also compete him in SJI and he goes cross country schooling.
He has had a successful year so far winning at numerous Irish Draught shows in ridden and working hunter classes.
What advice do you have for people wanting to achieve the results you've had lately?
It takes a lot of training but it's worth putting the time into them, especially working on the basic flatwork and building their confidence with the jumping. It really stands to them when you get to the big event.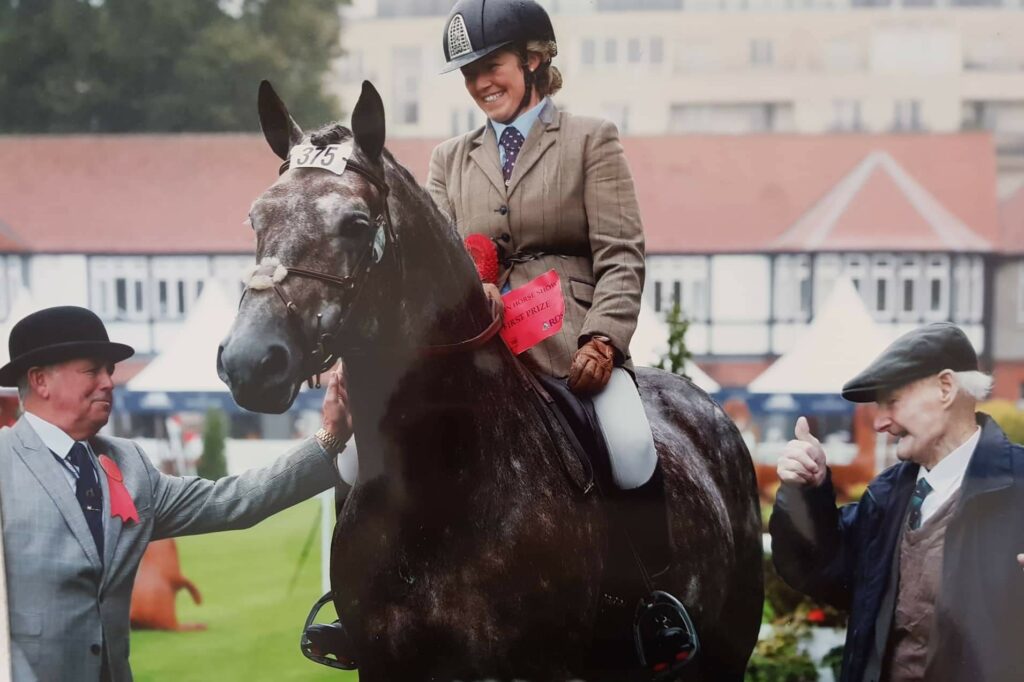 We know it's always a team effort with horses so who has helped you along the way?
My groom Sophie Marks always has Bradley turned out immaculately, and she takes amazing care of him at home. This is as much of a win for her too.
I've had great help with his flatwork over the summer with Mark Ruddock so I know he'll be delighted with his win.
There really is a team of people that keeps the horses in top shape so I'm grateful to them all.
What is next for you both?
Next, he will have a few days off and we will then aim to go to a few more shows before the end of the season.
We will then make a plan to see what our next goal is for 2023.