Well, it seems that 2HorseReviews are moving up in the world…soon we'll be chauffeured to private jets and jetted off to review equestrian facilities in Dubai..hmm, what's that? Big head, me? But..oh, ok. 
So we were kindly invited down to MJEquestrian to review the facilities and their trail ride by the lovely Tara. From their website I stole the following bio so you can read about what we were looking at: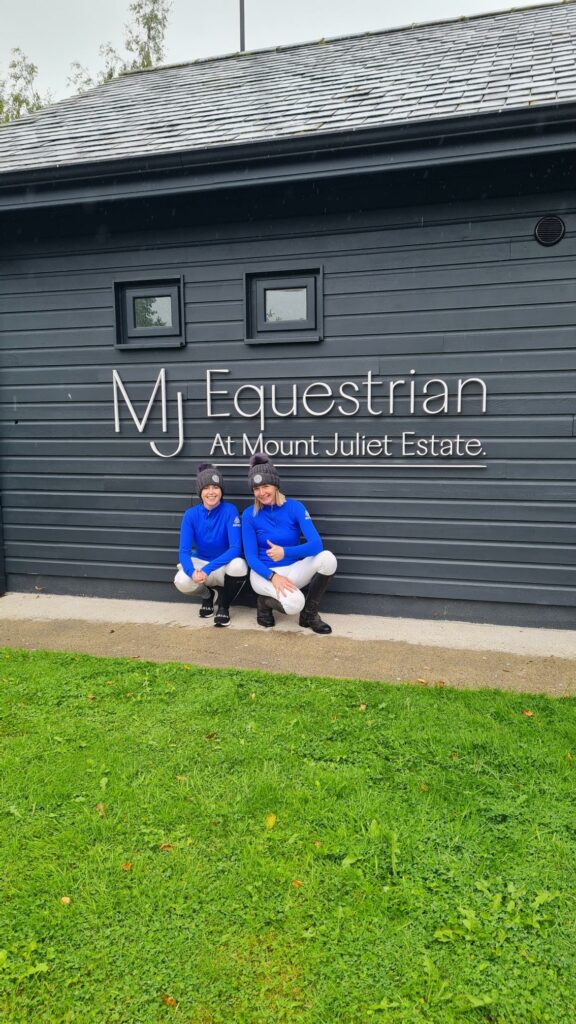 The Equestrian Facility is for guests and horse owners alike to enjoy trail rides through the 500 Acres of serene Irish landscape which includes forests, the River Nore and views over Ballylinch stud.
Our facilities include a Top class, 65 x 40 All weather Show Jumping Arena, coupled with another all weather warm up/exercise arena of 25 x 45 meters.
There is a state-of-the-art American barn with an integrated 'Equicty smart stable board' where all horses are logged every step of the way. This is complimented by a high tech camera system available to each stable to enable horse owners to see their horse live and give peace of mind that horses are being cared for to the highest standard at all times.
The Equestrian centre also has a brand new, high end temperature-controlled Tack room that boasts marble counter tops with unlimited storage plus a canteen and seating area where you can enjoy refreshments.
MJ Equestrian has a dedicated Sport Horse stable where we source, produce and market top quality Sport horses to the world. Clients seeking horses or ponies to purchase can feel confident that horses will be to a high standard and suited to the rider. We are an active show jumping yard and have horses from 3 yrs of age up to older experienced horses competing at Grand Prix level
The Resort also offers Equestrian Guests access to the 150 Room Hotel, with the finest Spa, Gym, Pool facility and restaurants, bars and the world-renowned Michelin Star Lady Helen Restaurant. Golf enthusiasts can look forward to the famous Jack Nicklaus 18 Hole Golf Course and driving range.
Our Review on our Trip:
On arrival the first thing Lorraine and I noticed is the charming office/reception. The desk is manned by the lovely staff – Tara, Clodagh, Aileen and Zack) at MJE and after introductions and laughs all round we ducked into the loo's (because, you know – coffee) before starting the tour of this impressive equestrian facility. The yards manager, Tara, walked us through the American style barn (complete with clock tower and weathervane) pointing out the highlights of the décor and how it had been chosen and imported. Tara knows her facility inside out and the pride is evident as she gives you a full history of both the estate and the facilities, proudly pointing out details that may otherwise go unnoticed.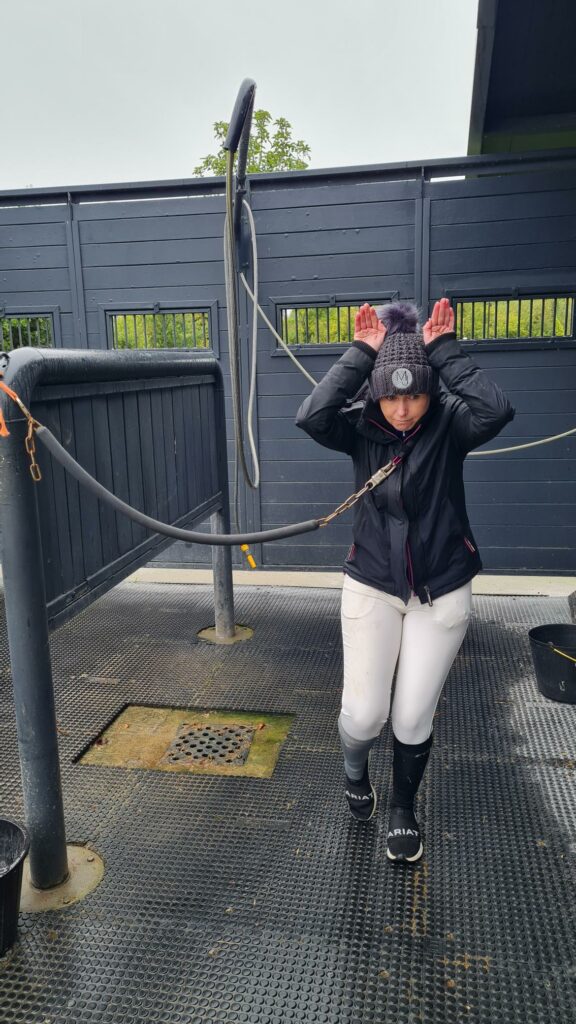 To say the stables were impressive might be a total understatement, large, airy and spacious with curved doors so each horse can look out and see their stable mates. There are also small pony stables which sadly didn't have occupants on the day we visited to my eternal disappointment. In the middle of the barn there is the sexiest solarium I have ever seen, I wanted to try it out in the nip but Lorraine was on hand to ensure I didn't scare the horses that way. There is a 2 bay wash stall just outside which would make you envious of the horses living here – they are clearly treated like kings & queens! You can see the explanation above about the electronic smarts integrated into this barn – they explain better than I can. I was singularly impressed by the humidifier that sent out puffs of some gorgeous scent every few minutes which added to the opulence of this barn. Can I also point out, they had chandeliers throughout the length of the barn that are nicer than anything I have in my house! Over to the additional stables across from the American style barn where the stables are lined in treated imported Indian beech and which made me so jealous but only because they would make lovely looking doors for my house.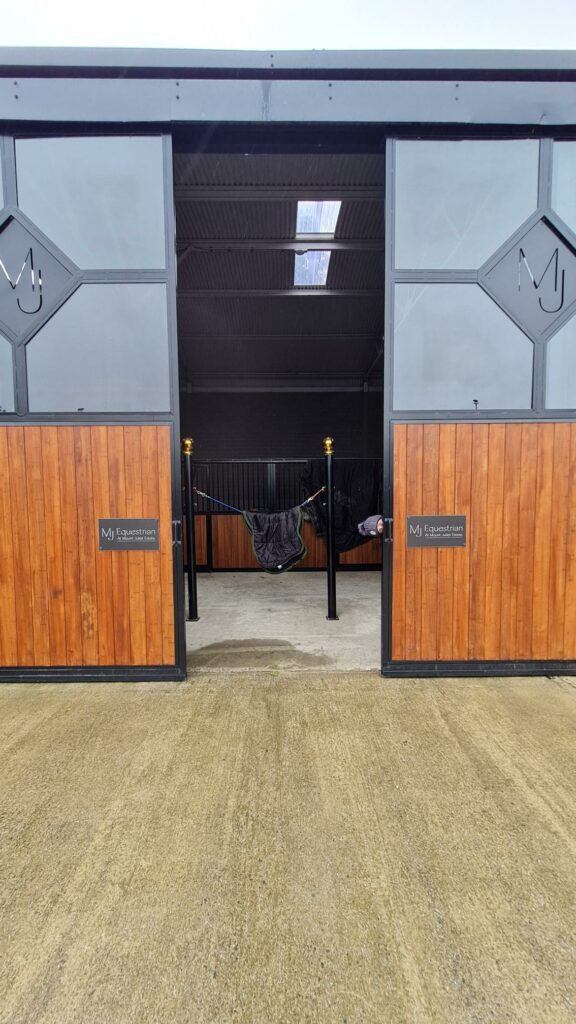 We next had a look in the tack room/canteen. Now you may not believe me, but the actual tack room is so sleek and modern that you could mistake it for the inside of some fancy modern built house. Modern cupboards and saddle racks sit side by side. We were in awe of the custom saddles, saddle pads, rugs, jackets…oh look, custom everything ok! It was just amazing. We had tea in the canteen which is your typical working yard canteen, tea/coffee/cake – you know, the important things in life 😊
There is a training/warm-up ring outside and across from this is an all-weather arena which a full course of fences. The surface is a mix of sand and fibre, not too deep – not too firm, just like goldilocks its juuuust right. We didn't get to ride on it as we were much more excited about the prospect of trail rides through 500 acres of woodlands, green hills and forestry. Yes, that's right, 500 acres! And let me tell you, we wore matching grins the whole way around.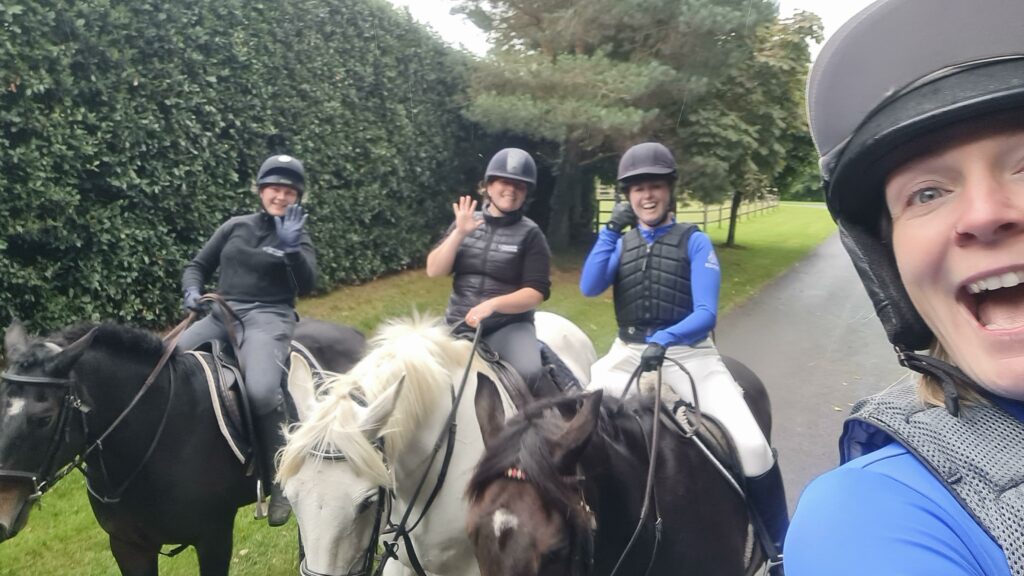 Tara and Clodagh were our guides for the day and it was truly like riding out with old friends. The girls are warm and friendly and clearly enthusiastic about their job. After being introduced to our steeds for the day, I was on Prince (who lived up to his name) and Lorraine on Doris (all speed, but only to a point) we agreed to head out on the trail – but not before we all attempted to mount our horses without using hands, out of four of us only Clodagh succeeded – all us oldies were put to shame 😊 As we walked past the gold course and hunters yard Tara regaled us with the history of Mount Juliet, you know you are in the presence of someone who loves their job and where they are when their enthusiasm and love of their jobs shines though. Tara took us through the history of the estate from when it became a hotel in the late 1980s, including the creation of the golf course, the man-made lake, the splitting up of the acreage for different projects and much more. It was so interesting, and we were badgering her with questions throughout. We were about ten minutes in and I was thoroughly jealous of Tara and the job and was considering asking her for a job so I could move down and work there.
The ride through the estate, despite the rainy day, was spectacular but nothing had really prepared us for entering into the woodlands. My happy place is, in order, on the back of a horse and in any kind of woods, so this was heaven to me. We had a little go over a log which our horses didn't really see the point of jumping, but hey we gave it a go. Lots of lovely canters on good horses, no fear of bucks or any kind of naughtiness which meant you can just totally relax into the experience and enjoy your time on horseback in such breath-taking surroundings. We jumped some drains (or ditches, depending where you are from!) and had such a giggle. More cantering and we were down by the banks of the river Nore, Tara again relaying more history, this time of the bridge that led up to the stud where yearlings happily munch green grass in the rain.
Now, to the part of the trail ride that I keep dreaming about, the estate house itself with views to the river and beyond. And beyond the private houses built on the banks of the Nore, I can just imagine being curled up on a comfy chair with a good book, glancing out the summer room windows at the rain and the river and sighing contentedly as I drink my hot tea…sigh, that might just be me.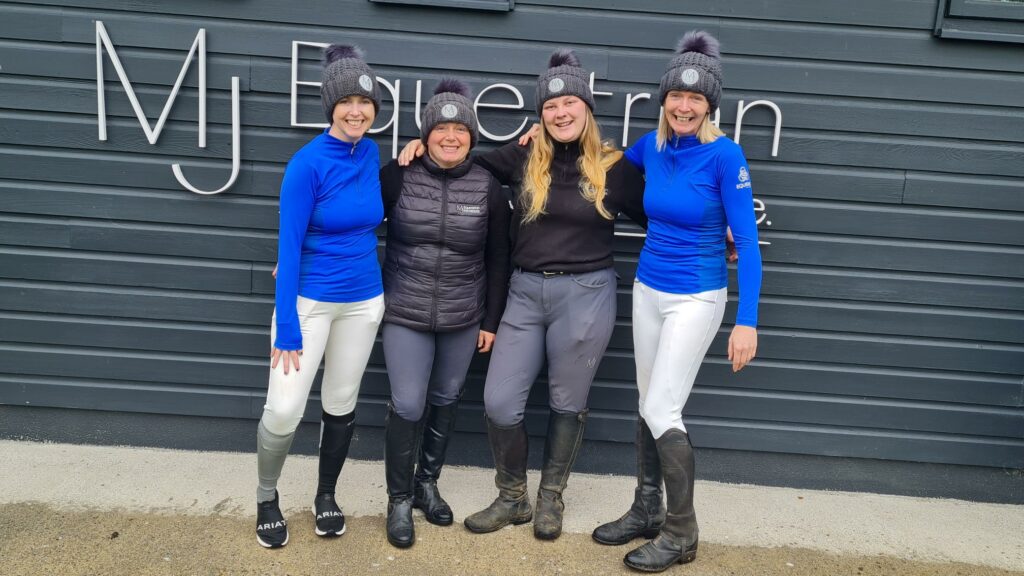 Continuing on we went through lush greenery but always on a perfectly maintained trail, thanks to the part-time caretaker, Wynn, who works tirelessly to ensure a safe and well footed trail for the horses. He also showed us a video of a stag spotted in the grounds before we arrived. It's really that kind of magical place. We rode past swimming coots and ducks, always keeping an eye out for squirrels and deer as the estate is home to a large variety of wildlife. We finished our ride with a race up a green hill and I think we can declare Doris the winner there. Although it turned into hilarious chaos when all horses tried to leg it at the end, once we were back in command of ourselves we strolled back to the yard past golfers and residents alike. Back at the yard, while staff were busy preparing for their next guests myself and Lorraine tried unsuccessfully to get Jake into the car so we could bring him home..probably lucky for him, Clodagh came along at the right moment and rescued him – hey, you cant blame us for trying!
So, if you are looking for a luxurious equestrian escape where you can truly forget the outside world, look no further than MJEquestrian. Everything you need to know is on their website at www.mjequestrian.com. Make new friends and memories in an unforgettable setting 😊