Today marks the exciting launch of a new series, a journey where we introduce you to a remarkable cast: the finalists, the dedicated production team behind the scenes, and, of course, the outstanding FINAL 5 Riders of Season 1 in The Grassroots Rider Academy. This series serves as a captivating opportunity to connect with the shining stars of the show, the trailblazers of tomorrow, and the individuals whose unwavering support made it all possible.
Tonight, we kick off with a glimpse into the world of one of Season 1's Reserve Riders, a rising star in the making – none other than Mya Morrison. Mya stands as one of our youngest finalists, brimming with potential and rapidly honing her media skills. Mya brought a breath of fresh air to the series, and her journey, alongside her incredible mom, was a testament to growth and transformation. It was a truly delightful experience to witness Mya's on-screen presence and confidence flourish behind the scenes as we filmed the series in the enchanting location of Sleighduff.
So, without further ado, let's dive into Mya Morrison's captivating story and get to know the remarkable individual who embodies the spirit of resilience and promise.
Huge shout out to our sponsors of the #GRGRiderAcademy Finalists Series, Paul and the wonderful team EquineRecruitment.ie. They just launched a new website, check it out here: https://www.equinerecruitment.ie/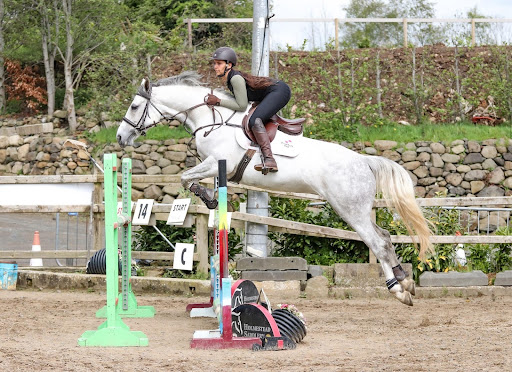 Who are you and what do you do? Tell us a little bit about yourself?
I'm Mya, I'm 21 years old from Belfast. I currently work in a primary school as a SEN assistant. I've grown up around horses and ridden most of my life but it was only 6 years ago I started to take it seriously as a hobby and haven't looked back.
Favourite earliest memory on a horse or pony? (Photo of around time)
I remember the first ever show I did, my mum threw me up on a pony and trailed me round a showing class, neither of us had any clue what we were doing and definitely didn't come away with any rosettes that day but it was a good laugh! I want to say I was 5 maybe 6 years old with my first ever Shetland pony carrots (cue cute photo)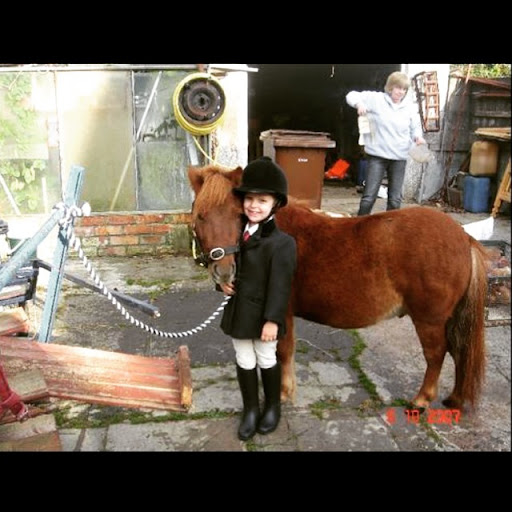 I recently saw all the Rosettes on the wall in one of your videos. Do you ever stop to think that there are lots and lots of equestrians that would like even half of those??
Of course, I realise I am very fortunate to have had horses and ponies that have given me those rosettes along the way. It's taken a lot of years and hard work to build up that collection. To some it may seem like lots but to others it's nothing. For me it shows all my hard work and things I've achieved over the years.
Were all those from Reva or tell us how some of those came about? Your favourite 2 or 3 Rosettes?
I have to admit, a good chunk of those rosettes have been won by Reva, it's not very often she comes home without one, she's a very special horse. But I'm lucky to have had 3 special horses in my life that have added to the collection along the way and for them I am forever grateful because I wouldn't be where I am today without them. I'm a bit of a sentimental person so every rosette has the date, class, and horse the rosette was given to written on the back. (and they're all colour coordinated😂)
I have a little red rosette from clear round jumping that holds the most sentiment, not because it's fancy but because it's the first time we ever jumped a 1.10. I was so nervous and refused to jump over 90cm in the warmup and very nearly pulled out of the class, but in true Reva style she jumped her way round for a clear in our first ever 1.10. That was the point where I felt like maybe I was good enough to give the SJI a go. Looks wise my favourite is a 3rd place rosette, purely because it's big and yellow and that's my favourite colour but also because it was our first ever competitive SJI show against some very good riders and we even came away with some prize money (which was spent on the grooms/my mums lunch)😂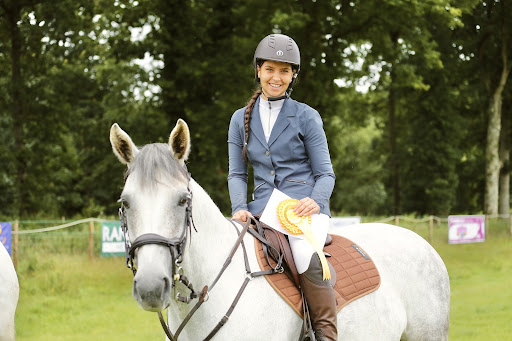 What can stop us Equestrians from fulfilling our potential and really reaching for the stars? Equestrians seem to be hard on themselves at times.
I think so many riders struggle with being their own worst critics; we criticise ourselves for mistakes or for not living up to others standards. As horse lovers we worry about letting our horses down and not showing their potential. I can relate to this because I'm too hard on myself and doubt creeps in. I think we have to remember that this is our hobby, and it's meant to be fun. We can't always get it right and that's ok, as long as we learn from it. It's so easy to compare ourselves to others or sit thinking what we could have done better rather than what we've done right. It's important to remember that we are all on our own journey and just because someone is doing better than you doesn't mean you work any less than they do.
One of the key areas we worked on in Sleighduff was media skills? How did you find that, how was it challenging mentally?
I'm usually such a laid back person but something about talking in front of a camera made me so nervous. I think for me my biggest problem is caring too much about what other people think and having people watch me fail, so it was mentally challenging trying to break that barrier and stop caring about what others think and just doing it for me.
To be fair, you were brilliant… You were someone who really grew on video and media across us shooting in Sleighduff, you got better and stronger by the day. What was it that made you more comfortable? And secondly, what mindset shift did you have to be more relaxed on camera? What were you saying to yourself? Because you were awesome by the end.
I can 100% say that it was the people surrounding me who made it comfortable, the guidance and support from the Grassroots and Equitas teams was incredible and if it wasn't for them I don't think I could have done it. By the end of the week I had blocked out all thoughts about others and wanted to do it for me and no one else. I could see myself, that I was becoming more confident in front of the camera and things were becoming a lot more natural to me in those last few interviews. The key was to just not overthink it and be myself and everyone at the grassroots academy helped to show me that if you really want something you have to go and get it.
Was there anything that surprised you about the series and being part of the whole team involved and one of the final 9.
Definitely all the work and people behind the scenes, so much talent and effort went into creating the series and the people behind it are just incredible. Everyone was so welcoming and supportive it was like one big family. The facilities were top-notch and Lauren and her family made the whole experience perfect for everyone. It was great to watch the final 5 in their lessons and implement so much learning into my own riding. The coaching was top class and really inspired me to get my head screwed on and start making changes.
What are your aspirations with Reva? Where do you want to go together? How far can you go?
I always say that my biggest goal is to never stop enjoying it. There was a point in my horse life where I thought I was going to give up because the fun had gone. Just this past year Reva came into the mix and she taught me to love the sport again. There is no doubt Reva has the talent to go far, I just need to believe that I could go there too. The big dream would be to jump a 1.20 but for now the goal is to get confident around 1.10s, who knows where we'll be a year from now 🙂
About Reva, tell us in 3 sentences what Reva means to you Mya?
She came into my life at a time where I needed her most, she's the most talented little horse I've ever sat on and has given me so much confidence in my riding, bringing me from jumping 80cm to competing at 1.10. I owe her a lot.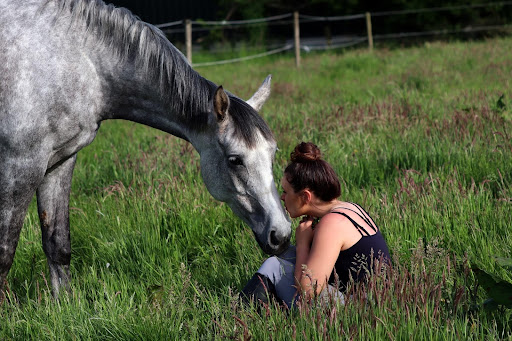 What makes Reva so special to you? Any unique traits does Reva have?
She has just given me the biggest confidence boost I needed and really changed the way I approach the sport. Reva has THE biggest personality and lives her life as the biggest diva ever, what Reva wants Reva gets. Reva will let you know when it's dinner time and if you don't serve it quick enough your arm is desert 😂
Her most annoying trait is she never stand nicely for photos 😂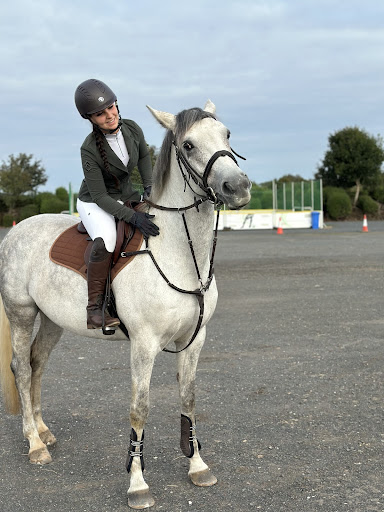 How much has your mindset in yourself changed or grown in the last few months?
I'm a completely different person than I was a year ago and even coming away from the riders academy I've changed more in terms of mindset. I'm already so much more confident in my abilities and have become so much more determined to set goals for myself and achieve them. The riders academy gave me that boost I needed to start doing things for myself.
What does the future hold? Manifest 3 things that will happen; Call them out loud and proud.
I will continue to grow as a rider and put 100% into everything I do.
Somewhere in the future I will jump a course of 1.20.
And lastly I will be back for season 2 of the grassroots rider academy 😉
Quick fire Questions to get to know Mya:
Favourite Movie? Mamma Mia
Favourite Song? Before he cheats Carrie underwood
Favourite Quote? Everything happens for a reason
Favourite Series? Greys Anatomy
Favourite Word? Literally
Favourite Place you've ever visited? Disney world, Florida
Favourite Food? Avocado
Favourite Bar of Chocolate? I strongly dislike chocolate (unless it's a brownie, does that count?)
Favourite Ice Cream? Honeycomb
Pineapple on a Pizza or Not? Only if you're giving me BBQ base.
And that is a wrap folks.
Before you go, check out this brand new website from our Sponsors of this Series, Paul McGinty and the team at EquineRecruitment.ie.
Huge Thank you to EquineRecruitment.ie for sponsoring this series and supporting us to tell the stories of the Equestrians involved in producing the series or of course the Stars of Season 1 and the Rising Stars of the Future.
Equine Recruitment stands as a beacon of professionalism in the equine industry, with a network that spans not only Europe but the entire globe. Rooted in Ireland's rich equestrian tradition, we specialise in placing experienced workers within the racing, eventing, and show-jumping sectors worldwide.