It's Derby weekend and all roads lead to Epsom. 14 3 year old colts have been declared to line up in one of the highlights of the flat calendar at 1.30pm on Saturday. Aidan O'Brien has a 3 charge attack on the race with Auguste Rodin at the head of betting affairs. Charlie Johnston saddles 2 runners in his first season as a sole trainer, having previously partnered his father Mark on the licence. Jessica Harrington sends Sprewell across the Irish sea, alongside John Joseph Murphy who probably catches the same boat and sends White Birch across.
Owned by the Jockey Club, Epsom racecourse couldn't be any more prepared for what might happen this weekend. Aintree, also a Jockey Club owned racecourse, suffered a 12 minute delay to the prestigious Grand National on 15th April, won by Corach Rambler, Lucinda Russell and Derek Fox. The animal rising activists launched an attack on the racecourse in the minutes prior to the race. Aintree were prepared for some disruption and the security was plentiful, with a large police presence and the scenes of protesters chaining themselves to fences, attempting to light fires in the fences and general disruptive behaviour were contained rapidly, with over 100 arrests made. Those who escaped police reprimanding at the course then headed down the road and closed the motorway with their ridiculous and petulant behaviour. Closing a motorway and absorbing public services meant that people who genuinely needed the help of the emergency services could not avail of it, a point at which animal rising have gone too far.
With all this in mind, Epsom obtained a High Court order to prevent a repeat of the April saga. This was approved, and alongside Epsom's security plan, one would hope that the 3-year-old Colts lining up for this years Derby are not affected by the selfish behaviour of a minority.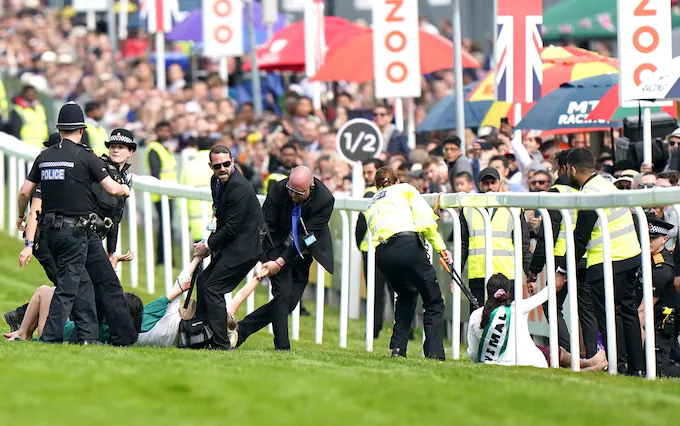 Yesterday, animal rising spokesperson Nathan McGovern expressed a desire for a world with 'No Thoroughbreds' in it amid his desire to rewild all animals. The BHA claims there are 75,000 Thoroughbreds in the UK. An industry which provides over 85,000 jobs. The lifespan of a wild horse is 12 years, with domesticated horses living closer to 30 years. Istabraq, triple champion Hurdle winner, celebrated his 31st Birthday last week in J P MacManus's prestigious Martinstown stud, where he retired after his years of glorious service, recently joined by 2021 Grand National winner Minella Times.
The ignorance of McGovern's comments leaves alarm bells ringing in any head. To protect the species, it must become extinct. Frankly, doesn't warrant a response. A BHA spokesperson did however respond to the ridiculous claims, 'These comments expose Animal Rising's true objectives. The extinction of the Thoroughbred as a breed of horse would not be an objective which most members of the British public would support'.
For me, I don't wish to credit them with any more time or attention that they so clearly crave. To Epsom, here's hoping for a smooth day on Saturday and a thrilling Epsom Derby. To the Jockey club, well done for all you have done so far and continue to do to protect our wonderful sport. To the Jockeys; Good luck and Safe Home. To the Horses, Thank you, good luck and safe home.