It gives me a lot of pleasure to publish this interview. I got to meet Noelle a few months back working on a project for her Dentistry Business Racefield Dental Surgery in Limerick. Noelle is a great person with an incredible work ethic and a wonderful personality. To see her get some amazing results today knowing the work Noelle puts in made me smile, so I reached out to her and asked could we do a special feature. She agreed and here we are. Hope you enjoy reading this and much as we enjoyed doing it.
Let's kick it off and don't miss the "Getting to Know Noelle Cobbe" questions at the end. Some questionable choices Noelle 😉 Banana on Pizza… No comment 😉!! Enjoy this Folks, Noelle is awesome.
Who are you? Tell us a little about yourself, your interests and your background?
My name is Noelle Cobbe. I'm an Amateur rider for since the 90s and I also compete in 1.10 and an odd 1.20. I come from a very horsey family. My parents Sean and Mary Carey lived for anything equestrian growing up. My brother Shane Carey is an international rider and my youngest brother Kieran was a top pony rider in his day. I didn't inherit their ability but I still love to compete and these days I have another generation starting with my children Nicola and Sean competing in ponies.
Tell us about the event and how you got on this weekend?
This weekend I was competing in the final of the 1m and 1.10m in Banner Equestrian just outside Ennis in Co. Clare. It's a fantastic facility with perfect ground despite the rain and fabulous fences. I was lucky enough to pull off the double and win both.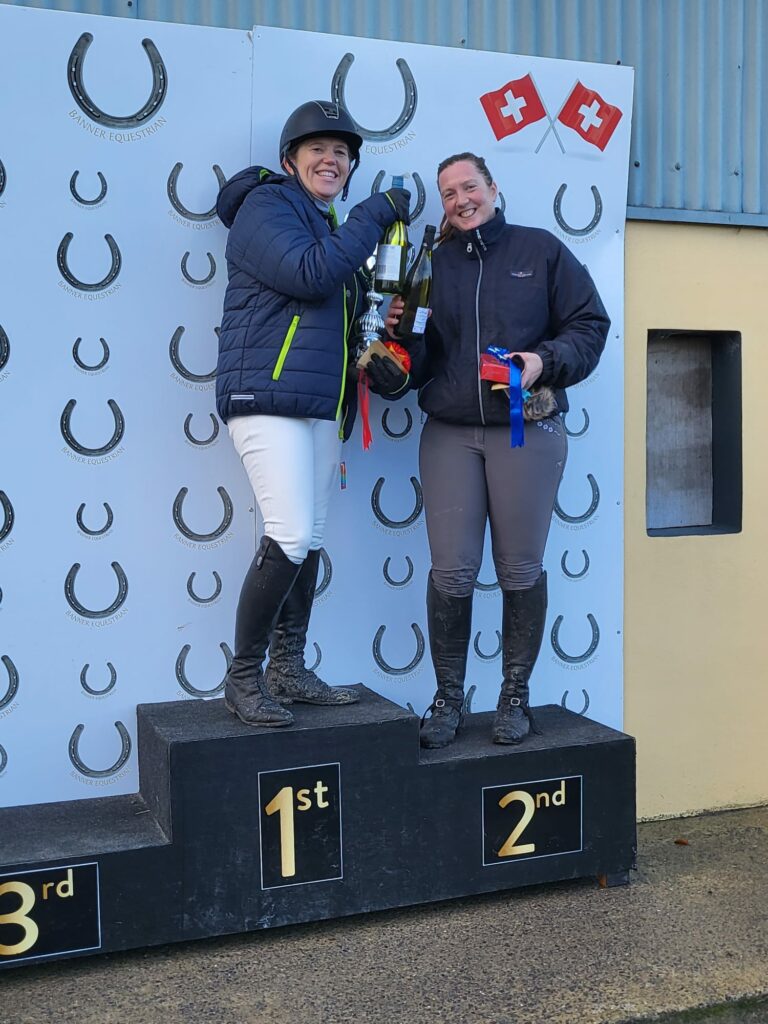 Tell us about your horse(s) this weekend? 
The equine love of my life is ONC Eleanor or Ellie to her friends. I was super lucky to have bred her from a previous amateur mare and her dad is the globally renowned Cardento. She is an absolute saint and is way too good for me. Once I got used to staying with her huge scope and not getting jumped out of the saddle, we have been a pretty good team in the massively competitive world of Amateur showjumping.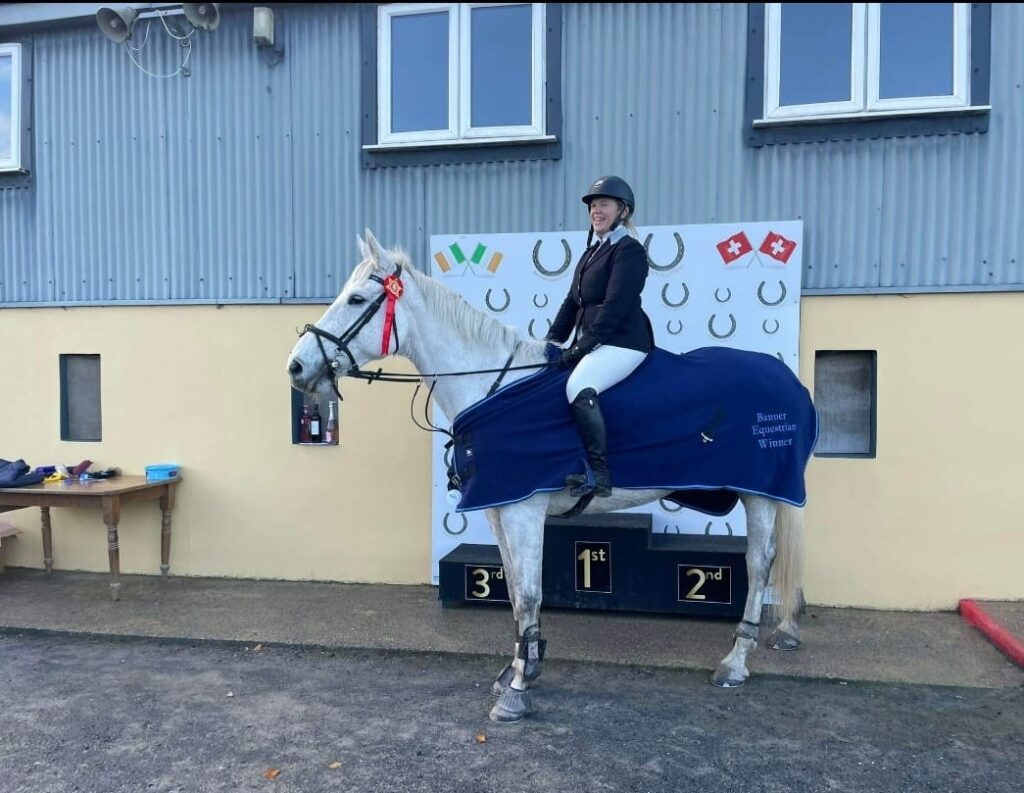 How do you prepare for an event like this? 
This year I have struggled to manage to jump myself as my kids have become more busy and juggling both them and my competitions has proven more difficult than I thought. Therefore, my preparation has been a bit haphazard, but I managed to jump a few times in Banner thus Autumn and managed a few wins.
How did you feel when you knew you had won?
Honestly, I felt a little relief in the 1m as I felt pressure to win today having won the qualifiers. That pressure was off me for the 1.10m and I was more relaxed and threw a bit more caution to the wind.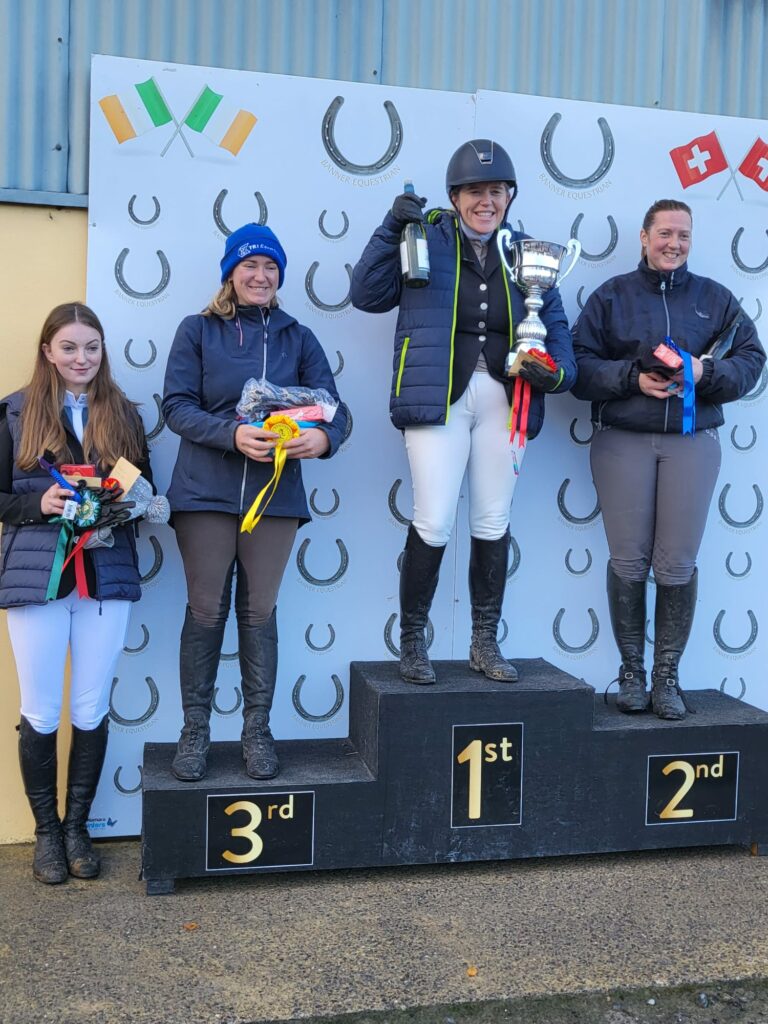 What are you most proud of this weekend?
I had a fall a few weeks ago and hurt my shoulder. At 48 I feel the falls more these days and at 17h it is a long way down from Ellie. I definitely felt a lack of confidence after that I'm glad I was able to push through that today.
Did you feel pressure in the buildup to the event? How do you handle pressure?
I definitely feel pressure before competitions. It doesn't help when you 10 yr old beats your time by 4 secs!! I get quite a slagging when I'm beaten by them. Ellie has given me a lot of confidence as she really tries her level best to get me out of some of the trouble I put her into.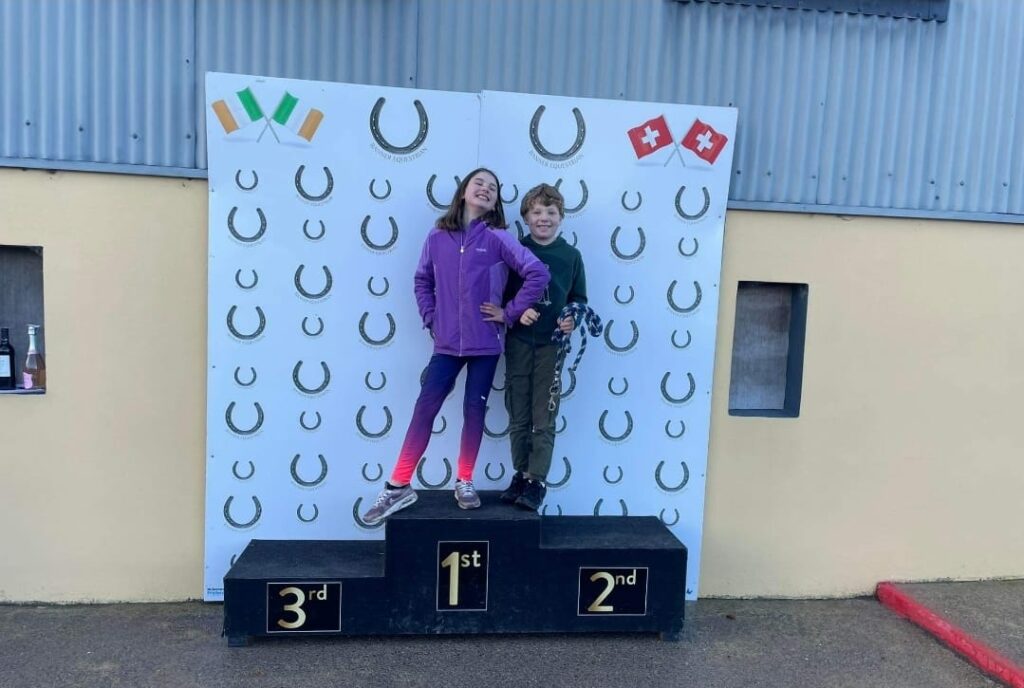 It takes a village to get prepared and get results. Do you have any people you'd like to thank or give a shout out to?
My husband, Owen is amazing. He is a city boy from Limerick and despite his complete lack of interest in horses is always there to clean out stables feed, etc. My Mum comes to every show and listens to my endless post mortems other way home. It's fantastic these days to have my children at shows and it really makes it a family affair. 
What advice do you have for grassroots people wanting to achieve the wins you had today Noelle?
I would encourage everyone to support the fantastic equestrian centres we have locally. My father who passed away in 2005 could only dream of the kind of arenas we are jumping in these days. The amount of investment that these centres have put in is amazing.
I also really believe that if it is possible for you, it is really worth getting training. As my brother Shane is in Sweden, my children and I get some amazing training from Eoin Ryan who is a fantastic local pro.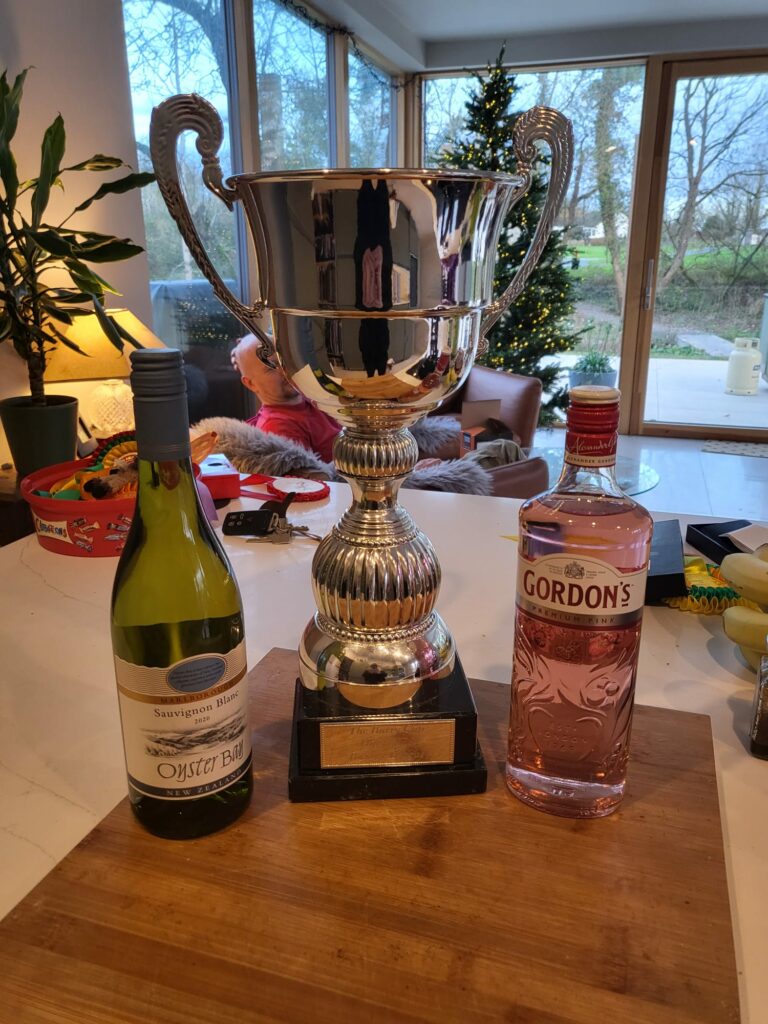 What is up next for you?
A winter break is next for me. I'm currently doing a diploma in my day job as a dentist and Ellie needs a holiday. I would love to get well prepared for the Amateur RDS qualifiers in 2023. It's a tough job to qualify but I'll give it my best shot.
Some fun get to know Noelle Cobbe Questions:
Favourite programme or series that you like? I'm a murder nerd and I love scifi.. Any detective series or Star Trek I will watch over and over. 
What is your favourite movie? All the Harry Potters and I love James Bond movies.
What is your favourite song? Anything rock. Guns n' Roses Sweet child of mine. 
If you were pizza topping what would you be? Pineapple. Stop!! It's definitely a legitimate topping and I've even been known to put banana on a pizza!! Try it before you criticise. 
Best result or proudest moment so far? I was lucky enough to win Amateur of the Year last year and that was really exciting for me. 
Favourite Quote?
"In the end, it's not the years in your life that count. It's the life in your years- Abraham Lincoln.