Across our visits to events this year, Mike and I have been lucky to meet The Next Generation and some of The Rising Stars competing across Ireland both North and South. One of the young stars we have met at events is the one and only Aoife Flynn.
Aoife has incredible potential and a huge future ahead of her. Her dedication to her craft for someone so young is something to be admired. We were very happy we had the chance to chat with Aoife after the Dublin Horse Show.
Note: This interview was supposed to be released 2-3 weeks ago but due to the equine industry being in mourning, we kept it back out of respect.
So let's get into our chat with Aoife about the outstanding year she has had so far.
Who are you, and what were you doing last week?
Hi! My name is Aoife Flynn and I am 14 years old. I live in Moneygall, north Tipperary. Recently, I was competing at the Dublin Horse Show in the ridden Connemara class, riders u17 years of age. I was riding my 10-year-old grey gelding 'Fiery Diplomat' Aka Max. What an experience we had as it was my first time competing at the show!
How did the event go?
The event went extremely well in my opinion! I tried to enjoy every second of it as it's such a privilege to be up there. When my Mam and I arrived, it took us a while to find Max's stable as there were so many! However, as soon as we got Max settled in, he acted as if he'd been there every day of his life.
The atmosphere of the whole event was surreal, I felt like I was living in a dream if I'm being honest!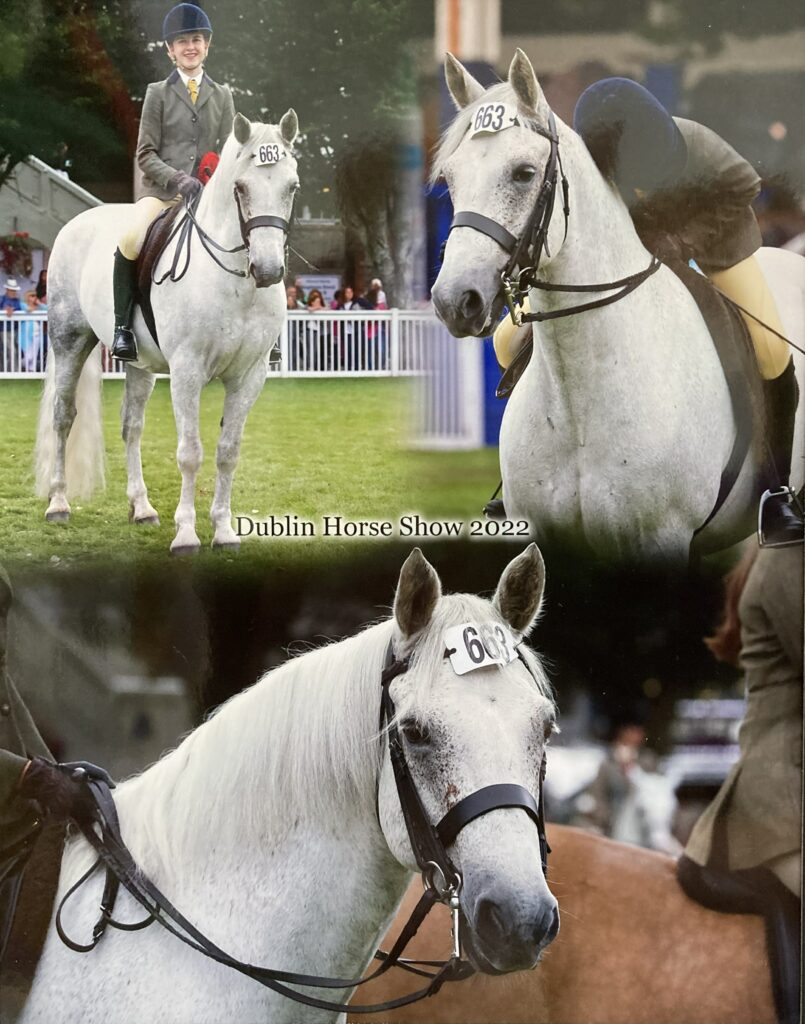 You've some truly incredible results lately, can you tell us more about them?
Thank you! Yes, I have had some great results but also some amazing memories. I think Balmoral show when we won the u16 ridden Connemara class and placed reserve champion ridden Connemara was probably where the ladder started, and from there we just kept climbing! We also had Ballyconneely where we were Champion of the Show – my heart skipped a beat when they brought out a trophy (now known as the monument) which was almost the size of me! Definitely the biggest trophy I've ever won. There was also Clifden where we had gorgeous weather and of course Dublin, and many other brilliant shows along the way.
And of course, the horse(s) that helped you achieve these results? What can you tell us about them?
I have been lucky enough to have owned and ridden some fantastic ponies in my life. My first ever pony I owned was called Fanta. She was a small but mighty 12hh coloured cob who I did pony club, hunter trials, Minimus and hunting with. She was a little legend! My second pony was a black Welsh section C gelding named Donny who we bought from Wales. I am forever grateful to him as he was the one who let my passion for showing begin. I vaguely remember entering him into a working hunter class at a local show not having a clue at all about the etiquette or even the aim of the class! However, we all start somewhere, and with the help from friends and fellow competitors we got a lot more practiced when we went to shows. I wouldn't change a thing about the life I had with my past ponies as they have all shaped me to become the rider, and person that I am today.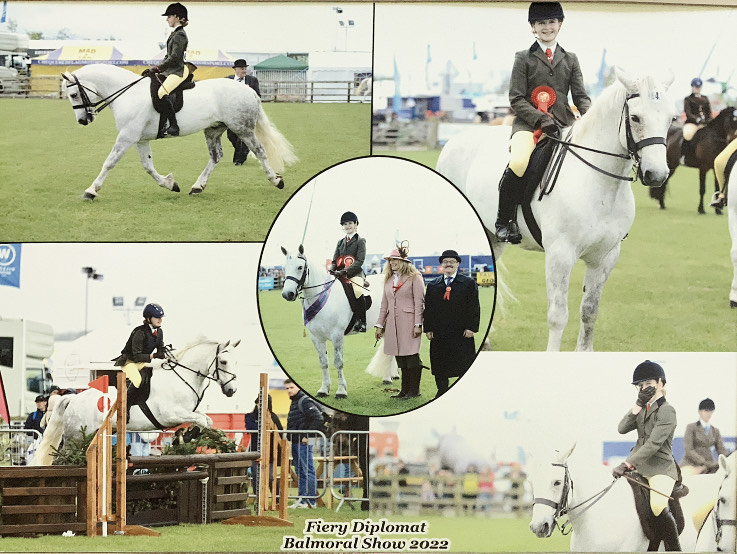 What kind of training or practice do you do to be reaching the level you are?
To me, lessons and practice are key to success. However, I am always open to advice from others as there is something to learn from everyone. An exercise that we probably do the most in training is stretching. I usually stretch Max before, during and after each session. We also like to do plenty of pole work and hacking which is Max's favourite! When we are jumping, I always let Max on a long rein in walk and trot to stretch out his neck and back. I also let him have a good warm up to make sure he's ready to go.
Do you ever get nervous in the run up to these events? How do you deal with those?
When I was younger, I used to get a lot more nervous than I do now. I deal with my nerves by talking to myself and sort of hyping myself up. For example, telling myself over and over that I'm ready and also just distracting myself by talking about something completely different. I always stay calm and try to focus more on Max than on myself.
What were you most proud about last week?
My proudest moment was when we did our lap of honour. The feeling of cantering around with everyone clapping and cheering for you was incredible. I'll never ever forget it. I was proud of myself and Max because we have worked hard to achieve where we are today. From the day Max arrived on our yard, to the day we qualified for Dublin, to the day of the Dublin Horse Show were all such thrilling moments but I won't ever lose sight of the journey we've had in between them!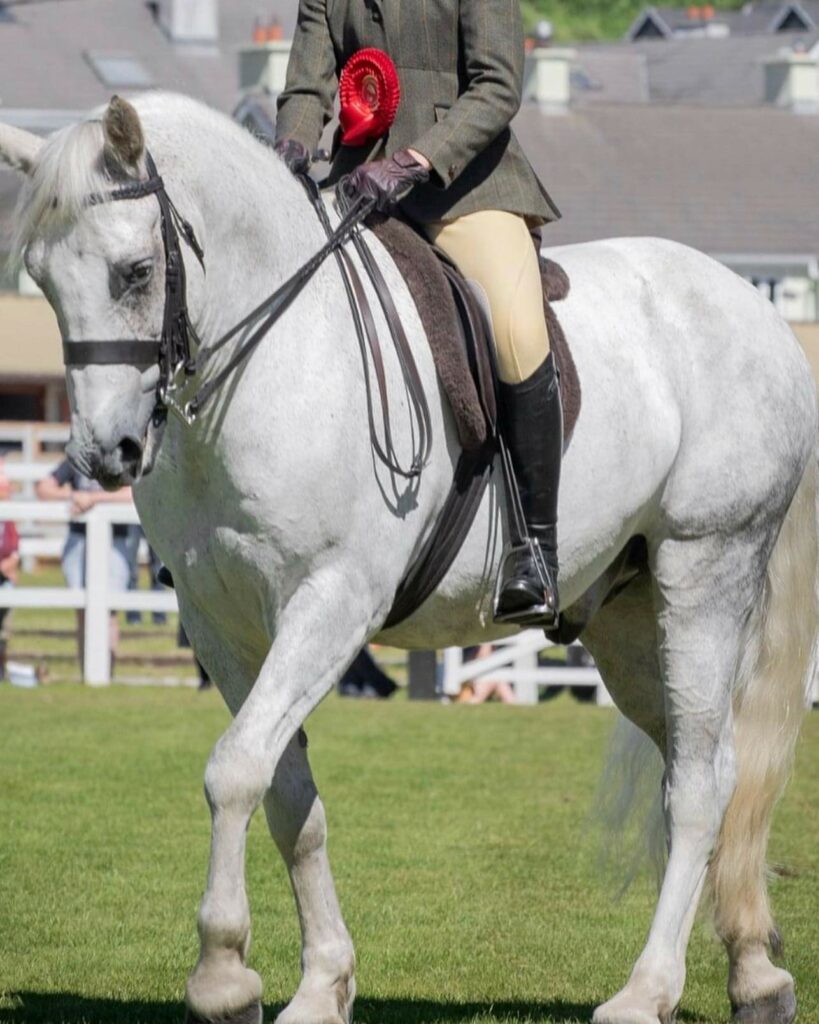 Have you any sponsors or people you'd like to thank or give a shout out to?
I have no sponsors/supporters at the moment however my door is always open for anybody! I would love to give a shout out though to my parents, Rachel and John Flynn for always being there and supporting my Dublin dream!
What advice do you have for people wanting to achieve the results you've had lately?
I would give one piece of advice to everyone reading this which feels so important to me: "Hard work pays off." There is a major difference between really wanting it and working hard to GET IT. I think this saying definitely inspired me to keep pushing forward and that I will get there one day, which I did!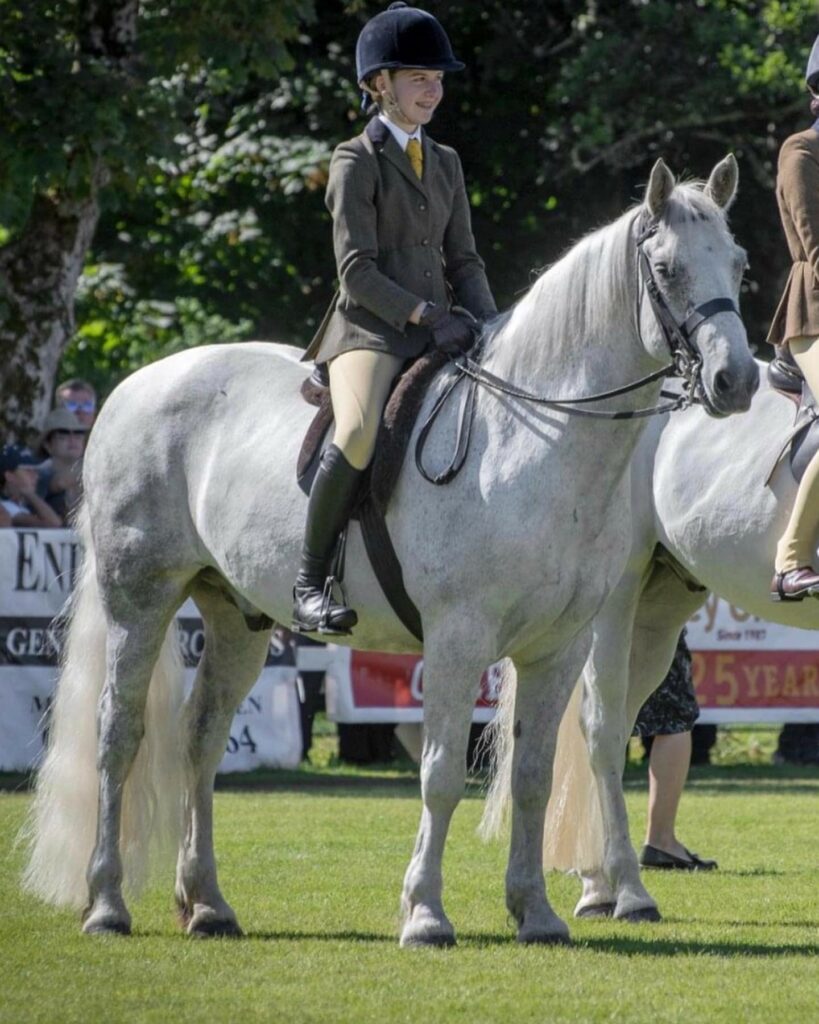 What kind of confidence or belief will this give you for the future?
This advice will give me a strong confidence for the future, and whatever I want to succeed I'm excited for, even if it involves more hard work and ups and downs. I think that's the feeling that us equestrians thirst for, the feeling of horrible times when everything is not going as planned, but when you get through it and do really well, those bad times make the good times feel 100x better!
What's in store next for you both?
Over the Winter, I want to give Max every chance to have some fun including hunter trials, xc schooling e.t.c while at the same time training hard for the 2023 showing season ahead! I'm especially looking forward to trying some working hunter and ridden qualifiers for The Horse of The Year Show next year! My Instagram account is blackhill_ponies for anyone wanting to follow our journey. I also run a TikTok account and my Mam runs our Facebook account!