We love interviewing The Next Generation. Today we are delighted to release a recent interview Muireann O'Toole Brennan did with Ethan Hogan Eyre. The Next Generation is a big part of our future here at The Grassroots Gazette. Shining a light on Rising Stars like Ethan is incredible important. They are the future of our industry so giving them a platform to chat with media and get experience with interviews will help all our Rising Stars develop and progress. A special thank you to Ethan's Mum Emma for all her help and support with this. It was a real pleasure getting to interview Ethan.
Let's Kick it off and get into the interview 😊.
Who are you? Tell us a little about yourself and your interests?
My name is Ethan Hogan Eyre. I live in Kilkenny and I have 2 ponies Splash and Merlyn. I just started secondary school in Pobail Osrai. I spend most of my time riding ponies, hurling and playing rugby. I love dressage, showing and showjumping.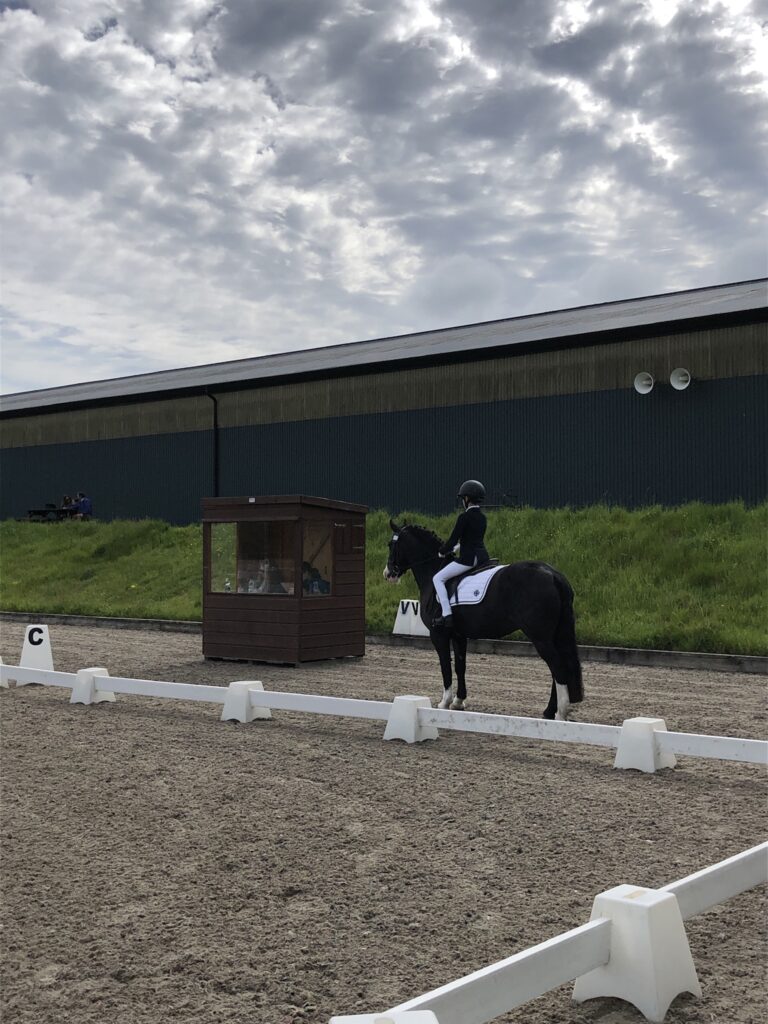 Tell us about the event and how you got on at the National Championships?
A couple of weekends ago I was at the Dressage National Championships held in Barnadown. I was in a large trailblazers Preliminary class and got 68% and placed 5th on my pony Splash. I had to get two qualifying scores to make the championship so I got those at Spruce Lodge South East show and Dressage in the City. I was absolutely delighted to get to the Nationals. It is my first year doing dressage and Splash is completely new to it too. She was pretty strong in the test but we had some really good moments, a lot to build on. The nationals were so cool, brilliant to be part of such an event and to see all the professionals was really inspiring.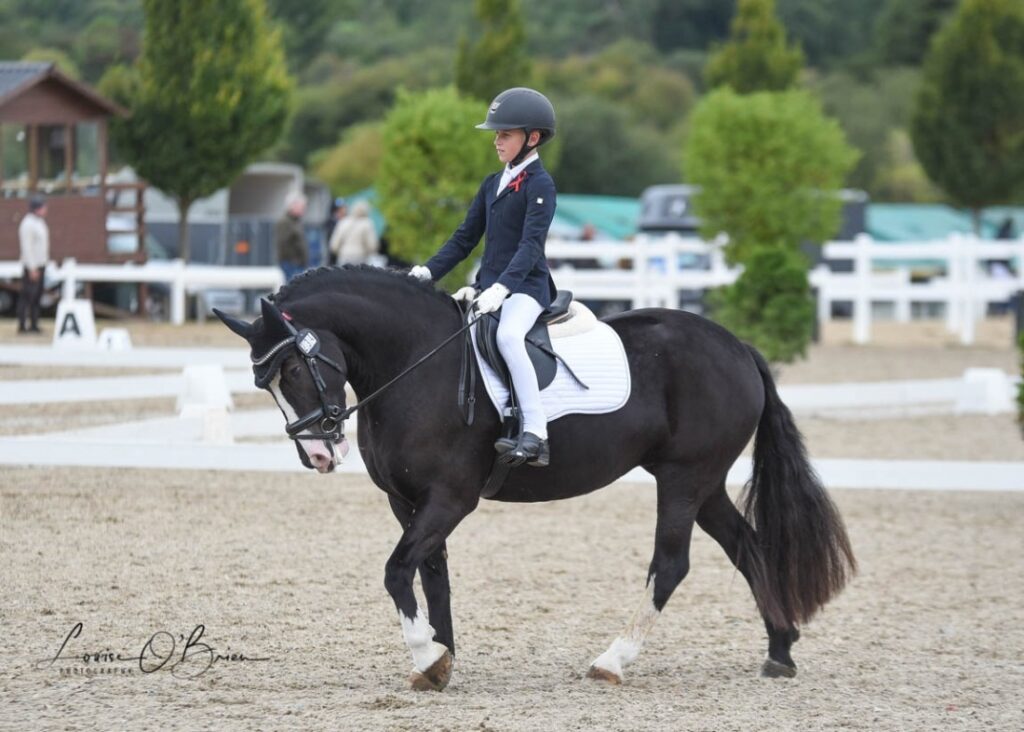 Tell us about your horse at the National Championships? We heard you bought and produced it with your mum?
This pony is Scotchtown Rosie we call her Splash. She's only 5. My mum Emma bought her in Jan 2021 and she was just broken and was very green. The lady we bought her from said Splash "had never seen a mirror". She has no idea she's a Cob, she's so athletic, has a great jump and gorgeous movement. My mums cousin Gloria Nolan who produces Connemara ponies has helped us get Splash where she is today. We've brought splash all over the place in the past 18 months. She is a bit of a tank and very bossy but loves her job. She's still quite green but getting there.
What was your favourite part of the event?
The warmup with my coach Annemarie Dunphy. Splash went so well. She's normally quite fresh and takes a while to settle. Also, all the treats on the way home!!!
What do you love most about horses and ponies?
I love how they can read situations and know if you are a bit off. They are so good at communicating their own feelings. They are such a unique animal.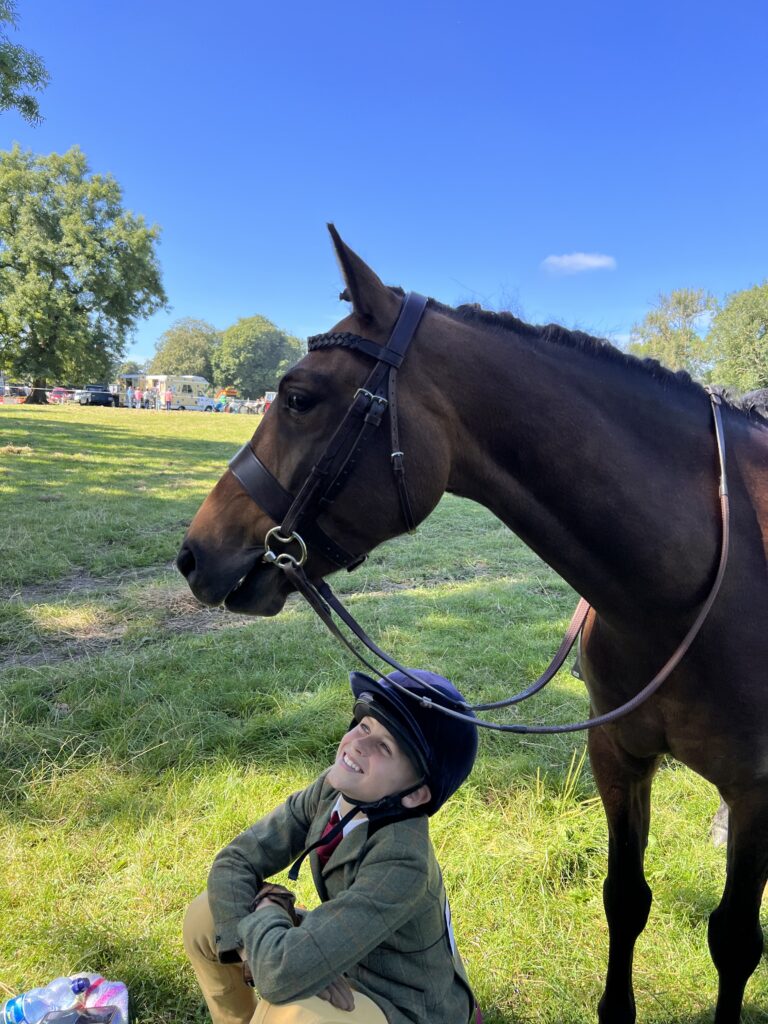 What do you like about dressage and competing?
I'm on the South East Youth Development Squad and that's a great opportunity to learn more and meet other dressage riders. I love competing. We have fun days out like beach rides and going to equipark or the field equestrian but competitions are serious. I'm there to learn and improve and keep consistent scores. Every day I go out I go to improve on the time before. There is a lot to think about when you are in a test on your own and the only way to improve is to just keep going. I've had some really hard days where things didn't go to plan but the good days are really good then.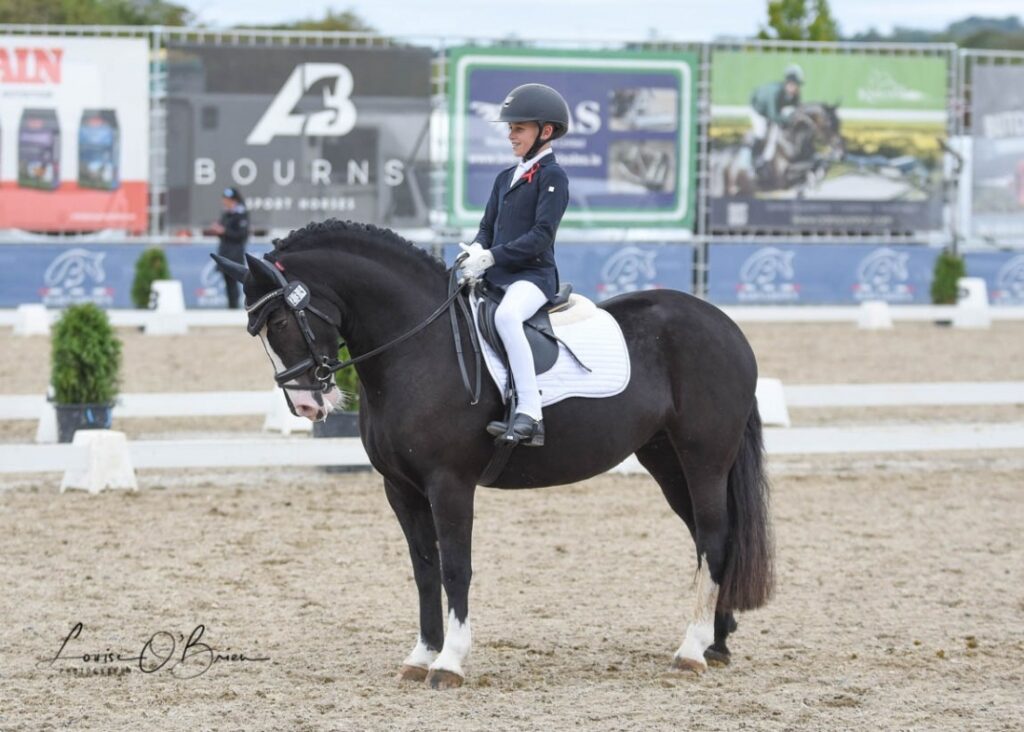 What are you most proud of this weekend? We just wanted to qualify and having a pony that is a total baby place 5th is pretty awesome. I'm delighted with her and will build on that for next year.
It takes a village to get prepared and get results. Do you have any people or sponsors you'd like to thank or give a shout out to?
I don't really have sponsors as such but I have been sent a few things from Dapple which is a Kilkenny company. I was so happy. I think mum would love a few sponsors though!
My coaches have helped me so much especially Gloria Nolan and Annemarie Dunphy. I could hardly steer this pony 18 months ago. I also do lessons with Vitaliy Halstyan on my other pony Merlyn. My mum also helps me a lot, and she does all the grooming, and driving etc. We also have a great vet, farrier, and physio Kirsty Campbell who uses Indiba on our ponies and really has Spalsh going so well. We also go to the Aqua Equine treadmill in Carlow owned by Taylor Deane. They are always very good to us. We've great support.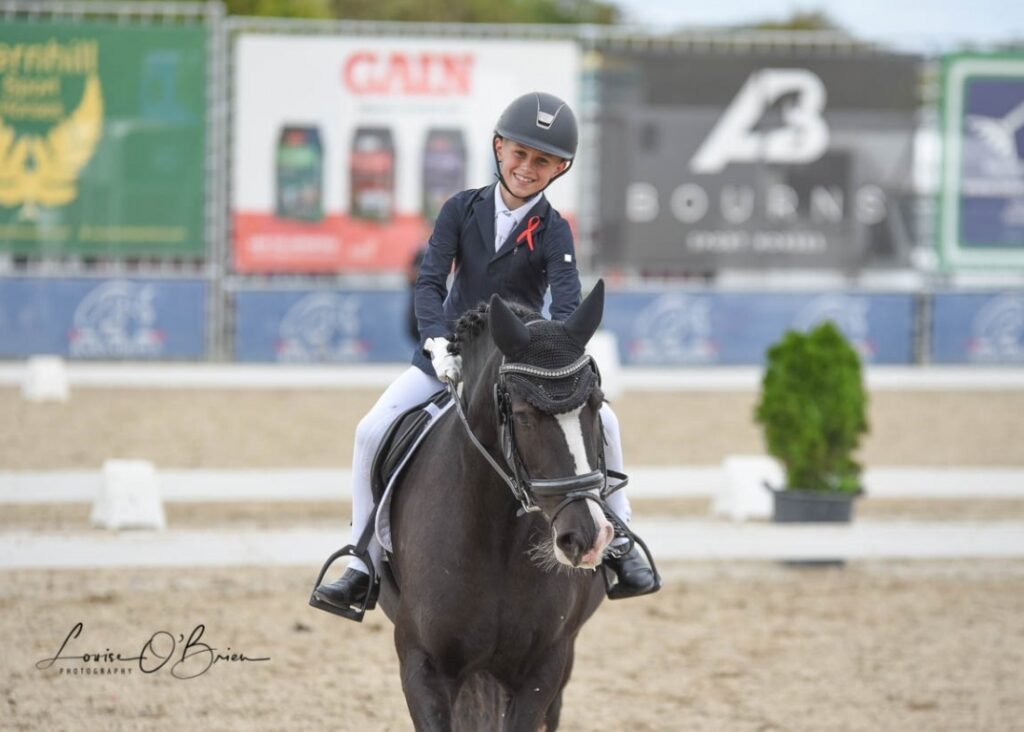 What is the one event you would like to compete at or win?
The next goal is the winter championships but would love to go to keysoe to compete in dressage and HOYS or Dublin with Merlyn. I really want to go showjumping too with both ponies but it's hard to get to everything.
What are your goals or dreams for the future?
I'd love to progress up through the ranks in dressage and maybe one day represent Ireland at European level. I've a lot of work to do. For the Winter it's all about getting them out and seeing everything. I'd love to breed a few of our own horses one day. I definitely want a career with horses.
Now for some fun, quick fire questions 😊😊.
Getting to know Ethan Hogan Eyre.
Favourite programme or series that you like?
Too busy on TikTok and Snap Chat to watch series at the moment!
What is your favourite movie?
Saving Private Ryan
What is your favourite song?
I really love Bohemian Rhapsody
If you were pizza topping what would you be?
Eh, probably the tomato sauce. My parents always say I'm very reliable, and the tomato sauce is always there!!!
What is the funniest thing your horse has ever done?
Probably the morning of the championships she escaped from her stable and tried to get to the field to roll in the muck! She was all plaited and ready to go compete. My mum ended up in a pile of sticks as we both hung onto her stable rug.
Best result or proudest moment so far?
Winning on our dressage debut at Spruce Lodge and going reserve champion in the M&M with Merlyn. They are young ponies and both have a lot to learn. Every day we bring them out we all learn something