Before doing this interview I reached out to our writer groups to see did they know anyone who did well at Nationals this weekend. Almost instantaneously Shannen Buggy from SBE Equine Services came back to me and said I have a wonderful person for you to interview. I asked who it was and could Shannen send me an intro piece. The name was the one and only Jenny Heffernan and the intro piece well… read below.
"I'm well proud of her. She's a great inspiration to myself and everyone at Redhills and one of the most positive people I've ever met. I'm delighted she's getting this opportunity for the interview, it's Jenny's time to shine 🌟" – Shannen Buggy.
Now on with the interview with the powerhouse Jenny Heffernan. I am not surprised Jenny has a performance coach too. It explains a lot 🌟😊🌟.
Who are you? Tell us a little about yourself, your interests and your background?
Jenny Heffernan. 40 something 😊
Normal Job – IT Programme manager
Part-time job #1 – Teaching
Part-time job #2 – General Dogs Body
1 husband Karl, 2 kids Kara and Charlie. 2 dogs Rowdy (Springer) and Preston (Rescue Greyhound)
Live at Redhills Stud, Kildare with far too many horses!
Have been in horses all my life, started in a riding school at the age of 4. Loved the wild freedom of those days on ponies – we used to swim them across the Boyne to go on adventures. Later in horses I moved to eventing, when I got too chicken moved to Jumping, when I got too chicken moved to dressage and absolute love it. It's an addiction!
No time for any other hobbies but I do love to read and eat!
Tell us about the event and how you got on this weekend?
This weekend was the DI National Championships in Barnadown. It was absolutely brilliant. The most successful weekend I have ever had in horses – we just peaked at the right time.
PSG Champion, Small Tour Champion and 2nd in the Freestyle which was great fun. We got a PB in the Inter 1 and I cried like baby after. He was just so good!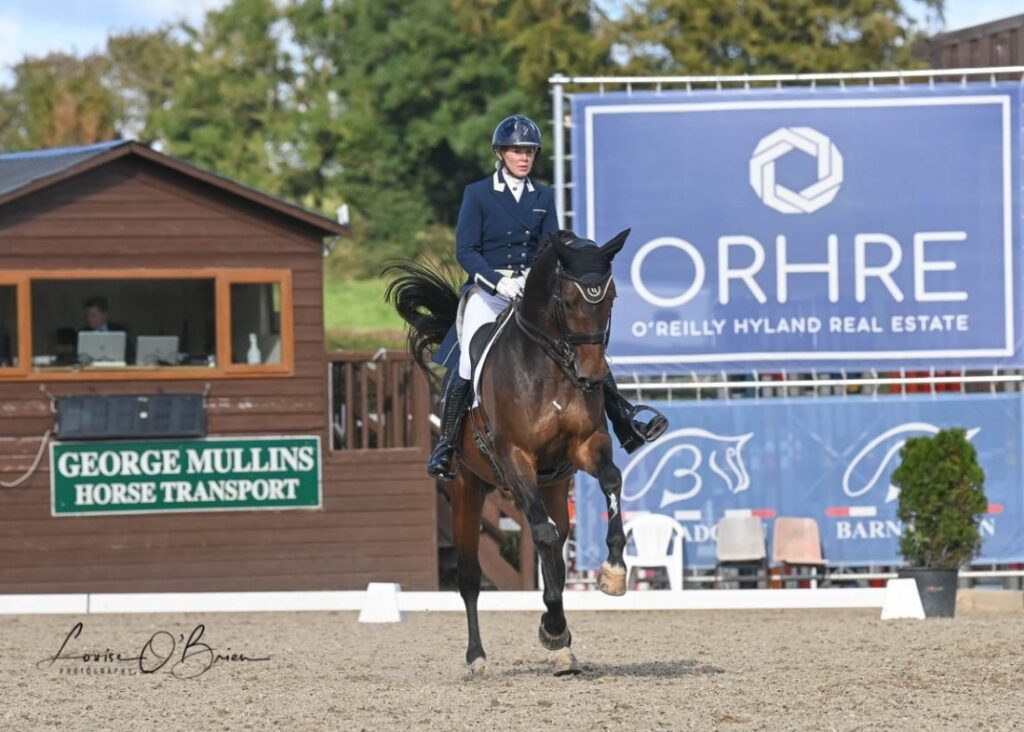 Tell us about your horse(s) this weekend?
Kai (Keizer, King Kai, HMS Kai..). He is a 14yr old KWPN by Vivaldi. He is the love of my life (sorry Karl). He came to me May 2021, a Covid Buy! I bought him through a friend/Agent Femke Beljon in the Netherlands. She knew him well and coached his then owner Milou who I am still in contact with. There is nothing he cannot do and nothing he will not try; although he would kill you for a banana or a mandarin.
How do you prepare for an event like this?
Jeez it's a lot. More for me as I have had to get used to a new horse and a whole new level but I have worked my ass off over the last 12 months. I have regular training with my coach Heike Holstein – She is amazing, not just teaching but the support, encouragement and backup. I also have to work a lot on my own physicality – core strengthening and proprioception. I had a very bad back injury resulting in surgery in my early 20's from a fall out hunting and have some nerve damage in my left leg. I do a lot with Liz Frayling – Biomechanics, to try and keep me level and wake up that leg! I go through Liz's exercises before I ride.
I have also been working with a performance coach this year – Camilla Henderson – She has been an absolute game changer for me!!
The horses do varied work; Kai is a very fit man right now 😊 I think that is really important – they need to be fit! They also get regular physio/chiro and soundness check-ups with vets.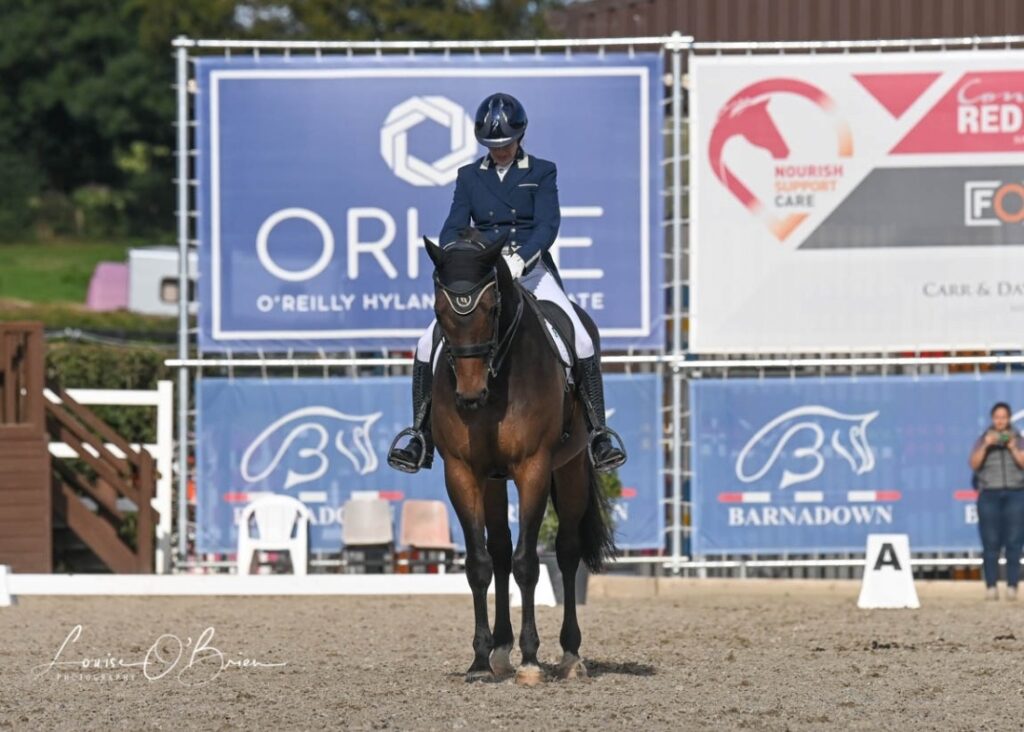 You had another big result recently. Can you tell us more about it?
Yes, we had a great result at the SER Classic were we won the Small Tour championships.
So two big results in two Months, how are you feeling about your achievements this year and what would you put these results down to?
A bit gobsmacked still to be honest! To win anything is bloody hard; I will not take this for granted and will remember it always.
I have a very very good horse and have a very understanding family who have allowed me to invest so much time (and money!!) into this sport this last year. It has been a lot of work both mentally, educationally and physically.
What are you most proud of this weekend?
The Inter1 test at the Nationals it was just great – he was so with me and both judges commented that it was harmony between horse and rider – that is the Goal! If I had cantered at the right marker we might would have broken the 70% but still it was just a great feeling.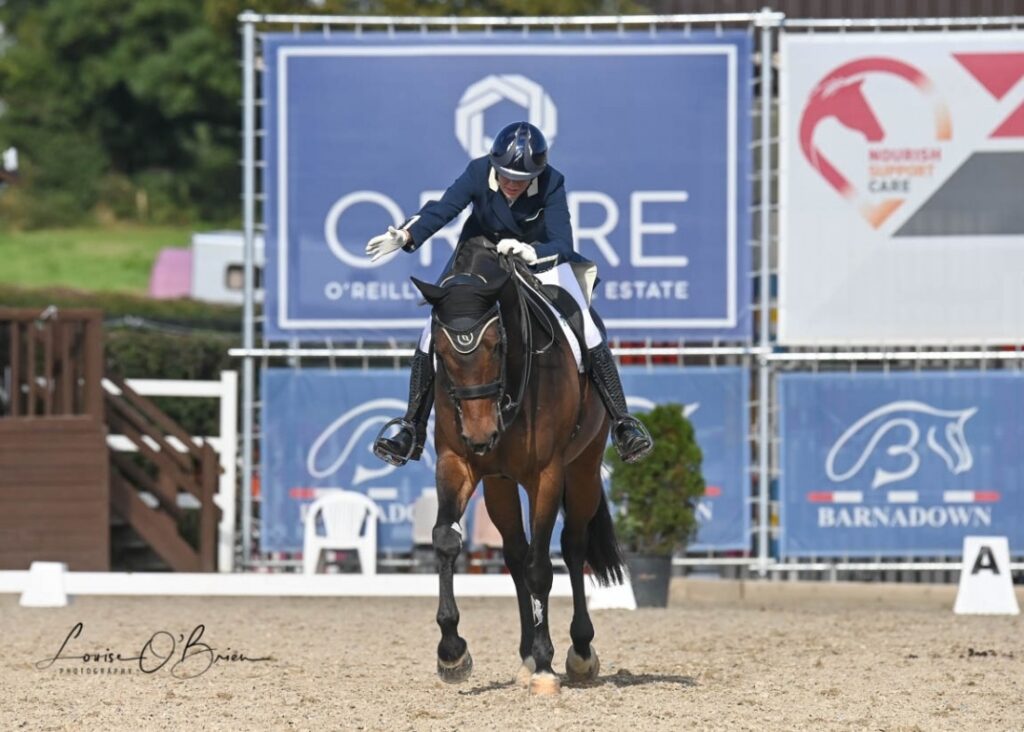 Did you deal with pressure competing in events like this?
Oh Yes! I was actually under more pressure/nerves following the PSG Win.
I have had to work really hard on my mental preparation and focus. Recognising avoidance behaviours which typically were 'I am only here for the craic' and not taking myself seriously; this was avoidance – I now go fully focused on Participating with a very clearly compartmentalised mindset and strict preparation. As Camilla says not just focused – LASER Focused.
How did it feel to win the National Small Tour Championship over the weekend?
I would love to say it was a dream come true, but it wasn't as I never even got as far as dreaming it….
When the shock wears off a bit and the energy comes back up, I will have a great time just reliving it.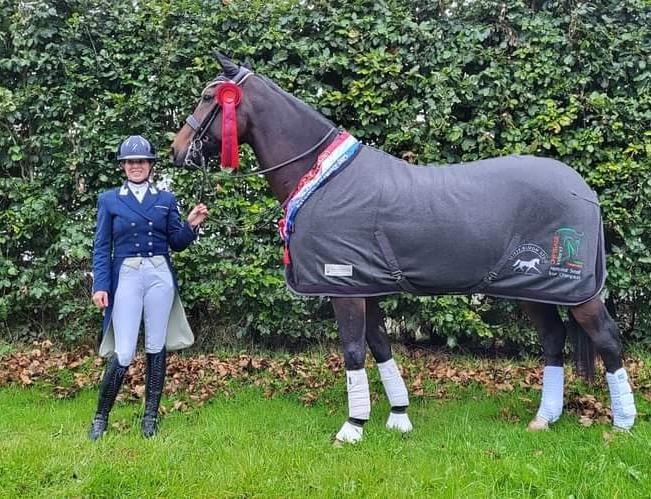 It takes a village to get prepared and get results. Do you have any partners, people, or sponsors you'd like to thank or give a shout out to?
This list is long! As above my family are so generous with my time! I am endlessly grateful for that and promise to make it up. I have a really good network of friends who are just so supportive! Like Always. Sara (Wood) is my lifesaver! She is friend, groom, and organiser extraordinaire!! She has been with me at virtually every show this year and gets me up on time! Would be lost without her!
Heike has been my main coach for the last 15 years (jesus we are old!) I keep it in the family 😊 Erik was my sj coach and Gisela worked with me on the jumpers and gave me my first intro to proper non-eventer dressage. I have also had opportunities to work with other trainers over the years. We are very lucky to have some super trainers fly in such as Rodrigo Matos, Richard White (organised by Dressage Ireland), Matt Frost, Christoph Hess and many more. Dressage is so technical you can never stop learning. I love it!
I don't have any sponsors but Karl would be delighted if I got free stuff 😀
What advice do you have for people wanting to achieve these kinds of results Jenny?
Firstly, invest in yourself. Find the best trainer you can. One lesson a month with the best trainer you can get is better than 1 a week with mediocre. You need to educate yourself! Think outside the box – we have access to the best trainers in the world on the web/youtube/Apps etc. I trained mine to do all the tricks from Youtube.
It's not just about the horse it is also about you physically and mentally and you can constantly improve on this. Don't get caught up on the bullshit; Dressage is a Bling business; don't get caught up on the bullshit.
Have a full-time job out of horses to be able to afford horses 😀
And always remember that it is the joy of riding and training – you need to love what you do.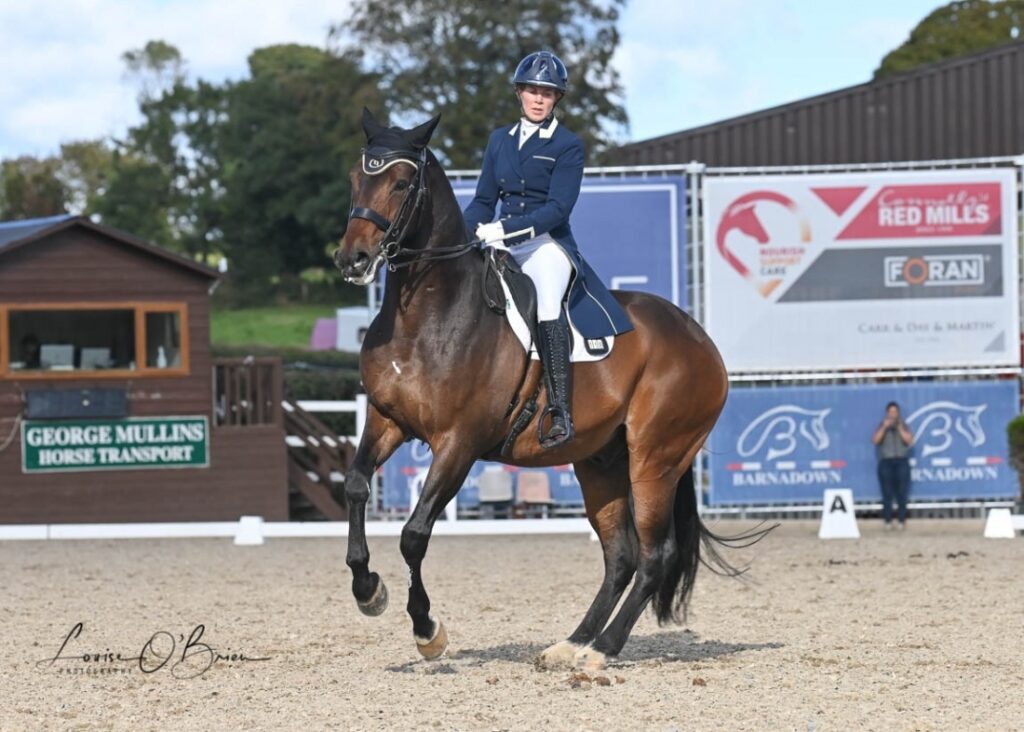 What is up next for you?
We have started to talk about a possible International next Spring but only tentatively. For the Short-term Kai gets a rest – just low key work and hacking, then start back on some of the fun stuff. He loves the high collection work but we have not gone near the 1's yet! I am leaving the plan in Heike's hands.
I will also need to concentrate on the other homebred young horses for the next month while he is having a quiet time.
Before you go, we couldn't leave the opportunity pass. Tell us a little bit about Redhills?
We are first and foremost a livery yard outside Kildare town and have been operating for 12 years now. We run some competitions and are a schooling/training venue. We always try to keep moving forward and innovate, so watch this space. The top of my list is an indoor; I won't stop moaning until we have one! 😊We also breed (although have taken a break for a couple of years) and break what we breed. We are however awful at selling them 😊.
Huge shout out and thank you to Shannen Buggy for her help and support with this. We are blessed with the writers we have and the community we are building together. I know Shannen has something cool coming soon with Jenny but I won't give too much away.
Until Next Time,
Shane