Autumn is on its way. The days are getting shorter and slowly on the leaves are falling of the trees.
Our horses have already started to change their coats weeks ago.
Most of these horses will have had and still have access to grass, which contains lots of nutrients such as vitamins.
But, this does depend on the quality of the soil and type of grass that your horse is on.
Some horses will have access to grass all winter long and some will come in from the grass around October. Either way, they will be getting less vitamins in their diet because the grass wont grow as quick anymore and most hay lacks vitamins or will have a small amount of them.
From nature horses are able to develop most vitamins in their gut from eating forage (hay). So you wouldn't think that there is a problem and that you need to supplement anything. BUT….. this is where it goes wrong.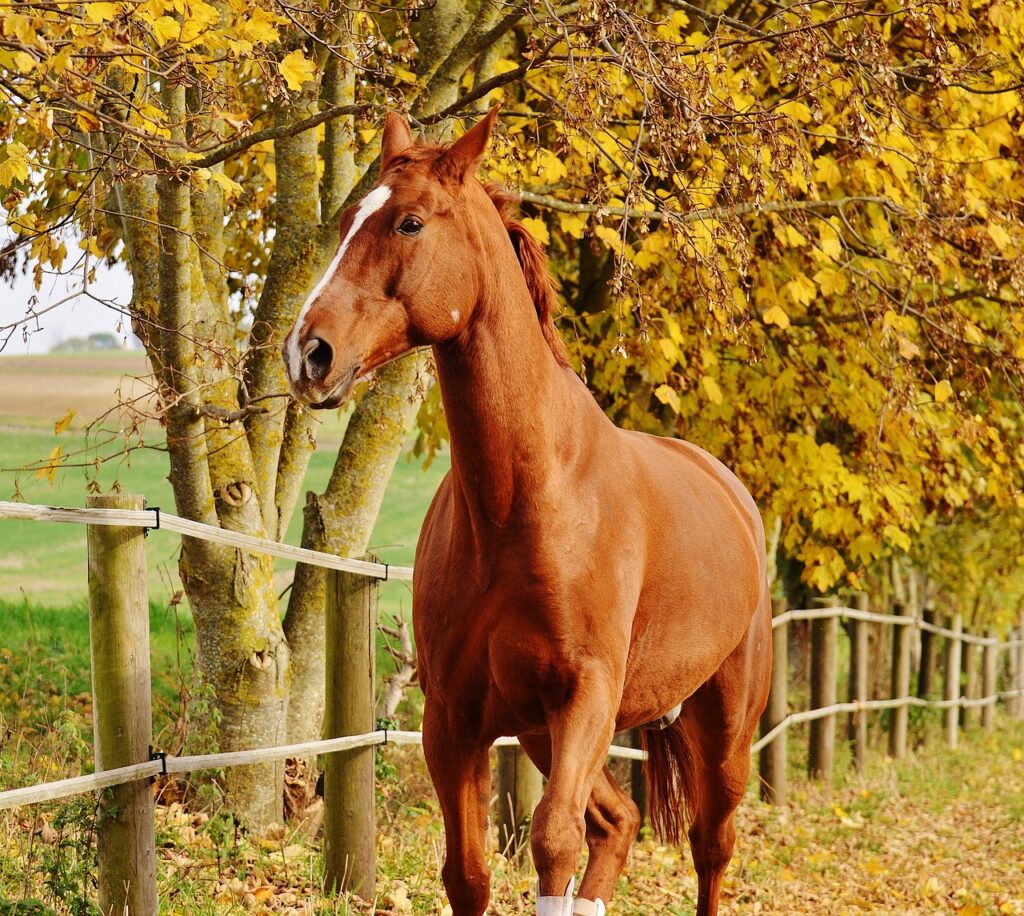 Nowadays many horses have metabolic problems. Such as chronic coughing, sweet itch, mud fever, weak hooves, coat problems and so on. These metabolic ill horses use up a lot more vitamins to keep themselves healthy. More than they can produce themselves.
For these horses the extra support is especially needed!
So what can you do about it?
Make sure that they have access to good quality hay (24/7) and give them the option to stand in a shelter to protect them from cold winds and rain. Eating forage keeps them warm, but if needed and you have an old or skinny horse then rugging them is also an option.
Add a mineral feed to their diet to make sure that they get everything they need. Please check the ingredients and look for a mineral feed without added concentrates! Make sure it contains vitamins A, B, D , E, K.
For those with metabolic issues add extra vitamins to their diet (on top of the mineral feed ), such as wild berries, rose hips, immune support supplements, vitamin C and vitamin E
Support them with the change of coat because they will use more energy to do so. You can add wild seeds to their diet and spirulina. Spirulina supports both the immune system and gives more energy.
Look into getting your horse treated with lymphatic drainage. Some massage therapists are qualified to perform this treatment as well. Lymphatic drainage supports the immune system but also helps to get rid of waste.
There are still some shrubs and trees that grow during Autumn and can support the horse, such as: Blackberry leaf, Nettle leaf, Yarrow, Dandelion , Plantain and Rosehips. You can cut these for the horses or let them forage.
Add customized herbs to their diet. Herbs belong in the horses diet and support and help with many metabolic issues/health problems. This way you bring variety to their diet but also support them naturally
Please contact us for customized advice for your horse. We work with a team of professionals and we are here to get your horse back to health again!