It's not fancy, comfortable, clean or even have a good view but THAT Chair in the Yard is my special place…..why…it's my refuge, it's where I go to sit and look at the solitary spiritual Robin bouncing around picking up the seeds fallen from the feed from the horses. It's where my amazing little brown Terrier who is exceptionally loyal seems to understand as he waits patiently for me to arise and move onward… It's where I can watch the droplets of rain falling on the puddles and splashing on my boots. It's where I can escape from reality and think about Horses and dream of having or producing a "special one". It's where I can escape from the real world for a few stolen moments of peace and solitude.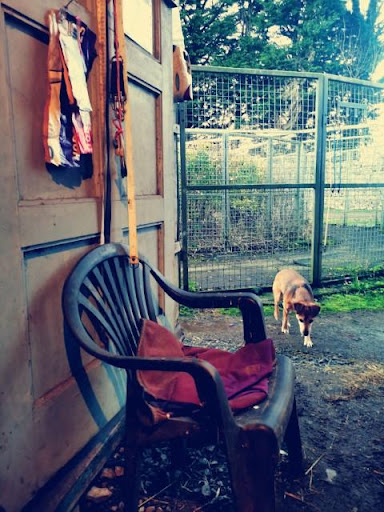 That chair is so special that when I am away I long for that place and feeling of peace and solitude to think and to realign my brain from the myriad of thoughts that permeate our daily lives with negative influences and those pesky fears. I feed, muck out and check legs, rugs etc… Then I sit and I often think I should be a smoker as it is the perfect time and location for a Cigarette break but alas I am not that person. However, I do have a mobile phone that connects me to my Social media and so I quickly go thru the FB, Insta, TikTok accounts but one minute later I have already forgotten what I watched, smiled, cried or laughed at…
Did I already say that it wasn't the most comfortable Chair because if it was it would give a signal to others that this maybe my or someone's secret hideaway, where I disappear to for minutes or even hours and not just working in the Yard!. So the discomfort is definitely worth the deception as it never gets moved or fixed in another position as it is totally unobtrusive to others who invade my special place. The chair is also my classroom when I am looking at race schedules, designing a race plan for a horse or researching an equine ailment…..it's where I work but not where I work if you get my drift but is where I get my inspiration during those quiet moments of separation from the real world. I also use the chair as my video studio where I watch reruns of my Horses races or better still those classic races from the past that still create a connection today through folklore of the Horses, Owners, Jockeys or Trainers and the story that has been knitted into our amazing equine quilt of Irish Racing.
That Chair which nobody else knows about, is an old plastic garden chair of dubious heritage but works for me and on those moments that I can steal to share that space It is indeed like no other space in the world. One can lose themselves in a place where time can seemingly stand still, free in the calm moment of your own thoughts. The daily worries and stresses can disappear for a brief moment and allow that already mentioned realignment that is needed or even critical on a daily basis.
I love my chair even though it's an old uncomfortable chair but I love it for what it does for me and gives me. It's in my yard outside the tack room and close to my horses and hopefully other people may have similar spaces in their life whether it's a chair like mine, a space in a barn, a corner of the tack room or under a tree in a paddock that gives them what I speak of above. If not, then buy an old garden chair and I promise you it will become THE CHAIR for you as well.