Today marks the exciting launch of a brand new series, a journey that allows us to introduce you to some remarkable individuals. Meet the outstanding finalists, the creative minds fueling this production, and, most importantly, the outstanding FINAL 5 Riders who have emerged in Season 1 of The Grassroots Rider Academy. This series is a window into the lives of these stars, a glimpse into the future, and a tribute to all those who've contributed to this incredible journey.
Our second special feature of the series begins with one of Season 1's Reserve Riders, a rising star in the making – the remarkable Simon Corridon. Simon, one of our youngest finalists, is a beacon of promise, with a future that shines ever brighter. His journey has been nothing short of inspiring, and his media skills have grown exponentially.
Warning: Article contains a graphic photo.
Join us as we delve into Simon Corridon's story, a testament to the power of perseverance and personal growth.
Huge shout out to our sponsors of the #GRGRiderAcademy Finalists Series, Paul and the wonderful team EquineRecruitment.ie. They just launched a new website, check it out here: https://www.equinerecruitment.ie/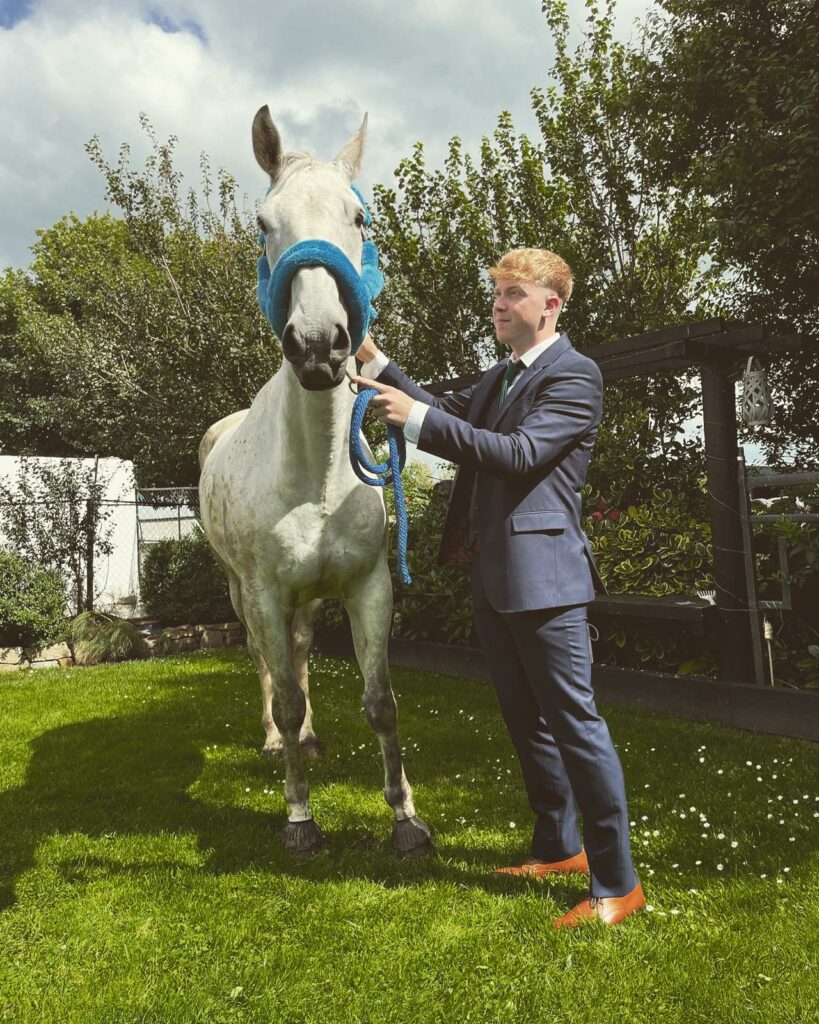 Who are you and what do you do? Tell us a little bit about yourself?
My name is Simon Corridon, im 18 years old from Ballyheigue in county Kerry and I'm the face behind simon.corridon_eventing on Instagram. I was lucky enough to be selected as a finalist for the grassroots rider's academy series 1. We have our own yard at home where we break and produce young horses and currently have 6 horses with us. I compete at national level with the Irish pony club and I'm lucky enough to have qualified the national pony club festival in Barnadown the last 2 years along with taking 2nd place at the national hunter trials the last 2 years also.
Favourite earliest memory on a horse or pony?
I think my favourite childhood memory from riding would have to be getting my first pony
Duffy who stayed with us for 9 years. We rescued Duffy from a farm where he wasn't treated the way he should have been. He had a lot of trust issues and was a very nervous pony. But over the course of 2 years I build a bond with him and eventually brought him on so much he had the courage to go to riding lessons and shows, which is something I didn't think I would see this horse doing.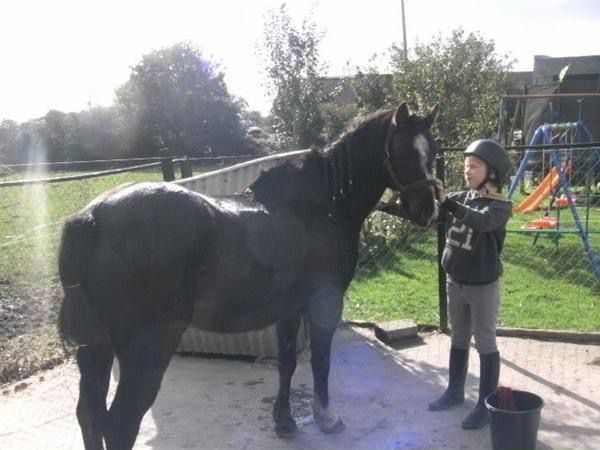 You really want to push yourself to build your brand and profile. Where does that ambition and drive come from? And what are the overall goals and ambitions you want to achieve?
I feel that my ambition and motivation to drive forward really comes from my horses and sponsors. I'm lucky to have a good string of horses with good breeding, so I know they have high limits and I really want to bring the best out in them. After setting up my Instagram it has also really motivated me to move forward in the sense to bring more sponsors on board to build a better brand and profile for myself. My most recent motivation driver would, really have to be getting the opportunity to work alongside the grassroots gazette and their riders Academy. Getting told from Shane that he sees high potential in me really drove me on in the sense of a motivated mindset.
Why do you do what you do? Where does that strong sense of purpose come from at such a young age?
Being so young it's rare to see a rider my age with his own yard of 6 horses, but I have always been a very active and hard-working person from a young age and I don't honestly know what I would do if I didn't have the yard to keep me busy every morning and evening. In recent years I have been very successful when it comes to competing and I think this really keeps me going strong as I come from a non-horsey background, so the lifestyle I have created for myself has all been my own work which gives me great satisfaction.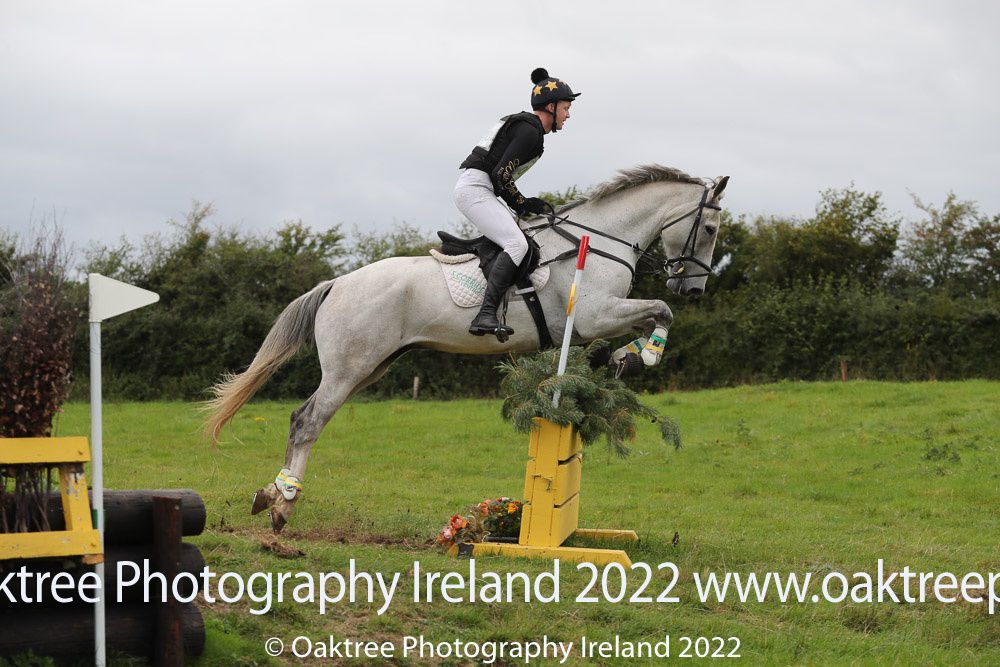 You have an inner belief and sort of patient confidence – in some ways maybe you even knowing what is coming – where does that belief come from Simon? It is brilliant to see in The N3xt Generation.
I think that my inner belief and patient confidence comes from working with young horses all the time. All my horses besides Duffy have been young or green horses that needed to be broken or produced and the satisfaction of seeing them progress throughout their career gives me belief that what im doing is working and worthwhile in the end. There is good days and bad days but I feel that I have to be patient and a good result will come in the end.
What is your message to younger riders, competitors and producers coming through with big aspirations?
The biggest message I would have to any young riders would be to believe in yourself and push beyond your limits and comfort zone. Just because you have had bad days out competing or something goes wrong, put it behind you and move on. It has happened and can't be changed so need for it to stop you reaching your goals. 4 years ago I was involved in a horse riding accident where a horse fell on top of me and I had to get surgery on my hand, but I put that behind me and look where I am today. We all have ups and downs.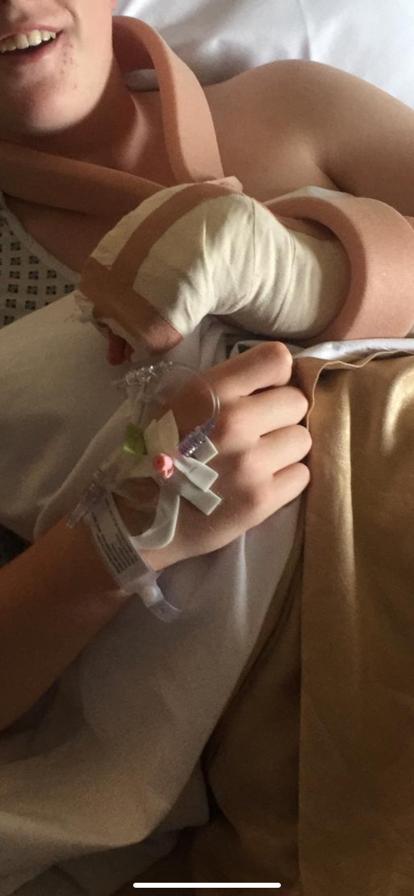 One of the key areas we worked on in Sleighduff was media skills? How did you find that, how was it challenging mentally?
Working on media skills in Sleighduff was something outside of my comfort zone but not for long as my confidence grew and within a day on site in Sleighduff, I was happily sitting in front of interviews and lives. But it's all about pushing beyond your comfort zone and growing your confidence which I was lucky to conquer. The training we did and skills we learnt are all skills that will stay with me for life and help me to grow my brand and profile.
Was there anything that surprised you about the series and being part of the whole team involved and one of the final 9. Any key Learning from it?
I think the biggest surprise for me with the filming of the series is the family it created "the Grassroots family". It really was something which helped to make the series a lot easier on everyone. Everyone from the riders, Grassroots Gazette team, Equitas team, production team, camera crew and of course Lauren and the lovely painter family were all so welcoming from the moment we stepped on site. It really was hearth warming. It wasn't the environment I was expecting to be honest.
What are your aspirations with Apollo? Where do you want to go together? How far can you go?
I have big goals with Apollo after seeing what he can achieve over the last 3 seasons eventing. I would love to compete at my first international with him and I think doing it on a horse in which I produced from the very beginning would be a dream come through. He has the potential it's just to fix the small problems and let him slowly move up the ranks.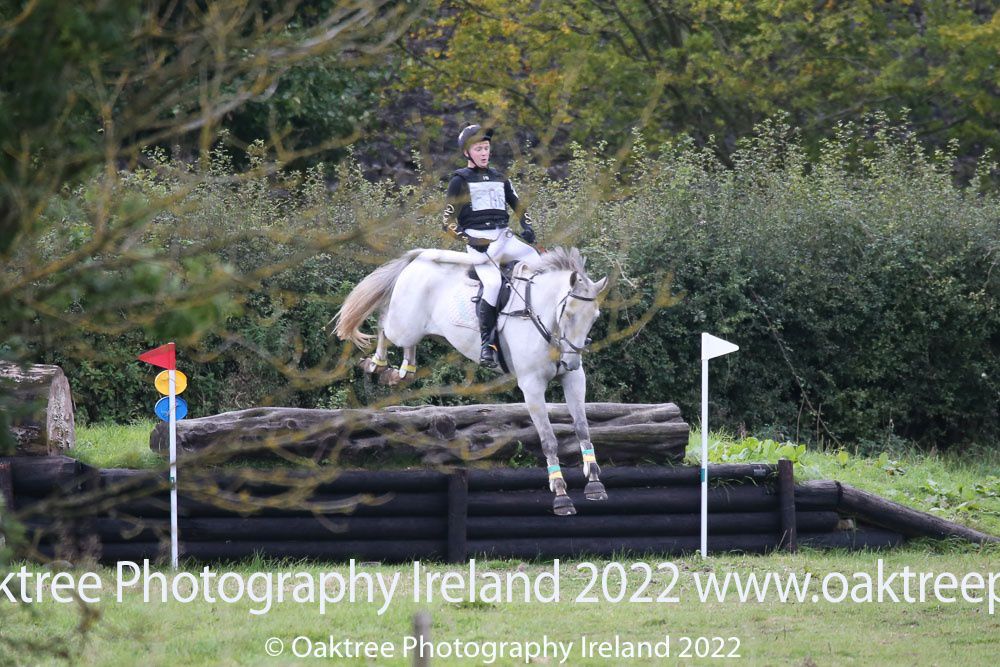 About Apollo, tell us in 3 sentences what Apollo means to you Simon?
Apollo means the world to me and is one of the reasons I am where I am today. He has helped me to achieve national titles and helped me reach my goals and I can't ask for anything else from him.
What makes Apollo so special to you? Any unique traits does Apollo have?
Apollo is so special to me as we have produced him from the very beginning as a 4 year old. Looking back to the way he was when he first came 2.5 years ago to eventing up to 1.10 now it gives great satisfaction. The feeling he gives me when in full flight around a xc course isn't explainable.
How much has your mindset or belief in yourself changed or grown in the last few months?
The change in my mindset over the last few months has been incredible. It has been amazing to be part of the grassroots riders academy and the motivation and positivity I get from it is incredible. Everyone is so supportive and its great to have a second family behind me at all times helping me to reach my goals.
What does the future hold? Manifest 3 things that will happen; Call them out loud and proud.
My hope in the future is to move up the levels in eventing and create a more powerful social media platform for myself. I am hoping I will also have the opportunity to welcome on big sponsors and increase my media work. Maybe even be invited to shows or asked to do commentary, who knows what the future holds !!!! Nothing is impossible.
Quick fire Questions?
Favourite Movie? The Conjuring.
Favourite Song? Just the way I am.
Favourite Quote? "Success is reward for effort".
Favourite Series? "At home with the Furys".
Favourite Word? Friends.
Favourite Place you've ever visited? New York.
Favourite Food? Caesar salad.
Favourite Bar of Chocolate? Kinder Beuno.
Favourite Ice Cream? Biscoff.
Pineapple on a Pizza or Not? Not a bloody hope it's a sin!!!
And that is a wrap folks.
Before you go, check out this brand new website from our Sponsors of this Series, Paul McGinty and the team at EquineRecruitment.ie.
Huge Thank you to EquineRecruitment.ie for sponsoring this series and supporting us to tell the stories of the Equestrians involved in producing the series, the Rising Stars of the Future and of course the Stars of Season 1 of the #GRGRiderAcademy.
Equine Recruitment stands as a beacon of professionalism in the equine industry, with a network that spans not only Europe but the entire globe. Rooted in Ireland's rich equestrian tradition, we specialise in placing experienced workers within the racing, eventing, and show-jumping sectors worldwide.