It gives me a lot of pleasure to write this piece for The Grassroots Gazette about the one and only Sheena Boran. To set the scene, Sheena was our first ever advertiser in The Grassroots Gazette. It is safe to say she does and always will, hold a special place in mine and Mike's hearts. She supported us when nobody knew a thing about us, believed in us and backed us at a time when it probably didn't make much business sense to do!! We will forever have her back and support Sheena because of this.
We've had Sheena on for Livestreams before and she is always a huge hit because of her deep knowledge, wonderful personality and to be fair, she is just great to chat with. Always trying to improve and always there to help others, just like she did with Mike and I at the start of our journey.
Move forward 9 Months as we lead the fastest growing online equine media brand in Ireland or the UK, it fills me with joy to be able to write a lovely story and interview about the powerhouse that is Sheena Boran after her fantastic results last weekend at the Equipeople AIRC National Eventing Championship at Kilossery Lodge.
A little bit about Sheena Boran from @sbe_sheenaboranequestrian:
Sheena is a registered Freelance BHSII Stage 4 senior coach in complete horsemanship / HSI Registered Coach. She specialises in building your confidence both in the saddle and on the ground. Sheena creates a variety in her coaching through pole work, long reining and lunging keeping both horse and rider motivated. She prides myself on building confidence and getting you ready for the arena and competitions. Last weekend Sheena was competing in the riding club championship at the Equipeople AIRC National Eventing Championship at Kilossery Lodge and she had a fantastic weekend.
We kicked off our interview with Sheena asking how the event went, where she placed and we really wanted to find out about her horses this weekend.
How did the event go?
The Event ran very smoothly by the AIRC. It was a really enjoyable day, all classes were clearly marked. I competed in the open class 110 & 120 championship representing Callaighestown Riding club where there was very talented riders and horses who all performed extremely well. The venue Killoserry Lodge has fabulous facilities and the horses really seemed to enjoy it and feel comfortable with the surfaces and the atmosphere. We managed to climb up to 1st place after getting a clear round in the x.country.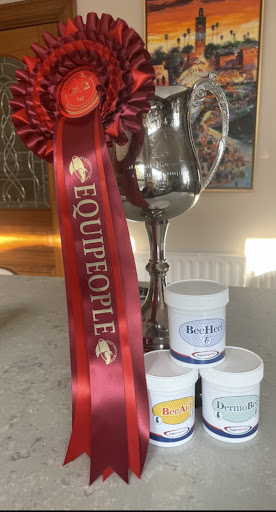 And of course, the horse(s) that helped you achieve these results? What can you tell us about them?
Well, my wonder Badger was the star of the day, Blackwoodland silver Birch sire: I love you melody
Dam: Murvey Silver Lor
Sadly, I love you melody passed away this year. Progeny level eventing and showjumping.
Badger and I have been on many adventures which I would call them at this stage, plenty of highlighted moments on our journey 😂. Badger loves to jump and is always very enthusiastic ears and eyes are always pricked forward looking for the next fence to jump 😂.
Cody is my other horse, and he is a star on the hunting field and also competes as well doing all disciplines he has a heart of gold and also is Badgers calming therapy.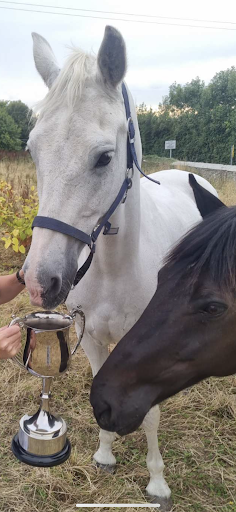 What kind of training or practice do you do to reach the level you are at Sheena?
I believe at any level everyone needs training and eyes on the ground, support and encouragement when you're riding, every day is a learning day and routine, patience, and love is the key to success!!
"Simply Beautiful words from an amazing coach and person"!!
Do you ever get nervous in the run up to these events? How do you deal with those?
Yes, of course I get nervous, I wouldn't be human or I'd be lying if I didn't get the butterflies or the excited, anxious feeling, but I believe it's a good feeling I have taught myself to breathe, to think about the feeling of achievement when you have jumped that final fence or come down that center line to halt, that feeling of accomplished weather it has gone well or not you must be proud of both you and your horse and live in the moment because you got up and tried and that to me is always a win. "Everything you want is on the other side of fear" Jack Canfield.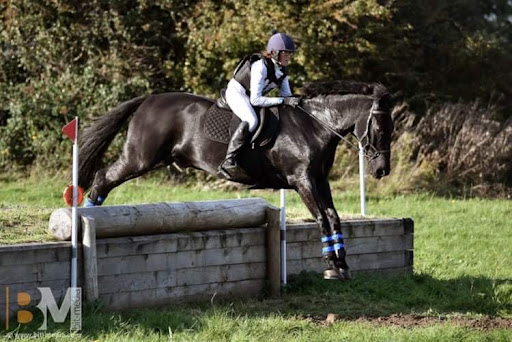 What were you most proud about last weekend Sheena – it was an incredible performance?
Oh god that feeling of coming over the last fence knowing Badger had loved every bit of it and how everyone had commented on how he made it look very easy that was a proud moment as I knew he had enjoyed it just as much as I did and we both came home all in one piece 😃.
Have you any sponsors or people you'd like to thank or give a shout out to?
Yes, Trish Buckley from Calliaghstown Riding Club who was very supportive with me all day, she was a star ⭐️also honestly everyone competing in all classes were very supportive wishing each other best of luck there was so much encouragement from everyone it really made the day. 😃
Also to Brian aka @sagittarianphotography.eu for his fabulous photos this also helps capture the moments.
What advice do you have for people wanting to achieve the results you've had lately?
Oh, I always tell people to just get out there and do it, as I said that feeling of achievement puts you on such a high afterward, it's such addiction, you must live in the moment, you must enjoy what you do and let your horse also enjoy their day out also after all its Team effort 💪. Whether it's a good day or not there is always something to be learned from and it's better to have tried, then letting fear take over.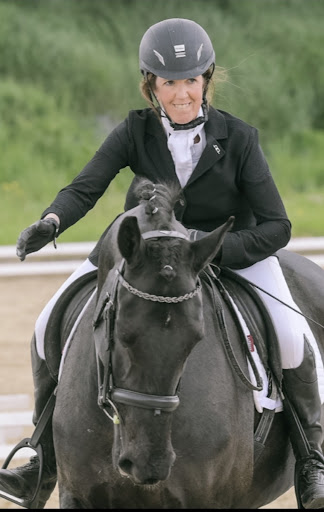 Lastly, we wanted to find out about the future and the next step for Sheena, Badger and Cody. We can't wait to cover them more in the future and repay the amazing faith Sheena had in us from the very start.

What kind of confidence or belief will this give you for the future?
Oh, I believe yes there are plenty more events to be heading out to and every day is a new day so start fresh. Clear mind, clear goals, patience and lots of results can be achieved.
What is next for you both?
Well Badger, Cody and I will be off to Eventing Ireland HSI National Championship in September in Lisgarven so another exciting day to look forward to 👏👏👏.
And that is it folks, a special feature on the queen that is Sheena Boran after her fantastic results last weekend. Someone we will always support and will always be close to our hearts.
Until Next Time,
Shane