Myself and Freya are just back from our very first camping trip together. We entered the Leinster Trec practice day and as it was a little bit of a travel, we were invited to camp over by the wonderful host Sue. Luckily my mum is a camping guru, I usually despise it and adding in my disability I wasn't sure if I'd be able but Sue had us set up close to amenities and mum had a serious glamp vibe going on so I needn't have worried. We arrived, set up and corralled the horses easily and prepared to go on the most magical hack.
What is Trec?
But first I'll think I should explain what Trec is! It was developed in France in the 1970's to enhance the talents and ability of trekking guides and horses. It grew from there and is currently a sport enjoyed by thousands of riders around the world under the governing body FITE (Federation Internationale First State Tourisme Equestre). Trec focuses hugely on the bond between horse and rider to negotiate obstacles and terrain. Competitions are split into three phases;
• MA is the control of paces
Combinations are expected to perform timed gaits, slow canter and fast walk.
• PTV is the course of obstacles
These range from crossing bridges, slaloms to immobility and opening gates. Obstacles are scored out of ten and can be done mounted or unmounted as required.
• POR
One of my favourite phases is where it all comes together. Think orienteering on horseback. You'll see beautiful country and real world obstacles putting your MA and PTV to the test.
Making Friends and Hacking Out
After mentioning the POR phase I just have to gush a little about the hack we went on. We got tacked up and met with the other attendees, some familiar faces and some new. A good mix of ex-racehorses, cobs, bitless, barefoot, youngsters and seniors (Trec is really for every type of horse). There was such a good vibe, just chatting about our horses as we navigated the mountains in the sunset. We met low branches, drops and some truly stunning views. There's something wonderful about helping each other cross terrain that brings a group of horse people closer together.
After 10km and watching the glorious sunset, we got back to Basecamp and settled our steeds. Sue treated us to a fully home-grown meal (I'm still thinking about those delicious potatoes) We easily fell into conversation and chatted until bedtime. Weirdly after all my camping worries and fears, I fell asleep listening to our horses munching the night away.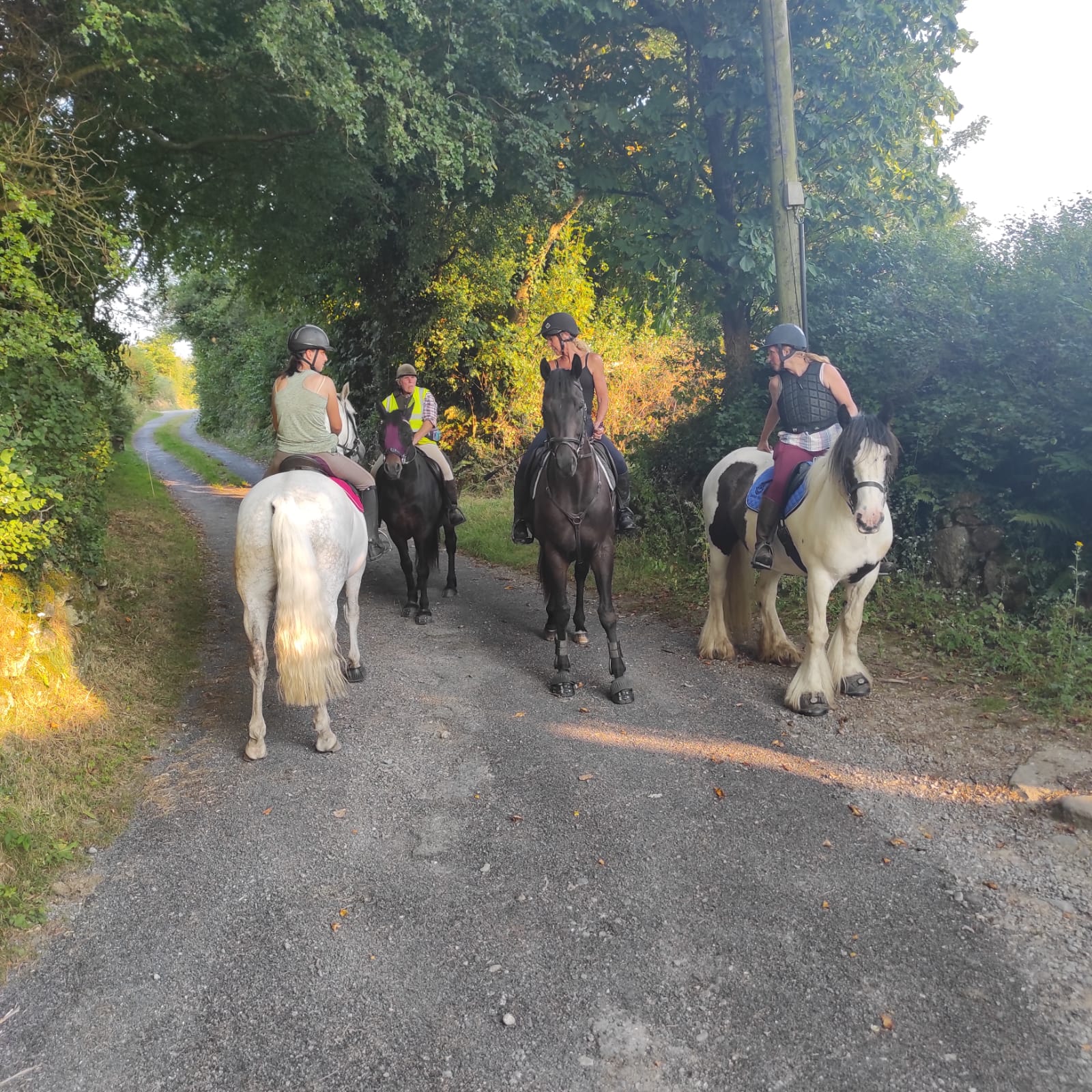 PTV Practice Day
Woke up nice, early and oddly refreshed to tackle the obstacles. First was some MA practice. Myself and Freya are pretty weak at the control of paces believe it or not so relished the chance to pick up some tips. Watching the more seasoned treccies was so helpful and on our second go we actually got some points and improved!
Onto the obstacles next. They were set up over large fields, I have to thank the volunteers hear for their hard work setting up a fabulous course, simulation an actual Competition layout. We went obstacle by obstacle with Paula who carefully guided us on the rules for each one which was invaluable. We learned a lot about what we need to practice at home and I came away feeling more confident especially as I didn't think I'd be able to still do trec competitively with my impairments.
Inclusivity
As I mentioned Trec welcomes every type of horse but also every type of rider. I just wanted to mention how completely supported and welcome I felt. It can be difficult to enter into a sport with a disability but Leinster Trec made me feel like I can happily be involved and included in a sport that I've loved doing with Freya for a long time. I just wanted to thank the judges, stewards and volunteers for this.
Is Trec for Me?
I thought here I'd have some fellow Trec members share what Trec means to them and why they do it!
"I started Trec because I have a young horse. I think Trec is great for training, obedience, suppleness and bonding horse and riding. Super for teaching the horse about balance and being aware of where their feet are. Also learning to cope with changing terrains and everyday skills like gate opening and negotiating obstacles." – Ruth Wiseman
"I love TREC because of the variety for the horse and social group for the human! You can be as competitive or not as you like. It's open to any type of horse and rider. It is a wonderful sport to build your relationship with your horse, to learn new skills, and have fun. An extremely supportive club, events can keep you nice and local, or travelling to Europe. From obstacles to orienteering to Oreo biscuits, TREC has it all." – Sheaffe Monteith
"I love the way Trec challenges me to keep learning, it makes me a more thinking rider.  It's really strengthened the bond between myself and Bruno and it's made me very aware of his particular strengths. I love the social side of Trec too: events, where we get to camp overnight, are my favourite.  It's lovely to see how all the Trec riders treat their horses very much as individuals and with such love and respect, I would say that's what makes it stand out from other equestrian sports." – Karen Kiely
"I love Trec with a passion and have done since the very first day l went on foot to see what "TREC" was all about. It was just what l wanted, really friendly folks…both the organisers and competitors. Lots of help getting going, with training, practise and coaching days for all 3 sections of TREC. It is as competitive as one wants it to be; great fun trying to better one's own previous score. TREC is a fabulous way of really making a relationship with your horse/pony as we both have to work together and have confidence in each other." – Sue Walker
How to get Involved.
Hopefully, you've read this article and found that Trec appeals to you. Leinster Trec, Midlands Trec, Trec North, West Cork Trec and Trec Ireland are easily found on Facebook or online with a quick Google search. Trec Ireland can be contacted at pro@trecireland.com and can put you in touch with your local Trec club.
Looking forward to meeting some new faces!